Ooh la la!
Sophie Turner and Joe Jonas are making the most of their Parisian getaway ahead of their second, "more traditional" wedding. 
So far, the trip has been nothing short of romantic: the sun has been shining, the Eiffel Tower has been towering, and Joe has been soaking in a rather luxurious bubble bath — a cheeky sight the Game of Thrones star was charitable enough to share with her fans on social media.
The 23-year-old took to her Instagram Stories on Tuesday to share a photo of the Sucker singer getting his bath on in their lavish suite as he waits for her to soak in the tub next to him.
Photo: Sophie Celebrates Bachelorette Party With Maisie Williams & Friends!
As you can see (below), it's every Jonas Brothers fan's wet (not like that!) dream: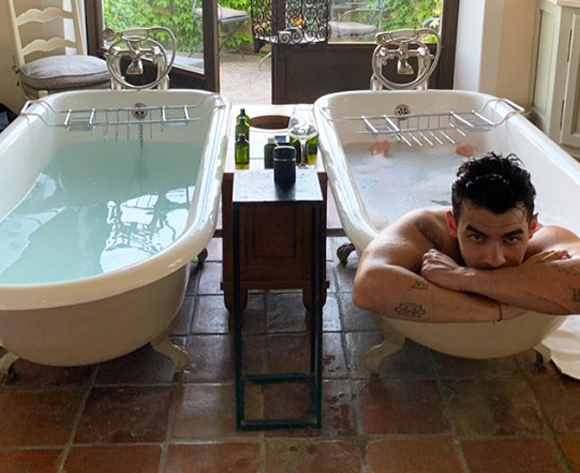 We see that "come hither" look, Joe!
The steamy pic comes days after the couple shared a photo of themselves nearly kissing each other as they posed in front of the Eiffel Tower. The image delighted fans everywhere; including noted JoBro stan Dr. Phil, who accidentally spilled the date of the married duo's second wedding in the comments section.
The TV personality wrote:
"Easy now! 1 week to go! Ha! See you at the wedding!"
Ha! Phil has no chill!
These two can't keep anything under wraps thanks to their not-so-discreet friends. As we reported, the couple's surprise Vegas wedding last month was immediately revealed to the public all because Diplo got the idea to live-stream the ceremony on his Instagram.
Sophie and Joe both later revealed they were kind of annoyed by the unsolicited videographing of their wedding. The pop-rocker admitted in a radio interview with Capitol Breakfast last month:
"Yeah, he ruined . I love Diplo, but he loves his 'gram more than a 13-year-old. He posts every five seconds. He literally, like, live-streamed with dog face filters."
The Dark Phoenix star, for her part, told NET-A-PORTER's PorterEdit that she thought the livestream was "funny," but confessed it would've been better if "no one had known" about their secret nuptials.
One thing she's definitely not trying to keep a secret? Bath time.
Aside from soaking in the tub, the two are said to be going all out with the pre-nuptial festivities. An Entertainment Tonight source previously dished:
"Sophie and Joe are in Paris with their family and friends. The couple is set to get married this weekend, with a week full of dinners, boat rides and time to enjoy one another. Sophie and Joe always have fun and want this weekend to be just that."
Looks like they're off to a clean start!
Source: Read Full Article