As fuel prices surged in September, the government's decision to ask companies to cut price by Rs1 each on a litre of petrol and diesel came as a dampner for private players.
Illustration: Uttam Ghosh/Rediff.com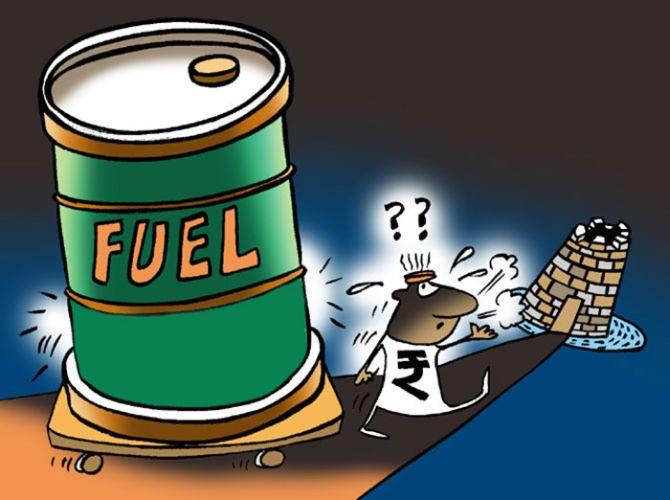 Sixteen years after India opened the petroleum sector to private players, names like France's Total, Saudi Aramco, Abu Dhabi National Oil Company and home-grown Adani have started showing interest in putting up retail outlets.
This renewed interest comes after Russian government owned Rosneft bought out Essar Oil and its retail outlets last year and rebranded them as Nayara Energy.
The first wave of private interest saw Essar Oil, Reliance Industries and Shell mark their entry in the sector.
However, three companies – Indian Oil Corporation (IOC), Hindustan Petroleum Corporation (HPCL) and Bharat Petroleum Corporation (BPCL) – continue to dominate the market.
Only 10 per cent (6,353) of the 63,498 fuel outlets are currently run by private players.
The over 4 per cent growth in demand for petroleum products amid a flat global demand and around 11 per cent increase in vehicle sales during April to September 2018 make India an attractive market for fuel retailers.
"India's energy consumption will grow among the fastest of all major economies in the world over the next decade.
"The partnership between Total and the private Adani group illustrates our joint commitment to assisting India to diversify its energy mix and to ensure a supply of reliable, affordable and clean energy to consumers," Total SA chairman and chief executive officer Patrick Pouyanne said after signing a deal with the Adani group.
Together, the two plan to set up 1,500 outlets.
In a bid to further ease the entry of private players, the ministry of petroleum and natural gas last month set up a committee headed by economist Kirit Parikh to review the existing guidelines in fuel retailing.
The committee will look into liberalising the sector, removing entry barriers for private players and also consider innovative marketing models like selling petrol and diesel through hypermarkets, similar to what is being done in the UK and France.
Currently, companies must have an investment of Rs 2,000 crore in petroleum infrastructure in the country or need to provide bank guarantee of the equivalent amount for entering retail business.
Rosneft, however, was able to make an entry by outright purchase of Essar Oil's Vadinar refinery last year.
Even so, it is not going to be a smooth ride for private players.
The experience of Mukesh Ambani-led Reliance Industries and Essar Oil in the sector is a testimony to this.
In April 2002, the government announced the abolition of the administered price mechanism for fixing petrol and diesel prices and opened up fuel retailing to the private sector.
This was followed by the petroleum ministry issuing retail distribution licences to Oil and Natural Gas Corporation, GAIL, Oil India, Reliance Industries (RIL), Mangalore Refineries, Essar Oil (Essar) and Cairn Energy.
While many dumped the plan, RIL and Essar started expanding aggressively, accounting for 1,432 of the total 30,000 outlets in India in 2005-06.
Though the number of private outlets was less, their share of retail sales was close to 17 per cent, of which RIL contributed around 14 per cent.
Private players sold 410 kilolitres a month on average in 2005-06, against public sector outlets' 140 kilolitres.
"Private players revolutionised the concept of retail in India through high-quality fuel, superior technology and extra facilities to consumers like food, accommodation and baths for truck drivers along the highways.
"But later, it turned unviable as the government was subsidising petrol and diesel sold out of PSU pumps, but did not extend the subsidies to private competitors," said a senior official from a private sector major.
Government decided to subsidise fuel sold from public sector outlets after a sudden jump in crude oil prices during that period.
Pushed to a corner, in March 2008, Reliance announced that it was closing down all its 1,400 petrol pumps.
Though Essar did not take a public decision to close down pumps, it reportedly stopped regular supplies, resulting in many writing obits for private sector fuel retailing.
It later got a fresh lease of life when the government freed petrol price from its control in June 2010 and the same for diesel was done in October 2014.
The market, however, continues to be ruled by government companies with the share of petrol sales in private sector increasing from 3.5 per cent in 2015-16 to 6.8 per cent in 2017-18, while that of diesel from 3.1 per cent to 8.2 per cent during the same period.
In private sector, Nayara Energy (4,833), RIL (1,400) and Shell (114) have strong presence now.
Nayara Energy has been the most aggressive in its expansion of retail outlets in the last two years, and was also planning to increase the number of outlets to 7,000 in the next two years.
The pricing of fuel continues to be an issue for private retailers.
As fuel prices surged in September, the government's decision to ask companies to cut price by Rs1 each on a litre of petrol and diesel came as a dampner for private players.
Anshuman Maheshwary, partner, AT Kearney, believes that the decision may again land private players like RIL and Nayara Energy in trouble, as their marketing margins will be affected.
According to industry estimates, the marketing margin on petrol has turned negative by around 20 paise, while that of diesel, though still positive, has come down to nearly 30 paise.
State-run companies, however, think they should be treated in a special manner as they are not just about business.
"State-run oil marketing companies are performing the role of a social organisation.
"Even during this time, when prices touched an all-time high, they were ready to give up Rs1 a litre on their revenue from petrol and diesel.
"Hence, the government should protect them from competition. Even when they were making losses, there was no supply shortage. Private sector can never guarantee that," said R S Sharma, an industry veteran and former ONGC chairman.
That provides some fuel for thought for the government as it sets out to level the field for public and private fuel retailers.


Source: Read Full Article