Naomi Osaka's maiden grand slam title win at the US Open and a first for Japan, was overshadowed by controversy in the final against Serena Williams.
As Serena Williams pointed her finger at chair umpire Carlos Ramos and exclaimed, "You still owe me an apology" it brought to an end what was a dramatic women's final at the US Open – and not for what happened on the court. As 23-time grand slam winner hugged Osaka – considered by many as the 'Serena of the future' – it brought to an end a match which had created toxic atmosphere inside a closed Arthur Ashe Stadium.
It is safe to say that the US Open final highlights can be confined to the player's box and the near proximity of Mr Ramos' chair. Whenever the match did return to inside the painted lines of the stadium named after one of America's greatest black players, 50 years since his title win in New York, it was Osaka that dictated matters. And rightfully, held the trophy aloft, moments after almost dropping it, in front of hundreds of shutterbugs.
Serena Williams fined $17,000 for outburst at US Open
But, one look at social media, at newspapers, at TV discussions, and one would think Serena had matched Margaret Court's 24 by the sheer headlines and minutes devoted to the American. When the fact is Naomi Osaka had become the first player from Japan to win a grand slam. She will climb to World No 7 to be the highest ranked Japanese player since Kimiko Date in October, 1996. And yet, it almost feels like her achievement, her shining moment, her eclipsing the idol on whom she did a report back in third grade, had been taken away by that idol herself. And by the United States Tennis Association (USTA).
At the trophy ceremony, in what should have been the happiest moment of her young career, she had tears – probably not out of joy – as boos rang around the stadium. Wearing the black visor that she had worn throughout the 6-2, 6-4 win, the girls who had come to New York at the age of 3, pulled it down over her face to cover the emotion. The boos may not have been directed at Osaka personally but did tarnish what should have been her 'record and watch on repeat' ceremony. A video that you never delete from your phone. Instead, an already awkward person during trophy ceremonies – as she was at Indian Wells, was even more so. While choking back tears, without a smile on her face, she told the crowd, "I'm sorry. I know that everyone was cheering for her and I'm sorry it had to end like this." She then turned to Serena and added, "I'm really grateful I was able to play with you. Thank you." Followed it up with a gentle bow, to highlight her early years and upbringing by a Japanese mother, while Serena took it without reciprocation and emotion.
Naomi Osaka wins maiden grand slam, applauded by peers
Moments earlier, Serena tried to defuse the tension in the air by saying, "Let's try to make this the best moment we can. We'll get through it . . . let's not boo anymore. We're gonna get through this and let's be positive, so congratulations, Naomi." But by then, the damage was done.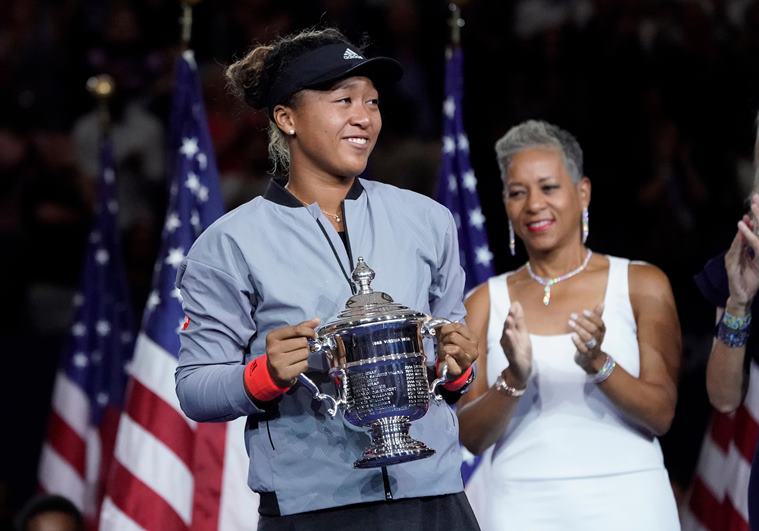 Not just Serena, even USTA – specifically Katrina Adams, the chairman and president – has to take some responsibility of how things panned out. She opened the ceremony by not recognising the new champion and her achievement but almost appeasing Serena's ego and attempt to restrain the crowd. "Perhaps it's not the finish we were looking for today," Adams said, "but Serena, you are a champion of all champions." Addressing the crowd, Adams added, "This mama is a role model and respected by all." Maybe someone needed to tell her that this is the US Open and not the Fed Cup where USA were facing Japan.
Naomi Osaka makes history with maiden grand slam title at US Open
Naomi Osaka showed much more maturity and poise during the match that Serena did – during or after. Even with all the drama around and the yelling coupled with lack of support, Osaka kept her head and went about her business. Many more experienced players have wavered under such circumstances – Osaka didn't let that happen. The grit and determination remained from game one till the trophy was handed over. In the end, it is Serena Williams and USTA who are the thieves for stealing Naomi Osaka's moment from her.
Must Watch
Naseeruddin Shah talks to Priyanka Sinha Jha about his acting escapades, Dilip Kumar & his upcoming play The Father
Leftover Roti, a thing of the past
Section 377: Anand Grover decodes the philosophy behind fighting long-drawn battles over social issues
Express Eye for Detail EP 4: Unboxing the section 377 order
For all the latest Sports News, download Indian Express App



US Open: Ashleigh Barty, CoCo Vandeweghe denied chance to celebrate women's doubles title




US Open: Serena Williams controversy triggers overdue debate in the tennis world
Source: Read Full Article