'If I were to say, I had the best vegetarian food in my life in Vietnam, nobody would believe me.'
'When I proclaimed this to my friends, they didn't believe me. I had to show them the pictures and make them drool!!'
Holiday in Vietnam?
Why Vietnam, of all places?
Not even Singapore?
These were some of the questions galore I fielded from perplexed friends when I said I was going to join my son and his family on a 10-day vacation in Vietnam.
A major reason that influenced our decision to go to Vietnam was as an Indian citizen I could get an e-visa to visit Vietnam, unlike European countries. To get a Schengen visa, I had to go through a gruelling wait, and then present flight tickets to the European destination and also accommodation details (which, of course, could be cancelled if they refused my visa).
I get extremely angry at the way we are treated when we apply for a Schengen visa. Damn it, we spend our own money and help their economy. We don't go there on charity!
There are no such irritations when you apply for an e-visa to Vietnam. You just have to take a print-out (yes, a hard copy) and show it at the immigration there after landing. They then indeed welcome you with a smile unlike the pompous Europeans who look at you with contempt as if you are going to stay in their countries forever.
I don't deny the fact that I enjoy visiting European countries for their distinctive history and captivating architecture. And the pristine countryside. But the snobbish and condescending attitude of the people exasperates me.
We chose to visit the northern part of Vietnam. It is said to be more scenic and memorable than the capitalist southern part.
First impressions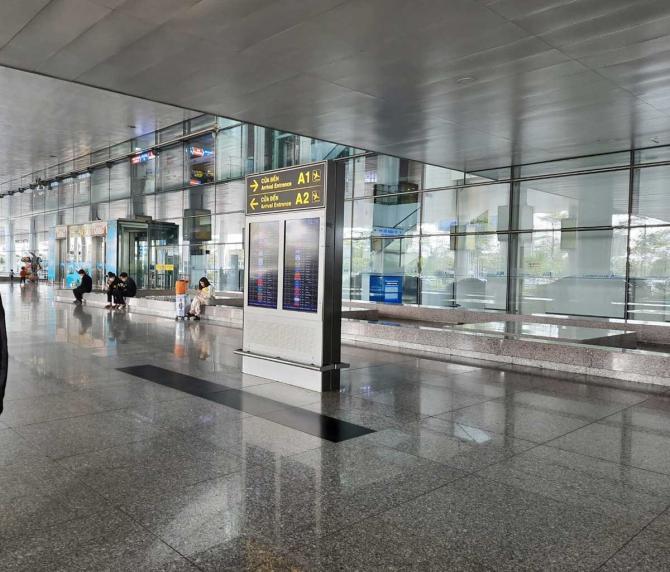 Sadly, there are no direct flights from Chennai to Hanoi, and there was a rather long wait in Singapore before I boarded for Hanoi.
At Hanoi airport, everything went smoothly and once outside, I found it to be a neat, clean and not-so crowded city.
After reading the experiences of many travellers on the Internet, I knew language would be a big problem in Vietnam. To a large extent, it is true. The general public did not speak or understand English but in shops and restaurants, everybody tried to communicate in English that was albeit a 'bit broken'. Nevertheless, we could understand each other without any difficulty.
The taxi driver who took me to the city centre, where we stayed, said he did not know English when I asked him, with the help of Google Translator. So, we had a more than an hour-long silent drive!
I felt at home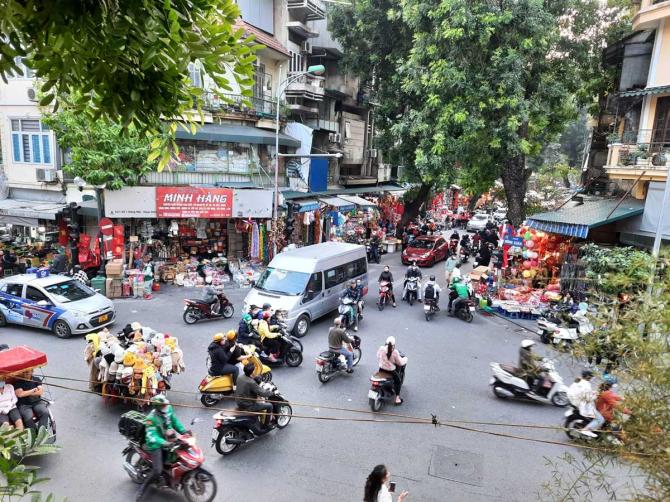 The first image that made me feel at home was the chaotic traffic; there was no lane discipline, nobody stopped at the pedestrian crossings, two wheelers used pavements as part of the road, and vehicles wriggled through the traffic like snakes. Ha! I was happy and excited. I was at a place that was exactly like Chennai. No homesickness or uneasiness!
Later walking along the roads, we learnt an important lesson: Whether the traffic light was red, yellow or green, it meant only one thing — go!
So, we did what we do in Chennai all the time — used our hands as stop signals and just walked, without a care in the world. It worked quite well in Hanoi too. Some stopped, some raced past but nobody knocked us down.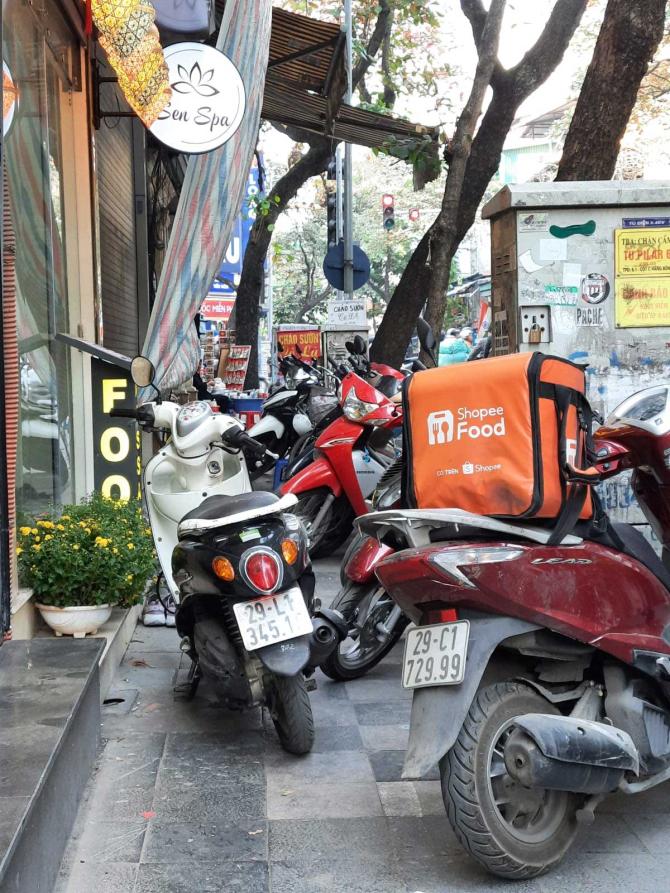 Another thing I noticed was, there were not many pedestrians on the Hanoi streets. But there were hundreds and hundreds of two wheelers zipping past. People preferred to use them more than their legs. Also the pavements were used as parking lots for two wheelers, leaving absolutely no space for pedestrians to walk.
The best vegetarian food I had in my life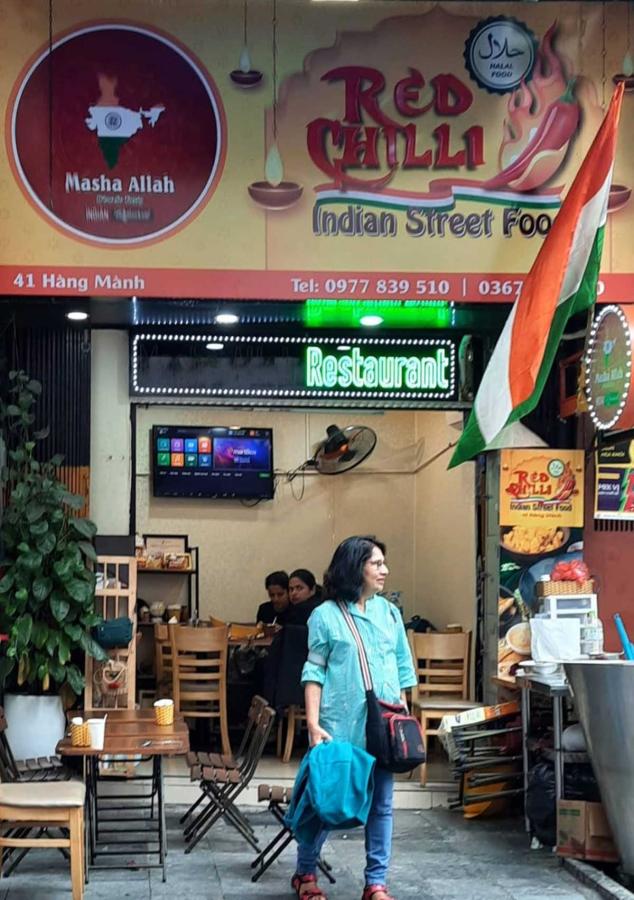 If I were to say, I had the best vegetarian food in my life in Vietnam, nobody would believe me. When I proclaimed this to my friends, they didn't believe me. I had to show them the pictures and make them drool!!
The warning I got from Google and those who had visited Vietnam earlier was: 'You will have tough time getting vegetarian food'. On the contrary, we found there were excellent vegetarian restaurants in Hanoi and they served exotic food, which I had never seen or tasted before.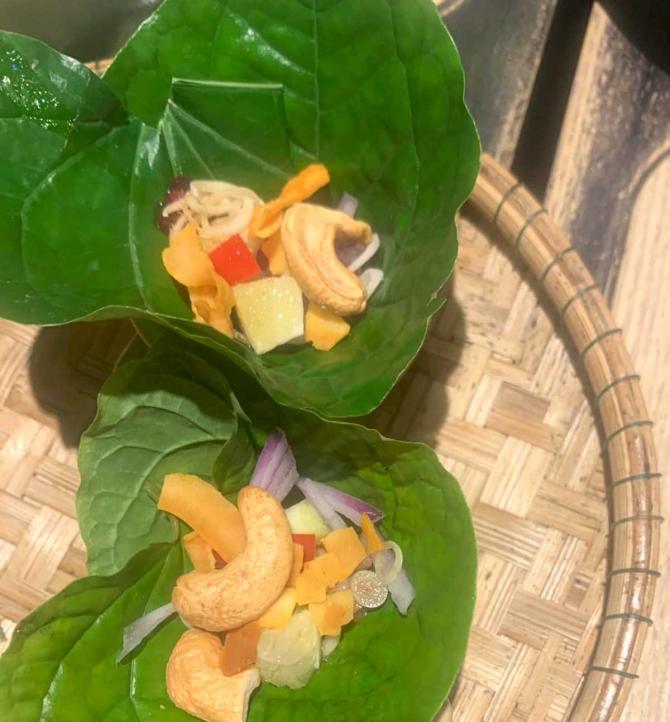 I cannot resist naming Sadhu (external link), a vegetarian buffet restaurant. The first time we went there, we tried choosing food randomly from the menu as the names of the dishes were all Latin and Greek to us.
Then, we asked the lady in charge to make the choices. We gobbled every single dish she brought in, as they were all equally scrumptious. In the 10 days we were there, we went to Sadhu three times. Now you know how much we fell in love with the food!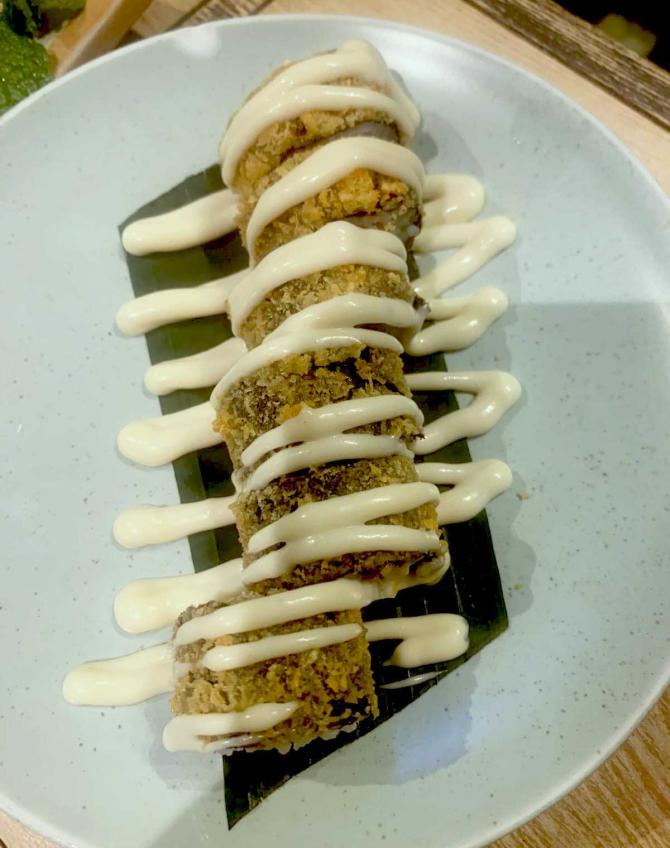 Every morning, as we got ready to wander around the city, the first question we asked each other was, 'Where are we going to have lunch?' and not 'What are we going to see'.
Was the trip turning out to be more about food tourism and not sight-seeing? I wondered. The consolation was, we were walking from morning till late in the evening and burning all the calories.
Vietnam street food, of course, is extremely famous, but then it is largely non-vegetarian food. In fact, there are street food walk tours for foodies which are a huge hit among the tourists.
Yoga on the banks of the lake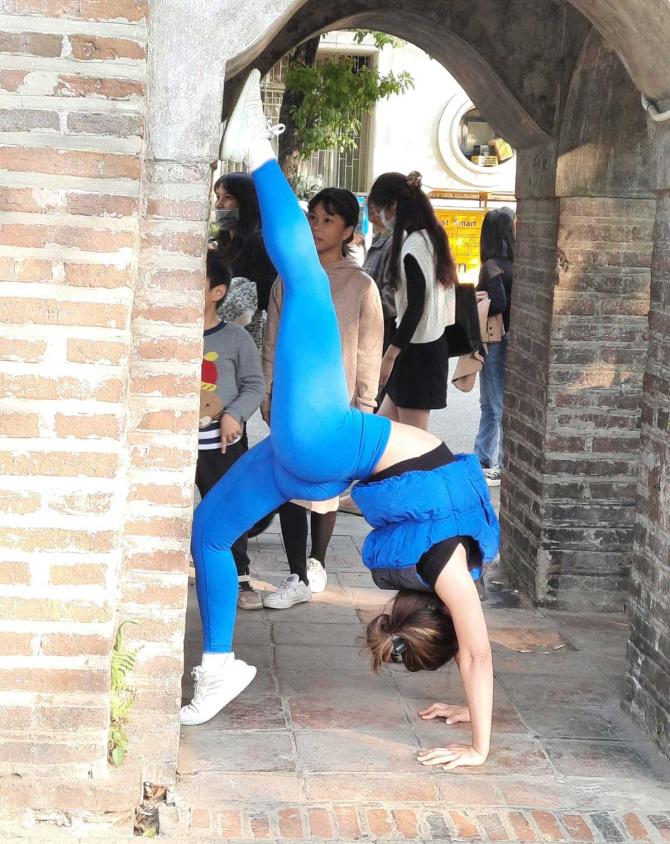 I found one of the temples we visited in the city, the Temple of Literature, ;very interesting. Built in 1070 and dedicated to Confucius, the temple also has the Imperial Academy, Vietnam's first national university.
But more than visiting temples and memorials, what I enjoyed the most was walking around Hoan Kiem lake, sitting on the benches and enjoying the cool breeze. You could see old men sitting on the floor playing games, children running around and women doing yoga.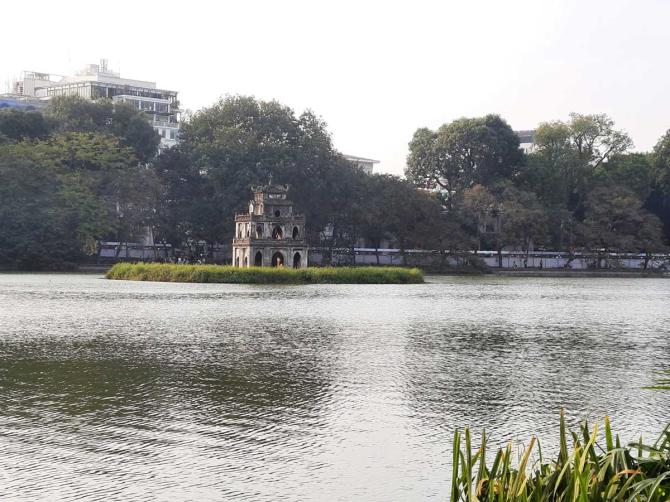 Out of curiosity, I asked a young woman from where she learnt yoga. On realising I was an Indian, she giggled and asked, 'Are you from India, from the land of yoga? Can I give you a hug?' She hugged me even more tightly when I said, 'I do yoga every day!'
Fun weekend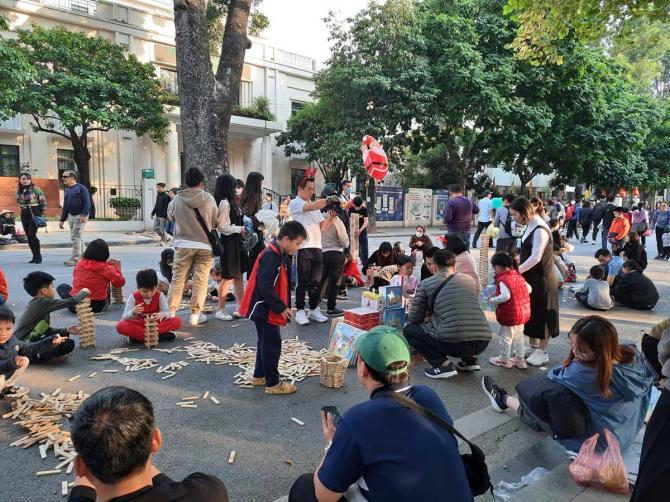 What surprised us was the community holidaying on a Sunday on the road around the lake which was made a vehicle-free zone for the weekend. It also happened to be Christmas day.
People of all ages were seen playing jenga and tug of war. There was dancing, artists doing portraits and lots of balloons and junk food. In short, everyone seemed to be having fun.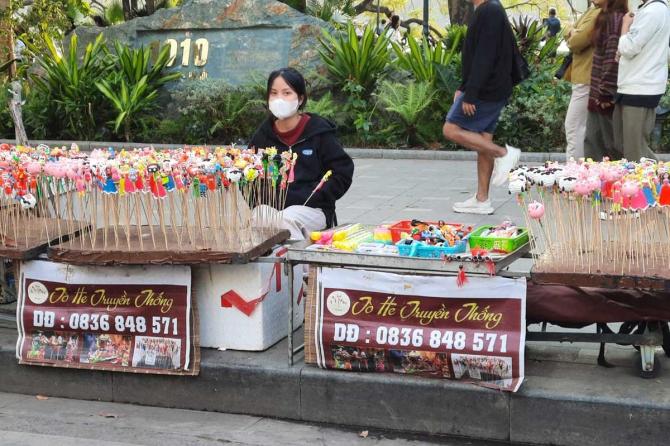 Amidst the crowd, there were people selling locally made crafts too. A woman vending shoulder bags came to us, quoting the price in US dollars. I jokingly said, 'I don't have any US dollars, I have only Indian rupees'. She immediately replied, 'You can pay me Indian rupees. I accept all the currencies in the world.' So, I happily bought a few bags, paying Indian rupees in Vietnam.
Of course, no other shop accepted the Indian rupee. It's a largely cash economy and we had to pay in Vietnamese Dong at almost all places.
Museum of Ethnology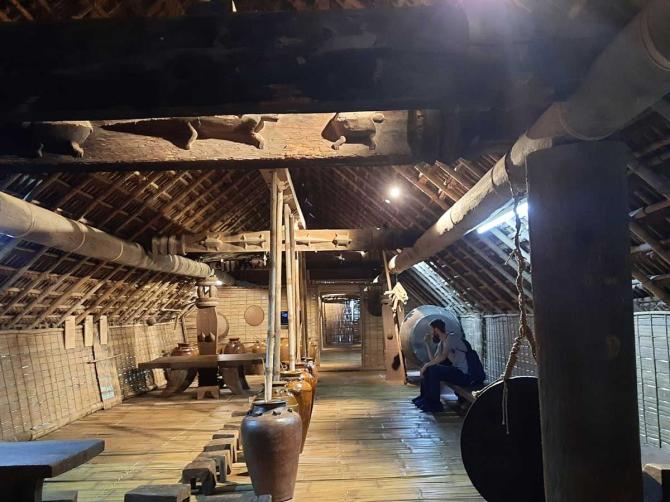 This fascinating museum is created by the government to showcase the lives of several ethnic groups in Vietnam.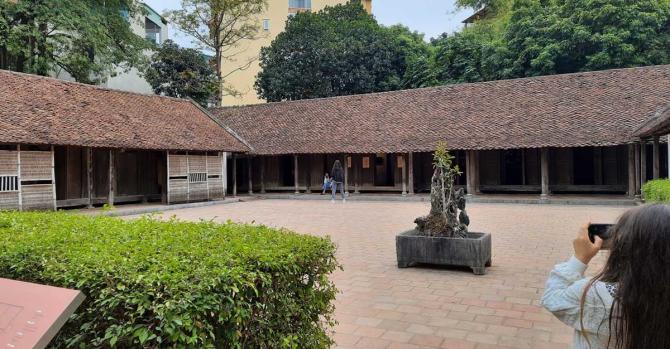 What I found interesting was the similarity in the architecture of some of the houses to the ancient tharavadu of Kerala. Even the wooden artefacts used by them were very similar.
The museum gave us the impression that all the ethnic groups were extremely patriarchal and the society, very hierarchical.
Indian tourists in Vietnam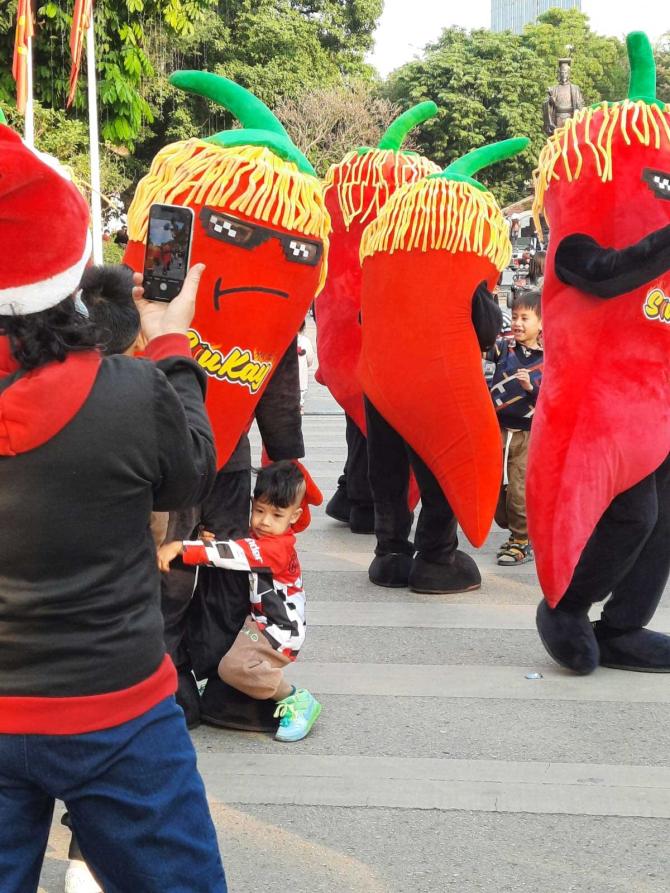 Though I had encountered the question, why Vietnam, when I made my Vietnam travel plans, I found that it was a favoured tourist destination for Indians. Wherever we went, we saw Indians, and in large numbers. We met couples from Thiruvanthapuram, Bengaluru (they were on a honeymoon), Mumbai and Chennai. Also, two sisters from The Netherlands, who grew up in Chennai.
It was amazing that I got to speak in Malayalam, Tamil and Hindi in Vietnam.
Then, there was this guy from Delhi who came to Hanoi more than a decade ago looking for a job. He later settled down there marrying a Vietnamese woman and now runs a street food restaurant. In fact, it was the fluttering Indian flag that got our attention to his shop!
The icing on the cake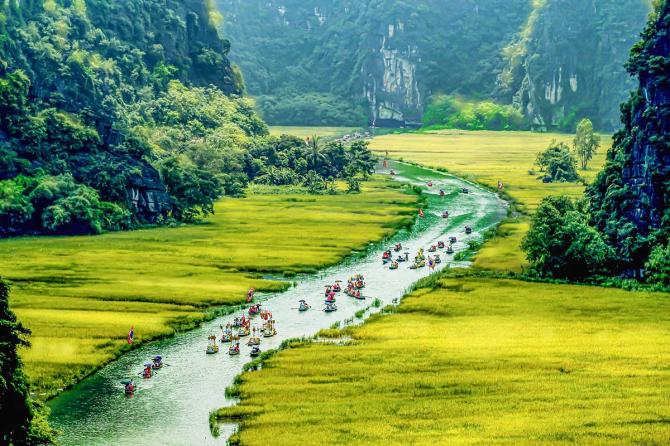 The most memorable part of the trip (other than the food, of course) was a day trip to Ninh Binh, a land of mountains, rivers and greenery; an area totally different from the city of Hanoi.
In Ninh Binh, there is nothing more exciting but physically tiring than climbing the 500 steep steps to the Hang Mua peak. But once you reach the top, breathless, the stunning view of the valley below makes you forget all the fatigue.
The last adventure at Ninh Binh was a boat ride along the river Ngo Dong. Only paddle boats are allowed on the lake, and to my surprise I noticed that 99 per cent of the paddlers were women. It was for the first time that I saw paddlers using their legs and not hands for paddling.
It was a meditative ride along the quiet river, with mountains rising above on both sides, which turns magical and mysterious as the boat enters the cave where you see icicle-shaped formations hanging from the limestone ceiling of the cave.
Once the boat comes out of the cave, there was a feeling of emptiness but sunlight, the sight of the mountain and the slowly flowing river bring back the serenity you were experiencing before.
I don't know how to describe this boat ride. Magical? Mystical? Meditative? It was definitely the highlight of our trip.
Of course, there is a lot more to see outside of Hanoi. I am looking forward to going back to Vietnam again.
Feature Presentation: Ashish Narsale/Rediff.com
Source: Read Full Article