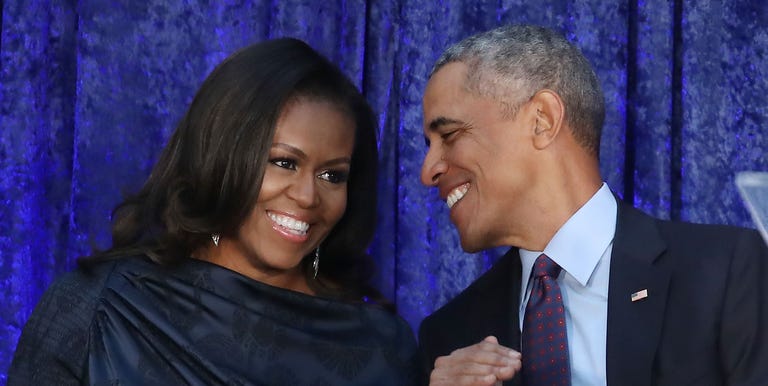 Barack and Michelle Obama attended the Maryland On The Run II show at FedEx Field over the weekend—and they really let loose. Excited fans caught the former first couple dancing and waving their hands in the air in their box seats while the Carters took the stage.
Videos show Michelle and Barack jamming out to JAY-Z's "N**** In Paris." The former Commander-in-Chief was seen waving to the screaming crowd below as fans recorded him enjoying the show.
This is Michelle Obama's second time seeing Beyoncé and JAY-Z perform during their OTR II tour (can you blame her though?) Earlier this month, she was spotted with Beyonce's mom, Tina Knowles, at the Paris show. She of course couldn't help but dance along front row as Bey and Jay hit the stage. Apparently, Sasha Obama was also in attendance.
Ms. Tina & Michelle Obama. OTR II. Paris, France.
A post shared by Beyonce & Jay Z (@beyonce.jayz) on
The two power couples have had a long-standing close relationship. Beyoncé had the honor of performing Etta James' "At Last" for President Obama and Michelle's first dance at the Inaugural Ball in 2009.
She also sang the National Anthem at Obama's second inauguration in 2013.
During an episode of The Late Late Show With James Corden, Michelle proved she knew every word and the choreography to Beyoncé's "Single Ladies."
"We just dropped the mic. We were in the Bey Hive, making honey to put in our lemonade!" she joked.
Obama once told MTV that "JAY-Z now knows, you know, what my life is like. We both have daughters. And our wives are more popular than we are. So we've got a little bond there. It's hard, but it's OK."
Source: Read Full Article