Stocks offering attractive dividends contain downside better when the markets correct, advises Sarbajeet K Sen.
Due to a prolonged period of underperformance lasting until 2020, investors had lost interest in the dividend yield category of funds.
Of late, however, their performance has picked up, leading to revival in interest.
"Dividend yield funds, which underperformed in earlier years, are now gaining from the good performance of old economy stocks such as steel and infrastructure," says Arun Kumar, head of research, mutual funds, Fundsindia.com.
Where do they invest?
Dividend yield funds invest primarily in stocks that have a higher dividend yield.
Dividend yield is a stock's dividend per share divided by its current market price.
A high dividend yield indicates that the stock is relatively inexpensive.
Funds investing in high dividend yield stocks make money in two ways: from the dividend received and through capital appreciation.
Dividend yield is a sub-set of the value strategy.
Uptick in performance
Over the past year, dividend yield funds have given a category average return of 39.6 per cent, outperforming flexicap funds (34.9 per cent).
"The overall equity market has delivered superior returns over the past 18 months and dividend yield funds, too, have gained from this trend. Earnings picked up after the lockdown and helped these stocks. Besides, stocks of public-sector companies paid huge dividends during the pandemic, lifting the performance of these funds," says S Sridharan, principal officer, Wealth Ladder Direct.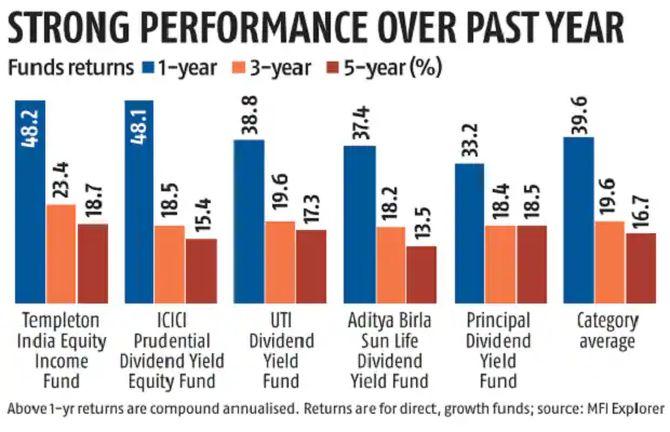 Downside protection
While investors seek high returns from equity funds, they are also keen to limit downside risk, especially when the markets are trading near all-time highs.
Stocks offering attractive dividends contain downside better when the markets correct.
Over the one month ended December 16, dividend yield schemes have declined 2.8 per cent, which is lower than the loss borne by flexicap funds (3.5 per cent).
At a time when initial public offerings of new-age, loss-making companies are getting a lot of attention, investing in dividend yield stocks may appear outdated.
However, the trend could change soon.
The US Federal Reserve has signalled its intent to taper at a faster pace and hike rates sooner than expected.
With less liquidity floating around and interest rates expected to rise, equity markets could turn volatile.
Stocks of companies with no earnings could get hammered, and investor preference may shift towards more defensive counters, like dividend yield stocks.
Don't extrapolate recent past
Experts suggest that investors should not expect the high returns of the recent past to continue.
Instead, they should look at the longer-term track record of these funds for a better assessment of what to expect.
"The one-year returns of dividend yield funds could be misleading. Investors should have more moderate return expectations from the future. The current returns are high because of cyclical factors," says Kumar.
Also remember that stocks which pay high dividend belong to well established, slower-growing companies.
Investors should not expect high earnings growth, and fast PE (price to earnings ratio) re-rating from them.
The relatively smaller asset under management of these funds also means their expense ratios are higher than that of flexicap funds.
Who should invest?
These funds are better suited for risk-averse investors.
"At present, the returns from debt instruments are very low. Investors with moderate risk appetite who want a regular dividend income may invest in them," says Sridharan.
He adds that these funds do not guarantee a fixed rate of dividend, nor do they promise regular payouts.
Before investing, do your homework.
"Given the lack of an explicit minimum dividend yield threshold for the category, a lot of dividend yield funds end up being very similar to a normal flexicap fund. So, check the aggregate dividend yield of the fund to see if the dividend yield is relatively higher. If that is not available, check the dividend yield of the top 10-15 stocks to get a sense," says Kumar.
Investors should enter these funds via the systematic investment plan route with a minimum five-year horizon.
Feature Presentation: Aslam Hunani/Rediff.com
Source: Read Full Article