on Social media, the 'In My Feelings' hitmaker proudly flaunts his gold, ruby and diamond crown ring which he purchased at a recent auction for more than $1 million.
AceShowbiz –Drake spent $1.01 million for a huge gold, ruby and diamond crown ring created and worn by Tupac Shakur. The "God's Plan" rapper, 36, posted on his Instagram Story on Friday, July 28 to show off the bling owned by the murdered singer while promoting his new song with Travis Scott titled "Meltdown".
At the 1996 MTV Video Music Awards, Tupac wore the ring during his final public appearance and it was auctioned last week at Sotheby's by Yaasmyn Fula, an old family friend of Tupac's.
Drake captioned an image of the ring behind held between two fingers, "Utopia out now Meltdown #TravisScott."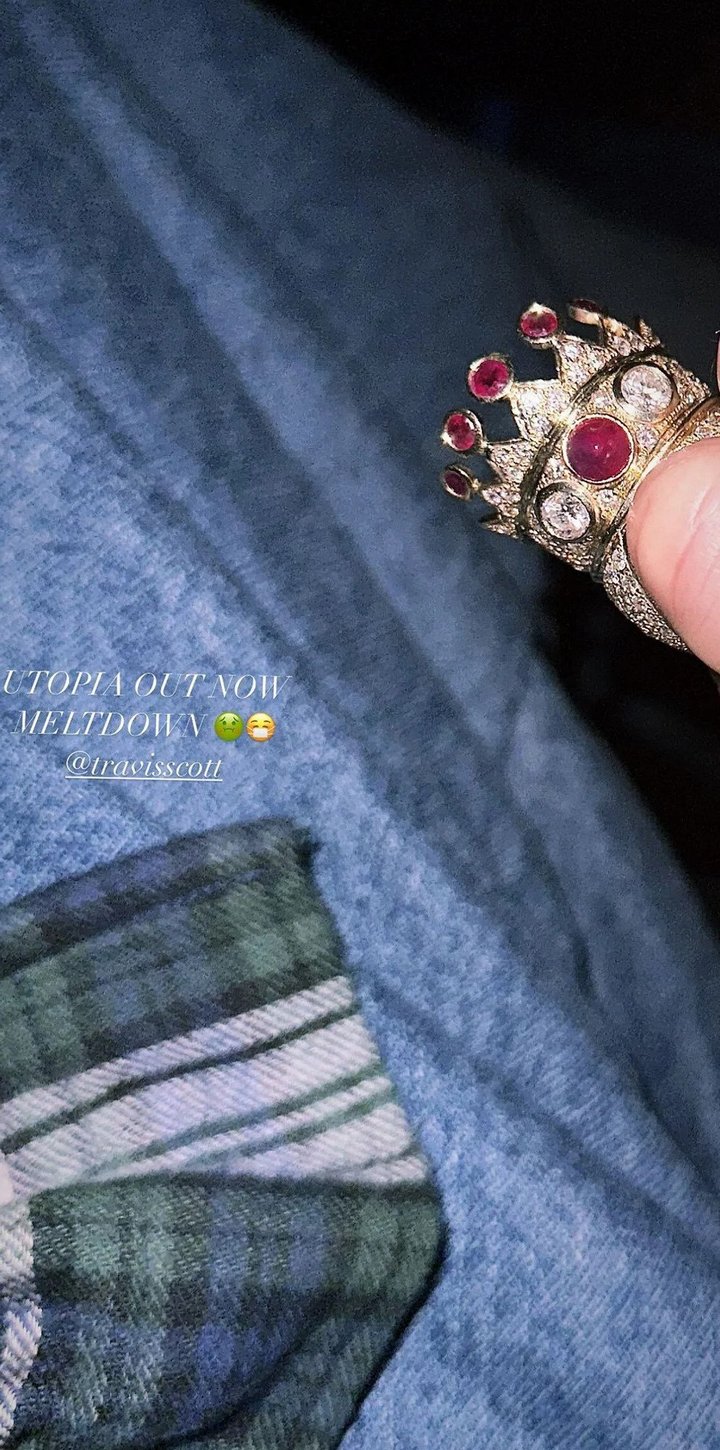 Drake shows off Tupac Shakur's ring
The ring features a gold band and a crown set with rubies, and has an inscription that says "Pac and Dada 1996" – in reference to Tupac's then-new fiancee, Kidada Jones.
The hip-hop icon wore the accessory on his left ring finger before he was fatally wounded and died six days after being shot four times on the Las Vegas strip aged 25 on 7 September 1996.
Tupac apparently modelled his design after the crowns worn by Europe's medieval kings as "an act of self-coronation." It sold at auction to Drake at more than triple its $300,000 high estimate and marks one of the most valuable hip-hop artifacts ever obtained at an auction.
Cassandra Hatton, Sotheby's global head of science and popular culture, said, "This one-of-a-kind, custom ring was meticulously designed by Tupac and is among the final products of his boundless creative energy – a unique artifact from a period of time that is a testament to his enduring influence on both Hip Hop and global contemporary culture. We're thrilled that this exceptional piece has entered a new chapter in the hands of another legendary artist."
In 2020, Grammy-winning Drake revealed he had bought a pair of matching custom Tupac Shakur Jesus pendants worth $300,000 each.
You can share this post!
Source: Read Full Article