'Those who want stability in life have started looking at opportunities outside of the start-up ecosystem.'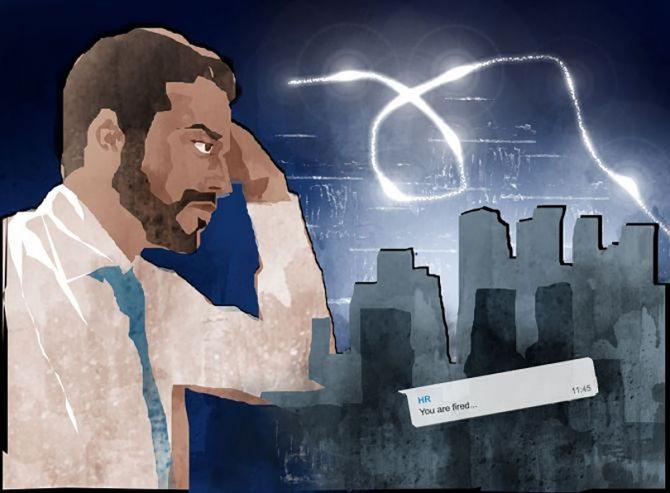 Several surveys are out in the public on the job scene in India. As expected, they are not so optimistic.
According to one survey for January 2023, the demand for employment in production and manufacturing decreased by 8%, in healthcare it is a decline of 7%, in IT hardware and software, there is a decline of 7%, in telecom, it is a 5% decline, and in banking, financial services, and insurance sectors, it is a decline of 3%.
According to CIEL HR Services, there has been a 44% decline in hiring in the Indian start-ups.
"Due to the funding winter, many start-ups are finding it very challenging. So, they are forced to cut down on their hiring plans," Aditya Narayan Mishra, managing director and CEO, CIEL HR Services, tells Rediff.com's Shobha Warrier.
The concluding segment of a two-part interview:
Part 1 of the interview: 'There is a general decline in hiring'
A report said there was a decline in hiring by 7% at the entry level and 16% at the top level. Do you think fresh graduates are getting affected now?
Yes, the decline in hiring is happening at the freshers level also.
After the quarterly results, companies like TCS, Cognizant etc have said that they are going to reduce hiring freshers.
That's because the projects they are getting from their customers are becoming shorter with lower value.
It's like taking many short sprints than a long run. It means your visibility will be for a shorter period.
Naturally, they have to reduce the number of people for each project. Again, these are all to improve efficiency.
Do you see these projects moving to some other countries? Is that the reason why the projects are of shorter run?
No. It's only because the companies who are buying IT services have tightened their belt because of the Ukraine war, inflation and the current geo political situation.
Is the decline in hiring confined to mainly at the entry level or, is it happening at all levels?
As many companies are not in a major expansion spree right now, the number of senior roles have reduced.
Also, instead of hiring from outside, many companies are promoting their own people.
That's why the senior level hiring has been affected.
So, employees are also looking for a stable career rather than jumping from one company to another.
Your survey also found there was high attrition in start-ups as employees want stable jobs. Do they look at a job in a start-up as not stable?
Employees have understood that start-ups are still trying to get their business model right.
Take, for example, the Ed Tech companies.
They had made some assumptions during the pandemic and the assumptions on demand, were found to be wrong.
But if you are working in a mining company or a steel company or a construction company, or a pharma company, you will not come across a situation where the company doesn't know what the demand for their product is going to be.
There is a very high degree of predictability there.
While there is no unpredictability in those companies, in the start-up ecosystem, there is a high degree of unpredictability.
Many candidates, particularly at the senior level, have understood that.
And those who want stability in life have started looking at other opportunities outside of the start-up ecosystem.
Is it a grim scenario for the start-up ecosystem in India right now?
I would say, everybody is cautious in general.
But due to the funding winter, many start-ups, who were relying on funding, are finding it very challenging.
So, they are forced to cut down on their hiring plans.
They are forced to lay off employees too. Yes, it is grim for such start-ups.
But in general, start-ups are thriving particularly the new ones as Series A and B funding is still happening though the volume of money has reduced.
Another report says there is a 25% slump in job growth in the IT sector. Is it true?
Yes, we have noticed a slump in the IT sector due to the global factors.
IT sector is the maximum affected as we see some growth in the other sectors.
Do you think we will see a change in job growth only when the global situation changes?
Of course, that's a major factor.
But if some of the projects announced in the Budget like the infrastructure projects, the divestment of public sector units, the green projects, the skilling initiatives, take off, the Indian sectors that are focussed on Indian consumers, will benefit.
Feature Presentation: Aslam Hunani/Rediff.com
Source: Read Full Article