Kate Middleton has spent the final weeks of summer 2021 out of the spotlight, prompting a lot of royal fans and watchers alike to wonder what's going on. In fact, there was even some speculation suggesting that the Duchess of Cambridge was possibly pregnant with her fourth child, seeing how she seems to only cancel her royal engagements if she's expecting or dealing with her first-trimester blues. Well, that doesn't seem to be the case this time around — even though Buckingham Palace is yet to confirm or deny the rumors — as Kate is expected to be back at work sooner rather than later.
Kate's new engagement is drawing a lot of attention back to Prince Harry, as this kind of work was right up his alley when he was still a full-time working royal; it's the kind of work that would have given him an opportunity to reconnect with the tight-knit military community he was once a part of. Harry even once went as far as to suggest that he was "too much army, and not enough prince," per Reuters. Keep reading below to find out what Kate's new job is and why Harry might feel conflicted over it.
Kate Middleton visits with Afghanistan evacuation teams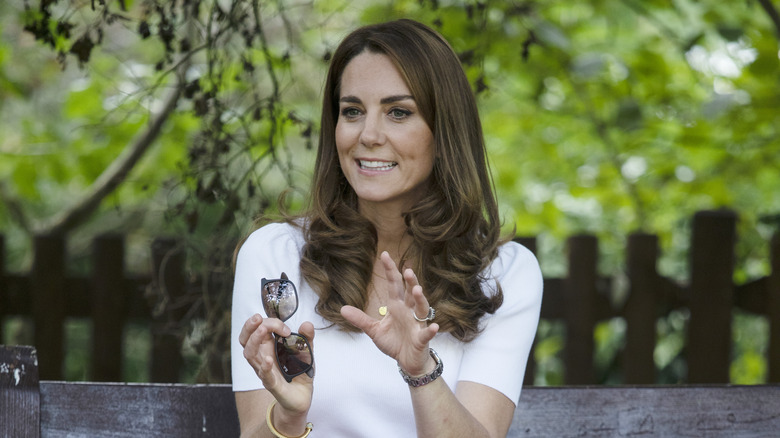 Both Prince Harry and Meghan Markle have made it no secret that the Taliban takeover in Afghanistan hit close to home for them. The Duke of Sussex, who served two tours in Afghanistan while he was still in the British Army, has been especially involved with his military community, thanks to Invictus, the international sporting event that he founded for injured and sick veterans. "We encourage everybody across the Invictus network — and the wider military community — to reach out to each other and offer support for one another," read a statement from the foundation on Twitter.
And while Harry might be stuck taking Zoom calls from his multi-million dollar home in Montecito, California, it's his sister-in-law Kate Middleton who will be doing the face-to-face meeting with Afghanistan evacuation teams. The Duchess of Cambridge is expected to visit the RAF Brize Norton in Oxfordshire, where she will meet some of those who were directly involved in the effort to evacuate civilians from Afghanistan, including RAF crew and medics, reports People. Volunteers are there working at the repatriation center to help provide supplies such as food, clothing, and children's toys for Afghan families in need.
Of course, plenty of royal critics believe that the Duke of Sussex is trapped. Now, perhaps more than ever before, there's no doubt that he would have loved to attend this particular engagement by Kate's side, had he stayed in the UK.
Source: Read Full Article