Sunita Harisinghani has the perfect recipe for busy, hungry, people.
Aloo Matar Pattice
Serving: 6
Ingredients
1 bowl (250 gm) green peas, blanched
2 medium-sized (6-7 tbsp) potatoes, mashed
1 tsp ginger-garlic-green chilly paste
Bread crumbs as needed
2 tsp maida or white flour
1 tsp cornflour
1 tsp black pepper powder
1 tsp haldi or turmeric
½ tsp coriander or brown dhaniya powder
½ tbsp lemon juice
2 tsp salt
1 tbsp oil
Method
Blend the blanched green peas coarsely in a mixer.
Heat 1 tbsp oil in a pan.
Add the coarsely blended green peas.
Add coriander powder, ginger-garlic-chilli paste, haldi, lemon juice, salt.
Saute for 2 minutes.
Keep aside and let it cool.
Mix the mashed potatoes with salt and a pinch of black pepper powder.
Flatten portions of the mashed potatoes in your palm and fill it with a little of the green pea filling.
Make tikkis of desired shapes.
Make a slurry of maida and cornflour with a little water.
Add salt, pepper powder.
Dip the tikkis in the slurry and coat them with bread crumbs.
Deep fry or shallow fry them, as per your preference.
Serve hot with chutney or ketchup.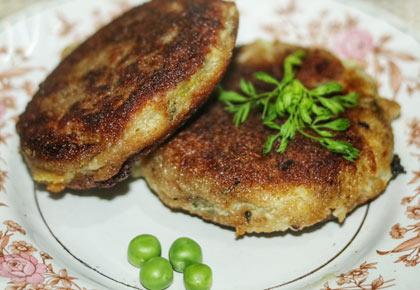 Source: Read Full Article