Season 5 of Bachelor in Paradise is shaping up to be one steamy installment of the summertime spinoff. One couple getting attention even before the premiere airs? Joe and Kendall. Joe became an instant fan favorite after he was eliminated in the first episode of Bachelorette Season 14. The Chicago grocer won over America with his fondness for produce and his sweet attitude with barely any screen time. Kendall was also beloved during the Bachelor Season 22 — the LA creative director/taxidermy appreciator delighted fans with her quirky, good-natured personality. So, are Joe and Kendall dating after Paradise? Bachelor Nation is shipping this potentially promising pair.
"Becca may have sent Joe home the first night, but he's making a really great impression on me," Kendall admitted in a teaser for Bachelor in Paradise, which also shared a shot of them making out on a couch. But her winning endorsement may be complicated by a certain luscious-locked stuntman.
"I'm not threatened by Leo. I'm not worried about the other guys," Joe is seen saying in the latest action-packed trailer for BiP Season 5, which was unveiled during Monday night's Bachelorette "Men Tell All." "I know I'm falling in love with Kendall."
Whoa — did he just drop the L-word? And no, I don't mean Leo, although the Bachelorette contestant from Becca's season appears to be a part of a dramatic triangle brewing in Mexico.
"How can you be in love with somoene and your heart feels like it's breaking?" Kendall cries in the trailer.
"I'm like freaked out that I'm not making the right choice right now," she also says.
This comes after Leo is seen calling Joe a "Grocery Store b*tch." Yikes. Leo and Kendall are also shown making out in the clip, so it's possible that he does come between the possible lovebirds.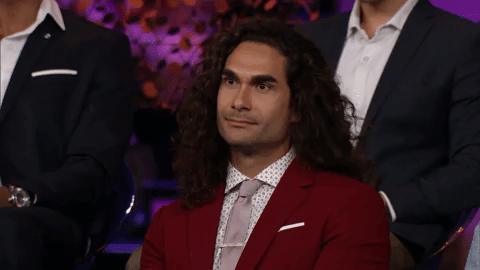 Joe took the hotseat in a convo with Chris Harrison during the "Men Tell All," but the charming foodie played coy about his current relationship status. The so-called man of few words has remained mum about what went down in Mexico while promoting the season.
"You gotta wait and see," he told ET after being asked how Paradise treated him. "But you know, I made it past night one."
You can't blame the guy for not spoiling his arc on the show, so a response like that is to be expected. Joe continued to pull the "wait and see" reply when pressed on if he was single. Hmm.
Kendall hasn't spilled BiP details yet either and her social media is filled with adorable snaps of her fellow Bach friends and stunning visual documentation of her life in Los Angeles and beyond — there aren't concrete clues that she's involved in a romance at the moment. Kendall was present at the Bachelorette "Men Tell All" taping with a handful of other BiP contestants, but I gotta chalk that up to the fact that she lives in the Los Angeles area.
Bachelor Nation will have more hints soon enough. Bachelor in Paradise Season 5 premieres Tuesday, August 7 on ABC.
Source: Read Full Article