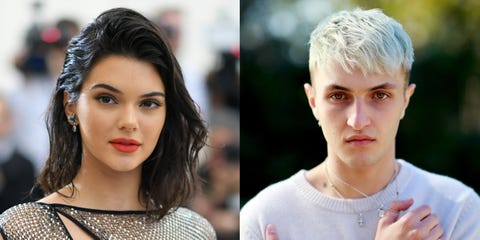 If recent rumors are to be believed then Kendall Jenner's relationship status is still up in the air. And now, the model has been spotted spending time with Anwar Hadid again, following a heavy make-out session earlier in the summer.
Earlier this week it was reported that Kendall's relationship with NBA star Ben Simmons was cooling off. E! reported, via their "insider," that while Jenner and Simmons were still apparently "texting" one another, Kendall had also "been spending time with other people."
And now, thanks to an eagle-eyed photographed, it seems as though one of those "other people" is none other than Gigi and Bella Hadid's brother, Anwar. JustJared has photos of Kendall and Anwar hanging out at the annual Malibu Chili Cook-Off Fair with a group of friends. But does this outing mean that the models are actually seeing one another now?
???‍?
A post shared by Anwar Hadid (@anwarhadid) on
Hadid and Jenner were first spotted kissing on a night out back in June 2018. At the time, TMZ reported that, according to their sources, "they were just having some fun while out with friends," and that nothing "serious" was going on between them. After the public kiss, Jenner appeared to start dating Simmons exclusively. It was even reported at one point that Jenner and Simmons were living together, hinting that they were getting serious about each other.
But despite going on a double-date vacation with Simmons, and with sister Khloé Kardashian and her beau Tristan Thompson, it appears as though the relationship might now be on hold.
Source: Read Full Article