The 'Orange Is the New Black' alum takes to Instagram to share photos of her rocking two different gowns by London-based designer Gbemi Okunlola and by close friend Christian Siriano.
AceShowbiz –Danielle Brooks is officially a wife now. The actress has wed her fiance Dennis Gelin, with whom she shares her two-year-old daughter Freeya Carel Gelin, after more than five years together. The couple recently tied the knot at the historic Alfred DuPont Building in Miami, Florida.
Making use of her Instagram account to share the happy news, the Tasha "Taystee" Jefferson on Netflix's "Orange Is the New Black" let out several pictures showing her looking stunning in her wedding dresses. For the special day, she rocked two semi-sheer pieces by different designers, London-based designer Gbemi Okunlola and Christian Siriano, who is her close friend.
"I'z married now!" Danielle captioned one of her posts, quoting a famous line from "The Color Purple", a nod to her previously starring in the Broadway production. In another post, she wrote about working with Alonuko, a black-owned designer brand, for her gown that had a shear bodice with floral embellishments.
"It was very important to me to find a black wedding dress designer," she shared. She went on raving about the designer, "When I tell you I hit jackpot finding @alonuko_bespoke, I hit jackpot. She was incredible to work with and even flew all the way from London two days before my wedding to make sure the dress arrived in time. Thank you for your talent and professionalism! Brides, hire her!!! Thank you for adding to my special day!"
Danielle also posted a photo of her posing with Christian, while wearing the gown he designed featuring a huge statement-making detachable train. She thanked him in the caption, "Words can't express how grateful I am to have a friend like you. You've held me down from one of my first carpets to the most important day of my life! I love you and appreciate your friendship! Thank you for my 3 in 1 dress! Love you @csiriano."
Danielle also posted on her Stories more photos from the nuptials. One snap captured her daughter looking pretty in her own white gown as she served as the flower girl. The bridesmaids, meanwhile, wore matching metallic orange dresses.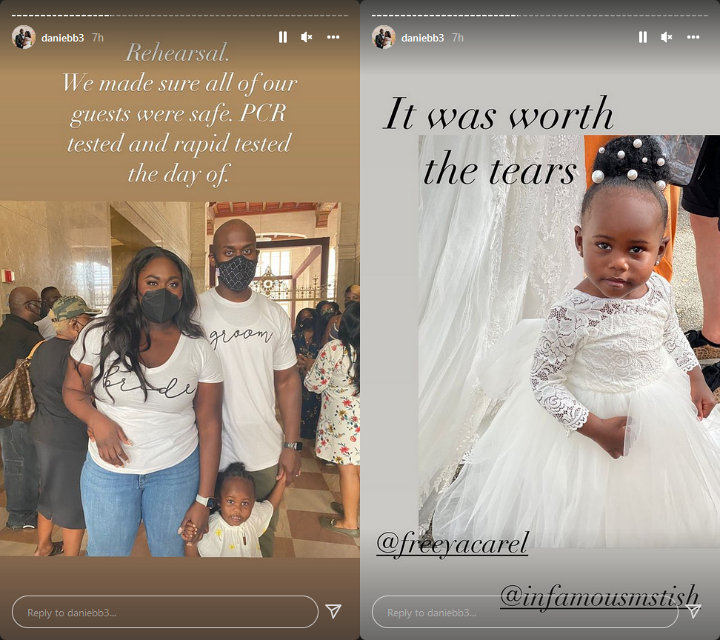 Danielle Brooks gave a look into her wedding day.
Another photo captured a sweet moment when her father walked her down the aisle. "This moment meant so much to me," she wrote over the picture. "My father was suffering for years from hip pain and had to loose a significant amount of weight before they would allow him to have surgery. He lost over 60lbs naturally not only for his health but for this moment as well! I love you daddy! Forever your baby girl!"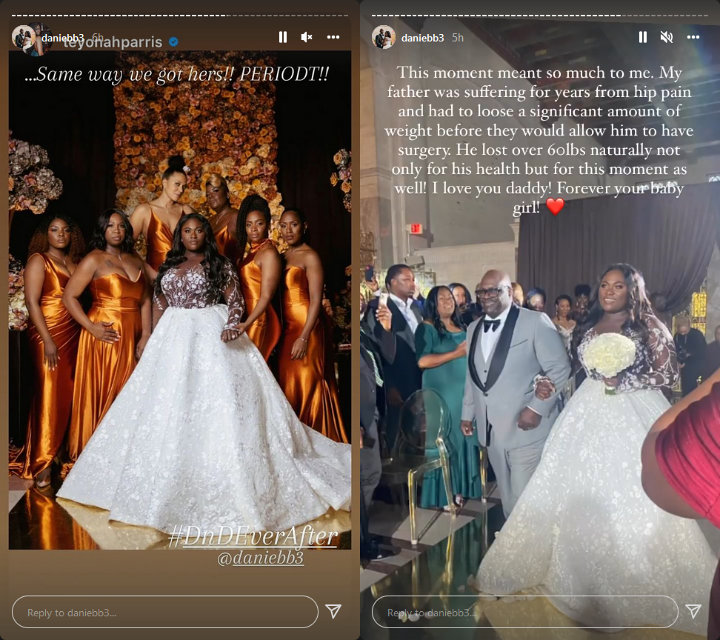 The actress shared more photos from her nuptials.
Speaking to Vogue, Danielle detailed the process behind her wedding day. "I always knew I was going to have two dresses," she told the magazine. "We thought it would be best to do a first look reveal so that we could go ahead with bridal party pictures and not hold up our guests after the ceremony. I decided to wear Christian Siriano for the reveal. We have been friends ever since my career first began."
Amid the rising COVID-19 cases due to Omicron variant spread, their wedding planner D'Concierge took extra precautions by adding "required PCR tests and rapid tests" for everyone at the wedding. "Everything was going pretty well until Omicron hit the country," Danielle said. "It was a bit too late in the process to turn back, so we added extra precautions with required PCR tests and rapid tests the day of the wedding. I have to say our wedding planner, D'Concierge, was out of this world amazing. He never panicked and kept us levelheaded during the ups and downs."
Danielle's stylist Kelly Augustine gifted her with a pair of Chanel earrings the morning of the wedding that paired perfectly with her dresses. She wore shoes by Nina. Meanwhile, Dennis and his groomsmen all wore custom suits by Garcon Couture.
Danielle's hometown pastor Pastor Baldwin was the officiant. "There wasn't a dry eye in the building," the "Close Enough" star said of the service. "We cried the ugly cry, and laughed hard. Dennis and I did our personal handshake and jumped the broom in honor of our ancestors. It was definitely a night to remember."
Source: Read Full Article