Embed from Getty Images
There are so many Princess Diana looks that live rent-free in my head. I was four when she died but my mom loved her and gave me many magazines and books about her when I was little, which I read through over and over again with complete devotion. (It's probably what clued my parents in to the fact that I'd one day become fashion-obsessed.) One of my favorite Lady Di pieces is her infamous Black Sheep sweater with the red background. It's among her most iconic casual looks, which she first wore at a polo match in 1981 shortly after her engagement to Prince Charles. Now the original sweater is being auctioned off at Sotheby's–and it's actually the first of two. She sent back the original because she had snagged it and asked if it could be replaced. It's estimated to fetch at least fifty grand at auction.
A red sweater adorned with a flock of sheep worn by the young Princess Diana is expected to sell for more than $50,000 at auction.

The playfully patterned wool jumper featuring a single black sheep amid a pattern of white ones headlines Sotheby's online Fashion Icons sale in September.

The 19-year-old Lady Diana Spencer was photographed in the garment at a polo match in June 1981, soon after her engagement to Prince Charles, who was then heir to the British throne.

Diana was already becoming a style icon —- and one of the world's most photographed women — and the moment gave a big boost to designers Sally Muir and Joanna Osborne, who made the sweater for their small knitwear label Warm & Wonderful.

A few weeks later, Muir and Osborne received an official letter from Buckingham Palace explaining that Diana had damaged the sweater and asking whether it could be repaired or replaced. The original was returned, showing damage to a sleeve the designers thought might have been caused by snagging on Diana's diamond and sapphire engagement ring.

A new sweater was knitted and dispatched, and Diana was photographed wearing it with white jeans and a black ribbon tie at an event in 1983.
[From AOL]
I wonder if the sleeve really was damaged by the engagement ring. It would be kind of poetic if the symbol of her impending marriage damaged a sweater that celebrates individuality, which is why I can't believe that's what damaged it, it's like something a screenwriter would come up with. One of my favorite new books from the last year is The Lady Di Look Book by Eloise Moran. The thesis of the book is that Diana was very adept at communicating through her clothes, and used them to express herself when being in the Firm kept her otherwise muzzled in some ways. I definitely believe the Black Sheep sweater was a commentary on her place within the Firm the second time she wore it in 1983. Diana had so many deep childhood wounds–reinforced on the daily by her feckless husband and the glacially cold Windsor family–that I think she always considered herself a 'black sheep' or an underdog. But she was able to use that pain and sense of alienation to relate to other people who really were marginalized by society, and that's one reason she remains so beloved today. $50-$80K for a sweater is a lot but for something so iconic that once belonged to Diana, it feels like that's about the market price. I hope whoever buys it takes good care of it.
Embed from Getty Images
Embed from Getty Images
Embed from Getty Images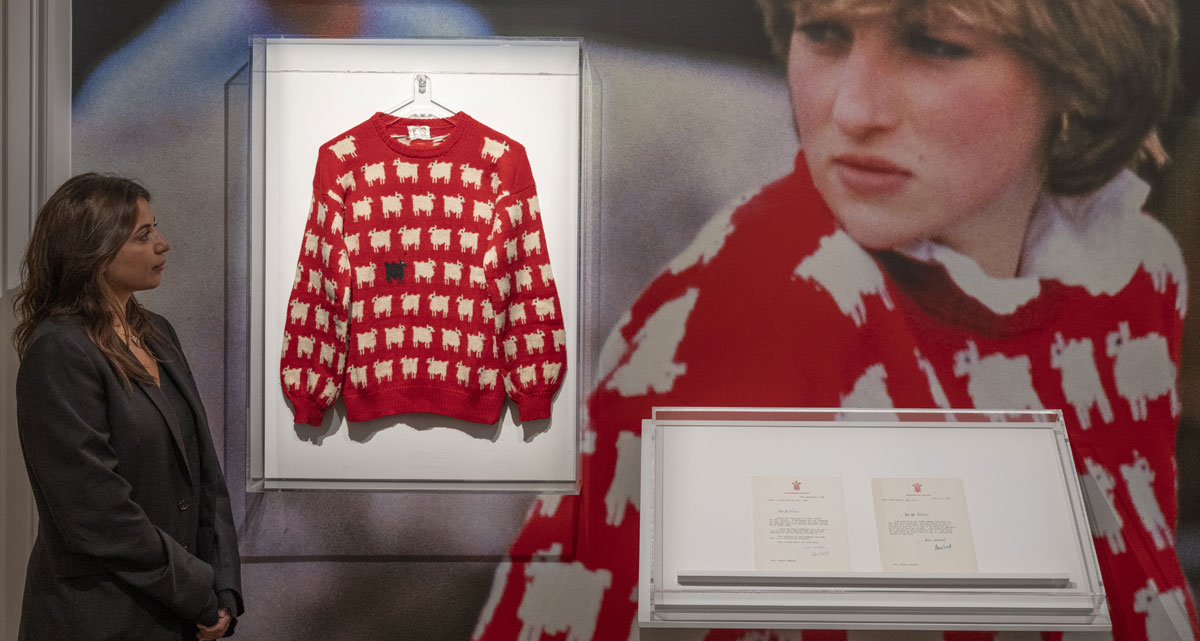 photos credit: Avalon.red and Getty
Source: Read Full Article