A popular dish from Rajasthan, gatte are roundels made from besan or gram flour.
Maharaj Ganga Singh's recipe utilises spices, onions, garlic, green chillies and green coriander to create the flavourful youghurt-based Gatte Ki Sabzi.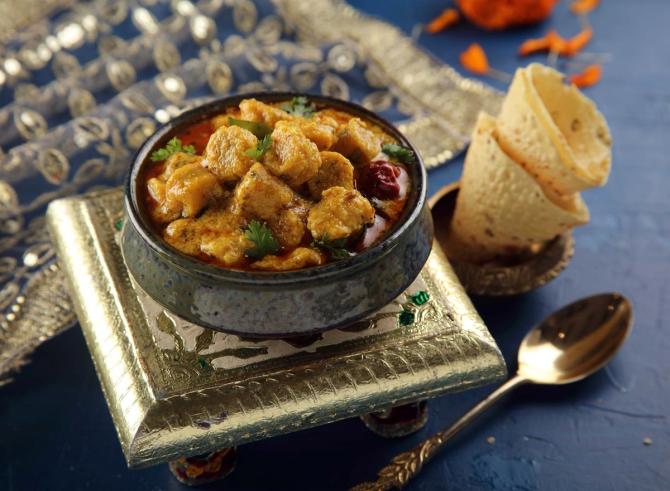 Gatte Ki Sabzi
Ingredients
¾ cup besan or gram flour
2½ tsp red chillly powder
½ tsp haldi or turmeric powder
2½ tsp coriander seeds
1½ tsp jeera or cumin seeds
2 tbsp ghee
1 cup curd or yoghurt, whisked
5-6 pods garlic, finely chopped
¼ tsp hing or asafoetida powder
2 green chillies, finely chopped
2 medium-sized onions, chopped
Salt to taste
4 tsp oil
Water, as required
Chopped green dhania or coriander or cilantro leaves, for the garnish
Method
In a large bowl combine the besan and a pinch of salt.
Add the coriander seeds, ½ tsp of the cumin seeds, ¼ tsp of the turmeric powder, 1½ tsp of red chilly powder, 2 tsp oil and mix well.
Sprinkle water, bit by bit, over the besan mixture to form into a firm and smooth dough.
Add 2 tsp more of the oil to the dough and knead again.
Shape the dough into a frac12;-inch diameter long roll.
Keep aside.
Boil 1 litre water in a large heavy-bottomed saucepan.
When the water comes to a rolling boil add the entire besan dough roll into the water and let it cook for about 15 minutes over high heat.
Once cooked, drain the roll and let it cool.
Slice into ½-inch pieces.
Heat the ghee in a heavy-bottomed kadhai or saucepan.
Saute the remaining 1 tsp cumin seeds, ¼ tsp hing, garlic, onions, the remaining ¼ tsp turmeric powder, the remaining 1 tsp chilly powder, green chillies, salt for a few minutes.
Then add the sliced gatte and mix lightly.
Lower heat and add the curd.
Take off heat and garnish with coriander leaves.
Serve warm with hot chappattis or rice.
Rasotsav is a vegetarian restaurant serving Rajasthani and Gujarati food in Mumbai.
Do you have any recipes to share? Please mail the recipe to [email protected] (SUBJECT: RECIPE) with photographs/videos of the recipe, your name, location and a photograph of yours.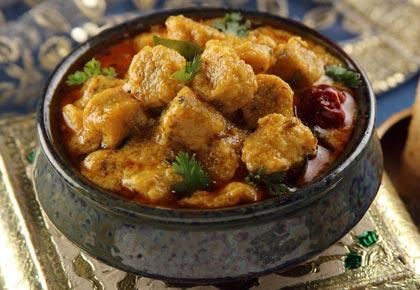 Source: Read Full Article