For a time, we had a Mangalorean girl named Philomena working in our home.
She loved to cook and over the years pretty much mastered the way we liked our meals, learning even how to put together complicated soups, salads, north Indian favourites and South Indian fare and to bake bread too.
She eventually went back to her village outside Mangalore to look after her parents, but not before leaving me with a few of her signature recipes.
Philo's Egg Curry is much preferred in my home to any other recipe of egg curry. It has a typical but simple Mangalorean fish curry-type coconut base and is made sans fish with boiled eggs instead. It takes hardly 20 minutes to make.
Philo's Egg Curry
Serves: 3-4
Ingredients
9-10 eggs, hard boiled, peeled, sliced in half lengthwise
½ cup water or more
5 large Kashmiri red chillies
3 tbsp freshly ground dhania or coriander powder
2 tsp salt
1 tsp haldi or turmeric powder
½ tsp jeera or cumin seeds
2 large tomatoes, roughly chopped
10 pods garlic
Pieces of ½ a fresh coconut
1-inch piece ginger
1 large onion, chopped into large chunks
20 curry pattas or curry leaves
1 large onion, sliced
2-3 tbsp oil
2 tsp rai or mustard seeds
1 tsp hing or asafoetida
2-3 tbsp imli or tamarind paste
1-2 tsp lal mirch or red chilly powder, optional
Method
Grind in a blender/mixer the Kashmiri chillies, coconut, salt, tomatoes, chunks of onion, jeera, dhania, haldi, ginger, garlic, 10 of the curry leaves with the water to make a thick paste.
In a kadhai or saucepan heat up the oil over medium heat and add the rai and the hing and allow it to crackle.
Then add the remaining curry leaves and saute a minute more and add the sliced onion.
Cook for 3-4 minutes and add the ground paste and enough water to have a curry consistency.
Bring it to a boil and simmer for 7-10 minutes till masala loses its raw edge.
Add the imli paste and the red chilly powder for added spice and adjust the salt.
Add in the eggs and bring to a boil again and simmer 4-5 minutes.
Serve hot with steamed rice and ghee or parathas or dosas.
Zelda's Note: Those who do not eat eggs, can replace the eggs with ¼ kg bhindi or okra or lady's fingers, that's been cut into 1-inch pieces and pan fried. Or 250 gm baigan or eggplant, sliced, prefried.
It also makes the perfect curry for seafood in addition to half of the eggs or replace the eggs — 250 gm prawns, shelled, tailed, deveined or 2-3 small pieces bhangda or mackerel or 250 gm tarli or Indian sardines.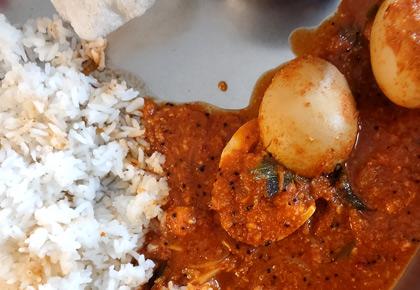 Source: Read Full Article