In Marathi, we have a saying: 'Ekadashi ani duppat khashi'. It is a slightly condescending way of telling someone not to overeat on a fasting day.
Why is this gentle nag necessary? Well, blame it on all the delicacies that are generally prepared during fasting.
From sabudana khichidi, sabudana wada to kheer and Rajgira Puri as well as Singhada Halwa — the yumminess that vrat ka khaana brings can easily turn our fasting into feasting.
One such delicious preparation is Farali Misal, which is a fasting-appropriate spin on the traditional misal and a staple in Maharashtrian homes during fasting season.
It is an assortment of many flavourful things which makes for a super-filling and mazedaar dish on your 'hunger-stricken' day.
The dish can be enjoyed as a light snack or a complete meal if combined with Rajgira Puri.
Be warned, you may gorge on a bellyful of this tasty concoction and still want more!
Farali Misal
Serves: 1-2
½ cup boiled, peeled and mashed potatoes
½ cup freshly grated coconut
3 tbsp roasted peanuts
2 tbsp sabudana or sago, washed and soaked for 5-6 hours
1 cup water
1 tsp sendha namak or rock salt
1 tsp sugar
4-5 curry leaves, optional
2 light green chillies, crushed
½-inch piece adrak or ginger, crushed
1 tsp jeera or cumin seeds
1 tbsp ghee or cashew butter
1 cup store-bought farali batata chiwda (I used a combination of Haldiram's Farali Chiwda and Haldiram's Panchratan Mixture)
Slices neebu or lemon, to serve
Method
For the coconut-peanut paste
Grind the freshly grated coconut and the roasted peanuts in a mixer along with some of the water to get a smooth paste.
Keep aside.
Heat the ghee in a heavy-bottomed kadhai or saucepan.
Add the cumin seeds and let them crackle for a few seconds.
Add the curry leaves, green chillies, ginger.
Stir fry for half a minute.
Add the mashed potato and mix well.
Add the ground peanut-coconut paste.
Add the washed and soaked sabudana.
Mix again.
Add the sugar and the rock salt.
Pour in enough water to cover the potatoes.
Simmer for 5-6 minutes or till the gravy thickens.
Take off heat and keep aside.
For the assembly
Pour the potato-peanut curry into a bowl.
Top it with a handful of the farali chiwda and panchratan mixture.
Serve warm with a slice of lemon.
Editor's Note: To make puriS from rajgir, try out Maharaj Jodha Ram Choudhary's Rajgire Ki Puri recipe.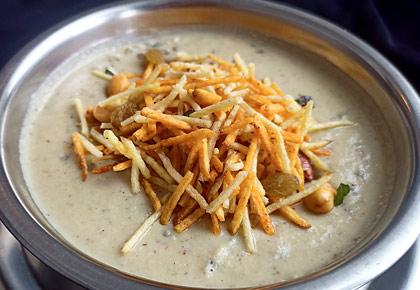 Source: Read Full Article