'The end of WFH has made achieving work-life integration more challenging for women.'
The opening up of offices after a pandemic-induced work from home (WFH) is leading to a spike in attrition rates, especially in tech companies.
But while more people are quitting jobs across the board, the impact has been particularly hard when it comes to women.
In its latest annual report released on June 7, TCS, India's biggest IT company, pointed out that attrition among women employees had raced past the rate of men quitting.
Its Chief Human Resources Officer Milind Lakkad had said that historically, attrition among women employees, who account for over 35 per cent of TCS' headcount, has been lower or similar to that of men.
Calling the development 'unusual', he had said, 'I would think working from home during the pandemic reset the domestic arrangements for some women, keeping them from returning to office even after everything normalised.'
Lakkad was not available for further comment.
TCS isn't the only firm to have witnessed this.
A Bengaluru-based IT publishing firm has found that more than one in two of its employees who quit in 2023 were women.
The withdrawal of the WFH option was given as a major reason for quitting.
"New mothers and women who were newly married cited increased household responsibilities and inability to cope," said an executive, asking not to be named.
A scrutiny of the annual reports of Infosys for the last four years shows that the percentage of women employees increased year-on-year between 2019-2020 and 2021-2022.
It stood at 37.8 per cent in 2019-2020, 38.6 per cent in 2020-2021 and 39.6 per cent in 2021-2022. But it tapered slightly to 39.4 per cent in 2022-2023.
Satish Shukla, CHRO and co-founder of Addverb, a Noida-headquartered robotics company, said that while the WFH facility during COVID-19 helped individuals to avoid relocating from their hometowns, women faced challenges as they took on greater caregiving responsibilities.
"As offices reopen and remote work ends, women experience higher attrition rates due to the difficulties of relocation and the burden of caregiving," Shukla said.
"The end of WFH has made achieving work-life integration more challenging for women."
Rituparna Chakraborty, co-founder of Teamlease and an industry expert, said that the attrition rate for women at mid-management and mid-career level has always been the highest.
"This has been the case historically, but it has seen a further spike now.
"During COVID-19, the home structure of mid-career women aligned with the WFH mode. So when employers started insisting on work from office post the pandemic, more women began opting out of the workforce."
She said whether one considers tech jobs or those in non-tech industries, the attrition rate among women has been about 16 per cent overall — 40 per cent in non-managerial roles and 20 per cent at the executive level.
And the maximum attrition has been seen in the 30-40 age group at 15 per cent.
A spokesperson for Vistara airline said that it had a hybrid work policy for corporate office employees and for select roles that do not necessarily demand on-ground presence.
Women account for 43 per cent of the workforce at the airline and for 13 per cent of its leadership team. Vistara, however, did not divulge its attrition rates.
Nestlé, one of the country's largest FMCG players, said that in 2022, the attrition rate for women was 26 per cent — nearly double that for men (13 per cent).
That said, its spokesperson added, "Women workforce is growing steadily in Nestlé India. We have one of the highest representation of women in field sales in the FMCG industry."
The company, however, did not divulge the overall percentage of its women employees. The spokesperson said Nestlé's current board of directors comprised 50 per cent women.
Queries sent to Accenture remained unanswered. And while a Wipro spokesperson did not divulge data on the level of attrition among women employees, she said women accounted for 36.3 per cent of the company's workforce.
So what are employers doing to encourage more diversity in the workforce?
Sumit Sabharwal, CEO of Teamlease HRTech, gave the example of a global tech company, which recently began using an AI-enabled HRtech platform to improve gender diversity.
This not only helped in hiring women from tier 2 and tier 3 cities — locations where there was little hiring of women earlier — but also assisted in improved retention rates of women employees.
"This platform used machine learning algorithms to create gender-neutral job descriptions and unbiased screening processes, thereby reducing the inherent bias in recruitment," Sabharwal said.
Saundarya Rajesh, founder-president of Avtar, a diversity, equity and inclusion consultancy, said IT and IT-enabled services (ITES) top the list in women's workforce participation.
"That said, with the increase in demand, there is also attrition, which I would call a good one because we see women moving out for better career opportunities," she said.
"The IT and ITES sector is closely followed by financial services, where attrition is comparatively less.
"Meanwhile, we see women's participation in the healthcare, education, services and manufacturing industries increasing. However, the rate is fairly slow."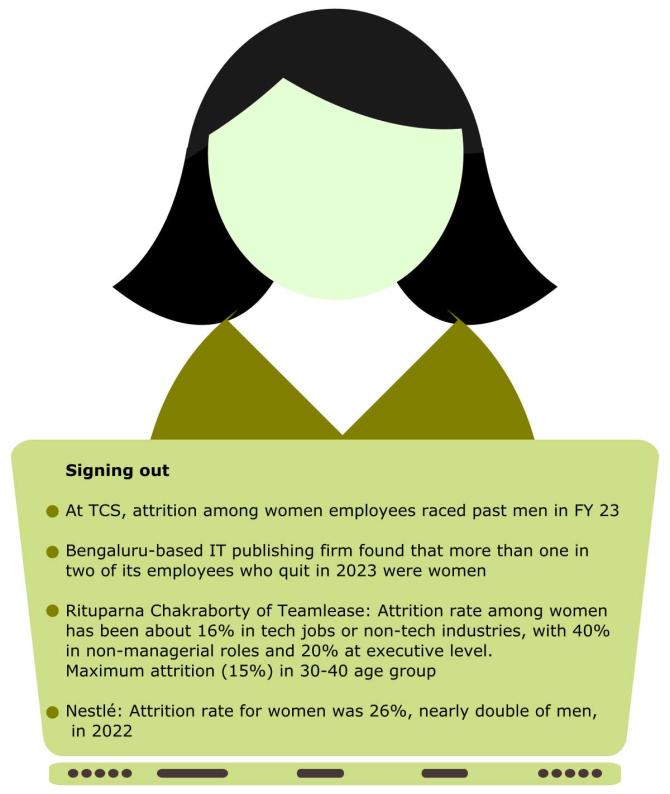 Feature Presentation: Ashish Narsale/Rediff.com
Source: Read Full Article