Grab a glass of water because Prince William and Kate Middleton's New Year's Eve Instagram post is a total thirst trap.
The Duke and Duchess of Cambridge are generally known for being all kinds of prim, proper and PDA-free in public, but they made it clear that's definitely not the case behind closed doors—including the closed doors of the limo they rode to the premiere of No Time to Die earlier this year.
Here's a picture of Will and Kate on the red carpet for the movie's world premiere in London, dressed to the nines and looking stunning, but engaging in zero PDA: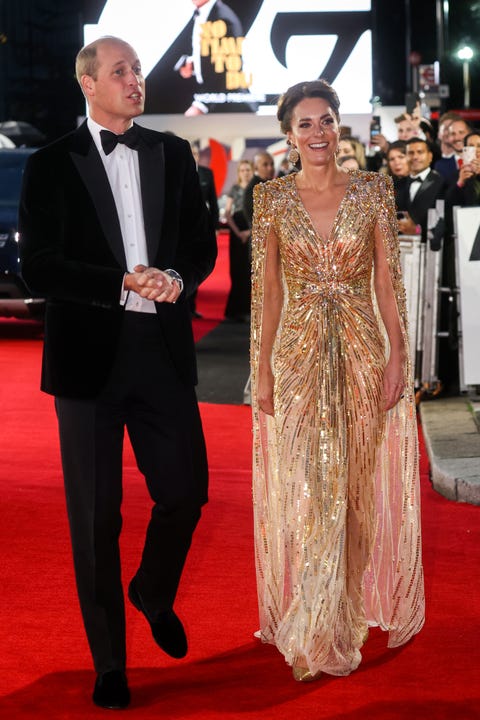 Annnnd here's the pic the couple shared on IG yesterday, of themselves hanging out in the limo, looking loved up AF:
https://www.instagram.com/p/CYKH5wBNdhT/?utm_source=ig_embed&utm_campaign=loading
A post shared by Duke and Duchess of Cambridge (@dukeandduchessofcambridge)
Now, it doesn't take a body language expert to tell that there is clearly a very different comfort level on display, but The Sun called up body language expert Judi James anyway and she offered up all kinds of insights about Will and Kate's 'ship status and the secret messages they were sending to the world by sharing *this* specific pic. Here are some highlights.
On their throwback PDA:
"Why is it sexy? Because it looks so much like an echo of the poses we used to glimpse of the couple during their dating years, when they would often be seen flirting and getting tactile together in the back of limos after rolling out of parties. Since their wedding their body language together has been much more discreet but the choice of composition suggests they are still very much the same fun, flirty duo that they were back then."
On their King and Queen vibes:
"Their mutual torso and head leaning in together shows their signature trait of mirroring, as does the matching symmetric smiles. This suggests not just like-minded thinking but also an emphatic power balance that should be an ongoing feature of their body language once they reach the throne."
On Kate's attitude about their 'ship:
"The hand clasp is an important signal as it also speaks of the enduring strength of their relationship together. Kate is making what looks like a very firm statement here, by not just holding her husband's hand but placing her other hand over the top of his in a gesture of affirmation and ownership that implies he is still very precious to her."
Source: Read Full Article