Aata Aur Gond Ke Laddoo are rather nutritious.
Packed with almonds, coconut, green cardamom and gond, this yum sweet will keep you warm during winter and are apparently good for bone health as well.
Cook up a batch of Sangita Agrawal's wholesome laddoos and they will easily last you a month.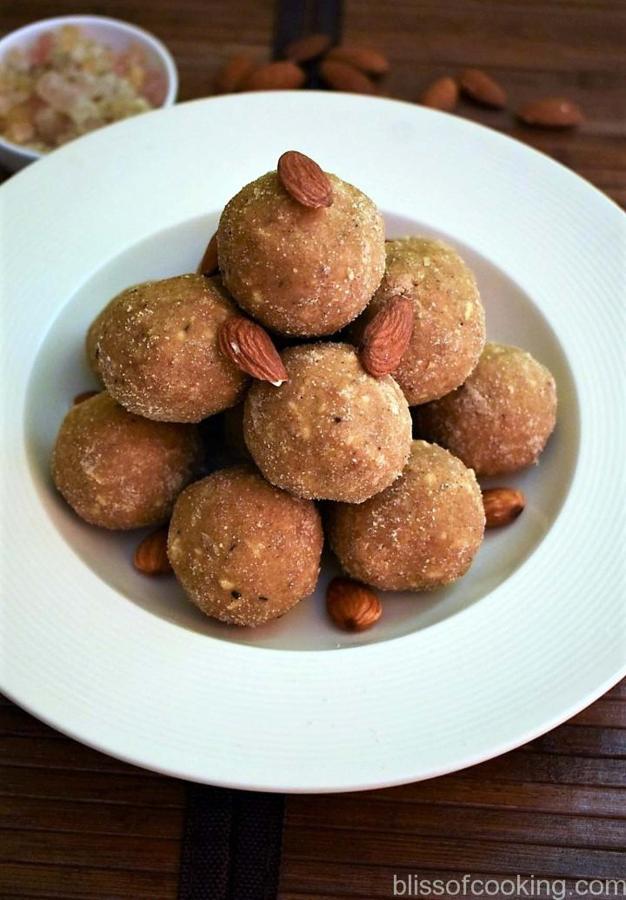 Aata Aur Gond Ke Laddoo
Servings: 12-15 pieces
Ingredients
500 gm aata or wheat flour
500 ml ghee
200 gm gond or edible gum
1 cup chopped badam or almonds
1 cup grated khopra or dry coconut
1 tbsp green elaichi or cardamom powder
500-600 gm powdered or icing sugar
Method
Heat the ghee in a heavy-bottomed kadhai or wok.
Add the aata and mix well.
Roast the ghee-aata mixture over medium heat for 5 minutes, stirring continuously.
Reduce the heat to low and let is roast well, stirring occasionally till it is golden brown.
Meanwhile, crush the gond into small pieces but not too fine and set aside.
Grate the khopra and set aside.
When the ghee-aata mixture turns brown and begins to give off an aroma increase the heat and while stirring add the gond in 2-3 batches to the roasted aata.
When the first batch of gond pops with a sound, add the next batch and then the third.
Next add the almonds, khopra and saute on medium heat till the almonds turns pink.
Take off heat and let the mixture cool down till it is warm enough to handle.
Add the cardamom and powdered sugar to the aata mixture and stir well to get a homogeneous mixture.
Divide the mixture into equal portions and roll it into 12-16 balls of desired size.
If while making up the laddoos the aata becomes cold, then warm a little.
Let the laddoos come to room temperature and then transfer to an air-tight container.
These laddoos can be stored up to 1-2 months.
Sangita Agrawal lives in Mumbai and publishes the food blog Bliss of Cooking.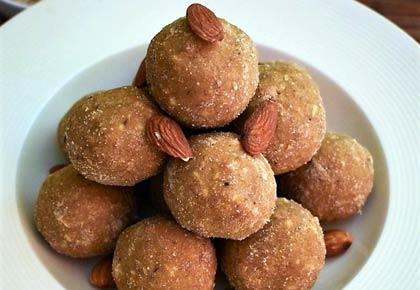 Source: Read Full Article