Even as you fight the ongoing health challenge, here are some tips to strengthen your personal finance in the time of coronavirus.
Illustration: Dominic Xavier/Rediff.com.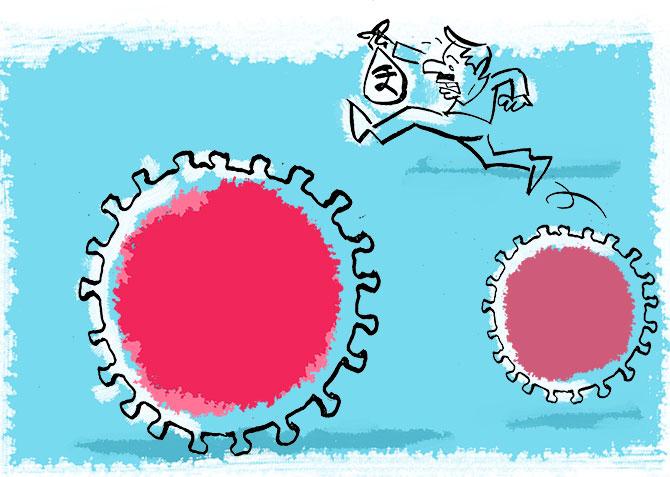 Step up your emergency fund
A good personal finance habit calls for maintaining an emergency fund of at least six months of your mandatory monthly expenses including your EMIs, insurance premiums and monthly SIP. As emergencies such as job loss, illness, salary delay, etc can strike anytime, funds should be parked in instruments such as high yield savings accounts and ultra-short duration funds.
Doing so would yield you higher returns than regular savings accounts while offering higher level of capital protection features and liquidity than other debt funds. With income uncertainty and economic stress on rise, it would be wise if you step up your emergency fund. Doing so would help lower your dependency on debt during an emergency.
Go digital with payments
In this disruptive phase, you can remain on top of your finances by paying your insurance premiums, EMIs, SIPs, and various other payments digitally. Instead of using cash or cheques for payments, switch to digital payment modes like online banking, UPI, e-wallets, etc.
Going digital will not only enhance social distancing in this situation, it will also save you from payment delays or defaults.
Assess your health cover
Health insurance is one of the best financial instruments one should procure to meet any future medical risks, which includes Covid-19, a 'notified disaster' declared by our country. IRDAI on March 4, 2020 directed all the insurance companies to cover Coronavirus cases and speed up the insurance claims made for the disease.
Based on your insurer, your coverage for health insurance might include post- or pre-hospitalisation expenses, ambulance costs, hospitalisation tests, quarantine expenses, etc. Hence, make sure to buy health policies with adequate cover to protect yourself and your family from steep hospitalisation expenses.
However, remember that health insurance policies taken anew might be subject to a 30-day waiting period, ie, the hospitalisation-related expenses would be covered only after the completion of 30 days from the date of policy purchase.
Continue with regular loan and credit card repayment schedule
Despite the three-month loan moratorium announced by the RBI, existing borrowers should do their best to continue their loan repayments. Only borrowers unable to service their term loans because of the severe impact of lockdown on their cash flows should opt for a loan moratorium.
As those availing the loan moratorium will continue to have interest accrued on their outstanding loan during the moratorium period, the interest accrual will increase their total interest cost.
Credit card holders should also avoid moratorium due to the high interest rate, also known as finance charges, on unpaid dues. These rates can range anywhere from 23 per cent and 49.36 per cent per annum depending on the card type, etc.
Instead of opting for the moratorium, they should convert their outstanding bill into EMIs and thus, repay it in smaller instalments. The interest rate charged on conversion into EMIs is much lower than the credit card's finance charges and their tenures can go up to 5 years.
Here is the comprehensive table, in case you are opting for the moratorium on loans.
Source: Read Full Article