The two-time Emmy Award winner previously paid tribute to her late 'Euphoria' co-star by raving over his 'infinite beauty' in an Instagram post following his sudden passing in July.
AceShowbiz –Zendaya Coleman continues to mourn the loss of her dear friend Angus Cloud. More than one week after his tragic passing, the actress honored her "Euphoria" co-star by posting a picture of the mural his friends painted in the wake of his death.
On Wednesday, August 9, the Rue Bennett depicter on the HBO series shared a photo of the memorial mural in his hometown of Oakland via her Instagram Story. The mural has become a central gathering place for folks wanting to pay their respects to Angus.
In an earlier Story, Zendaya posted a picture of a street sign painted to read, "NO LOVE FADES." It's unclear if she also posted it in a nod to Angus, but it appears to be from a nearby location. It's however, unknown if the actress visited the mural in person or if she re-posted photos taken by others.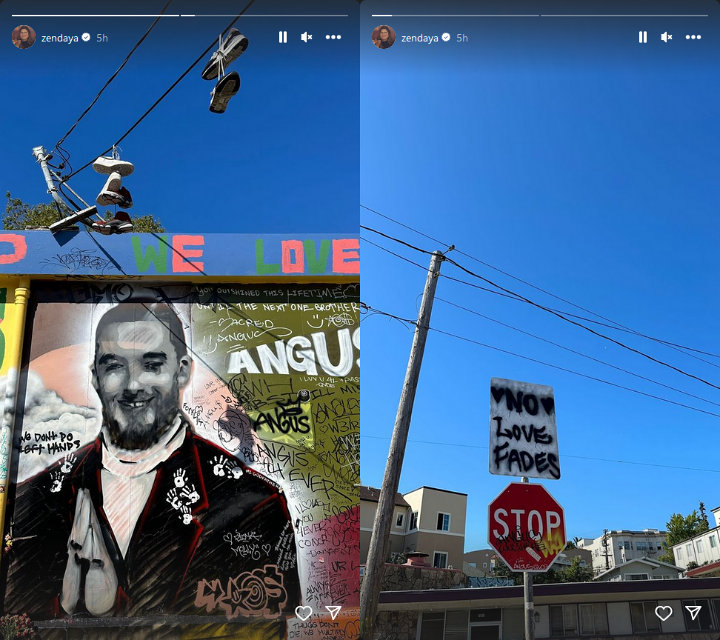 Zendaya posted on her IG Stories one week after Angus Cloud's sudden death.
Earlier this month, Zendaya took to her feed to break her silence on her co-star's death. "Words are not enough to describe the infinite beauty that is Angus (Conor)," she wrote along with a black-and-white picture of the late actor. "I'm so grateful I got the chance to know him in this life, to call him a brother, to see his warm kind eyes and bright smile, or hear his infectious cackle of a laugh (I'm smiling now just thinking of it)."
The "Spider-Man: No Way Home" star continued, "I know people use this expression often when talking about folks they love…'they could light up any room they entered' but boy let me tell you, he was the best at it. I'd like to remember him that way. For all of the boundless light, love and joy he always managed to give us. I'll cherish every moment." Extending her condolences to the grieving family, she concluded, "My heart is with his mother and family at this time and please be kind and patient as grief looks different for everyone."
Meanwhile, Angus' mother keeps his memory alive by sharing never-before-seen footage of his "Euphoria" audition tapes. Lisa Cloud posted a link on Facebook to her then-19-year-old son's interview with a casting director who scouted him in Brooklyn.
"It's his first tape," Lisa said about the 6 minute-long video. "After this was seen by the creators of euphoria, he was asked to read for Fezco. It really captures my son's extraordinary spirit," she further explained.
Angus died at his family's house in Oakland, California, on July 31. He was only 25 years old. Following speculation about his cause of death, his mom claimed he "did not intend" to take his own life.
You can share this post!
Source: Read Full Article