Karnataka Bengaluru Coronavirus (Covid-19) Latest News Live Updates: The government has granted leave to the employees who are aged above 50 years to facilitate sanitisation of Vidhana Soudha.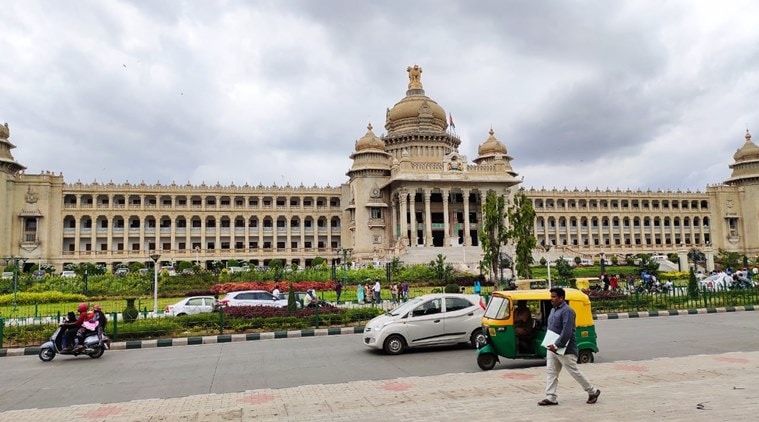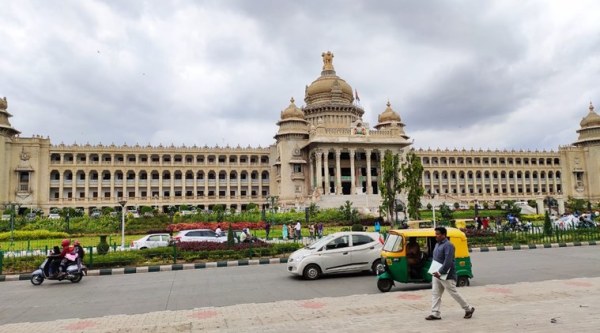 The Karnataka government has decided to close the Vidhana Soudha on Monday to sanitise buildings amid of COVID-19 pandemic.
The government has granted leave to the employees who are aged above 50 years to facilitate sanitisation of Vidhana Soudha. The decision was taken after a policeman deployed on the first floor of Vidhana Soudha tested positive for coronavirus on Sunday.
Earlier, Covid-19 cases were also reported among staff at Vikasa Soudha building next to Vidhana Soudha. According to the Secretary, Legislative Assembly Secretariat, all other staff and officials below 50 age at the secretariat complex will have to report to work at 12 noon.
The government has also reduced the visiting hours for Vidhana Soudha and Vikasa Soudha. The visitors are allowed from 3.30 pm to 5.30 pm – to one hour, between 4.30 pm and 5.30 pm.
Catch the latest news in Bengaluru and Karnataka as we bring you live updates on COVID-19, lockdown 5.0 and phase 1 of the unlock across the state and more through the day.
Kodagu district reported the first Covid-19 death on Sunday evening.
"The 58-year-old resident of Kushalnagar was rushed to district Covid hospital on Saturday evening from a private hospital. He died with in 30 minutes of admission," Deputy Commissioner of Kodagu district, Annies Kanmani Joy said.
"The patient swab samples tested positive for Covid 19 on Sunday.He was suffering from diabetes and hypertension for the last ten years, " she added.
More than 20 police stations in Bengaluru were sealed on Saturday and Sunday as policemen at these stations tested positive for Covid-19.
On Sunday, few policemen attached to Bagalur, Malleswaram police station, KG Halli traffic police station, Cottonpet and Commercial Street police stations tested positive. The Bruhat Bengaluru Mahanagara Palike(BBMP) health officials are sanitising all these police stations and surrounding areas.
With 76 coronavirus cases reported so far, Karnataka's Kodagu district now has 32 active containment zones, Deputy Commissioner Annies Kanmani Joy confirmed on Monday.
While 13 of these are in Madikeri taluk, 11 are in Somwarpet and 8 are in Virajpet taluks.
Here's the full list:
Madikeri Taluk
Somwarpet Taluk
Virajpet Taluk
The Karnataka government plans to set up intensive care units in all COVID care centres in Bengaluru following a spike in coronavirus cases in the city.
Karnataka Deputy Chief Minister Dr C N Ashwath Narayan said, "Bangalore International Exhibition Centre (BIEC) and Koramangala Indoor Stadium based care centres will soon become operational. We will establish 10 ICUs at every Covid Care Centre in the city."
Narayan visited the BIEC on Sunday, which has been converted into the largest COVID care centre in the country with 10,100 beds. "At BIEC alone, 100 ICUs will be set up with all medical facilities, including oxygen supply. By Monday, 7,000 beds will be ready at the BIEC while another 3,000 beds will be made available later this week. From the coming week, asymptomatic patients will be diverted to the BIEC Covid Care Centre," he added.
Bengaluru City Police Commissioner Bhaskar Rao Monday appreciated the support extended by the public in the city for the 36-hour lockdown over the weekend.
"Thank you Bangalureans for show of self discipline in enforcing a 36 hour lockdown," Rao tweeted.
Further, the Commissioner assured "immediate action" to calls made to police helpline (100). "Let's do our own bit to enforce wearing of mask and social distancing," he urged.
Operating as many as 262 services of Shramik Special trains for migrants from Karnataka, the South Western Railway Sunday stated that it ferried 3,84,141 passengers to date.
According to SWR officials, two more such trains were operated to Gorakhpur (1600 passengers) and Muzaffarpur (950 passengers) on Sunday.
The first Shramik Special from Karnataka, amid lockdown, was a train that left Chikkabanawara on May 3 for Bhubaneswar with 1190 passengers.
As the number fresh Covid-19 cases and fatalities linked to the pandemic surge in Bengaluru, at least 26 wards in the city recorded over 10 cases each on Sunday, BBMP statistics revealed.
According to BBMP's Covid-19 War Room data, Shantala Nagar topped the list with 59 cases, followed by Chamarajpet (32), Kadu Malleshawara (27), and Sampangiram Nagar (25) wards among others.
At the same time, Bengaluru alone reported 1235 new cases and 16 more deaths while the same was 1925 and 37 respectively in Karnataka on Sunday.
Here are the top 10 affected wards:
111 – Shantala Nagar
140 – Chamrajpet
27 – Kadu Malleshwar Ward
110 – Sampangiram Nagar
109 – Chickpete
53 – Basavanapura
94 – Gandhi Nagar
119 – Dharmaraya Swamy Temple
6 – Thanisandra
153 – Jayanagar
Good morning!
Welcome to the live blog from Bengaluru where we bring to you the latest updates on COVID-19, lockdown 5.0, unlock phase 1 and more across Bengaluru and Karnataka. Follow the blog to stay up to date with the state in real time.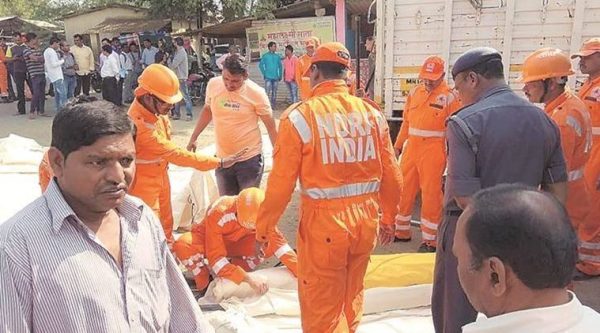 According to the district administration, landslides occurred at around 1.15 pm on Sunday, due to the heavy rain in the past two days that had weakened the soil on the hillock. (File) (Representational)
Two children died after being buried under 30-foot debris following a landslide at Kaikamba-Banglagudde in Mangaluru city on Sunday.
Also Read | 'Got beds, equipment but no docs for Covid-19 patients': Bengaluru doctor's video goes viral
The NDRF along with fire service and police succeeded in extricating the bodies of Safwan (16) and Sahala (10) after a four-hour-long operation. According to the district administration, landslides occurred at around 1.15 pm on Sunday, due to the heavy rain in the past two days that had weakened the soil on the hillock.
Also Read | Bengaluru: Rs 67 lakh collected in fines for not wearing masks, violating social distancing norms
Any queries and support related to COVID-19 in Karnataka, citizens can contact round-the-clock helpline numbers: 104(toll free) +91-80-4684-8600/6669-2000
Also Read | Bengaluru battle: Amid spike, shortage of staff & ICU beds with ventilators
Here are a few contacts that might come handy for you in emergency situations: BBMP Control room: 080-22221188 In case of power disruptions, contact BESCOM: 1912. If the water supply is hit in your area, contact BWSSB: 1916.
Karnataka Bengaluru Coronavirus July 4 Highlights
Source: Read Full Article