Karnataka Bengaluru Coronavirus (Covid-19) Latest News Live Updates: The death toll rose to 12,941 to date as 52 more people succumbed to the infection.
Karnataka Bengaluru Coronavirus News Live Updates: Karnataka reported 9579 new Covid-19 cases on Thursday from across the state. Of these, 6387 new cases were reported from Bengaluru Urban alone as the daily test positivity rate across the state rose to 8.24 per cent. The death toll rose to 12,941 to date as 52 more people succumbed to the infection.
Other districts that reported most cases are Bidar (465), Mysuru (362), Kalaburagi (335), and Tumkur (239). At the same time, 2767 others recovered from the infection while 82,240 people were inoculated across the state.
Catch the latest news in Bengaluru and Karnataka as we bring you live updates on COVID-19, COVID-19 vaccination, lockdown 6.0 and phase 6 of the unlock across the state and more throughout the day. Also read Chennai Hyderabad news
Good morning!
Welcome to the live blog from Bengaluru where we bring to you the latest updates on COVID-19 vaccination drive, COVID-19, lockdown 6.0, unlock phase 6, BBMP and more across Bengaluru and Karnataka. Follow the blog to stay up to date with the state in real time.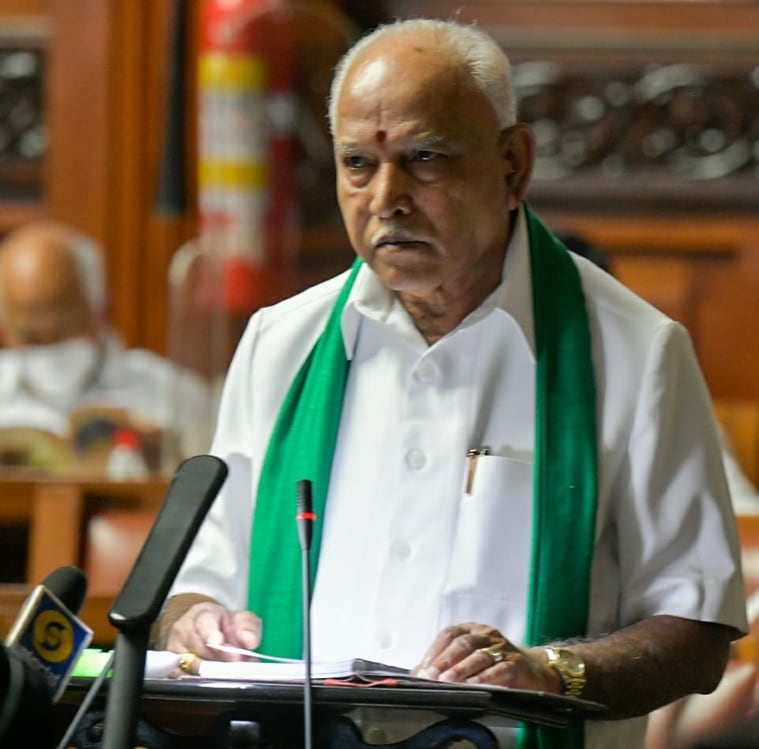 Karnataka Chief Minister B S Yediyurappa. (Photo: CMO)
Meanwhile, Karnataka Chief Minister B S Yediyurappa on Monday said the state government could impose lockdown if the necessity arises.
READ | Karnataka CM says lockdown could be imposed if need arises
At the same time, the police have taken 130 people into custody for allegedly participating in a rave party at an estate on the outskirts of Alur taluk in the district, official sources said on Sunday.
READ | Karnataka: 130 taken into custody for rave party in Hassan district
Here are a few contacts that might come in handy for you in emergency situations:
COVID-19 related queries / emergencies / clarifications: 104 (toll free); +91-80-4684-8600/6669-2000 | Find your nearest fever clinic and testing Covid-19 facility here | Home Quarantine-related queries: Telegram messenger/WhatsApp – +91 97777 77684, Voice call – 080 45451111 | BBMP control room: 080-22221188 | In case of power disruptions, contact BESCOM: 1912. If the water supply is hit in your area, contact BWSSB: 1916
Karnataka Bengaluru Coronavirus April 12 Highlights
The Indian Express website has been rated GREEN for its credibility and trustworthiness by Newsguard, a global service that rates news sources for their journalistic standards.
Source: Read Full Article