'India's specific concerns about whether Russia will be a reliable defense supplier and diplomatic partner in the event of heightened hostilities with China has undoubtedly accelerated the process of US-India defense and intelligence cooperation intended to support Indian military positions along the Line of Actual Control.'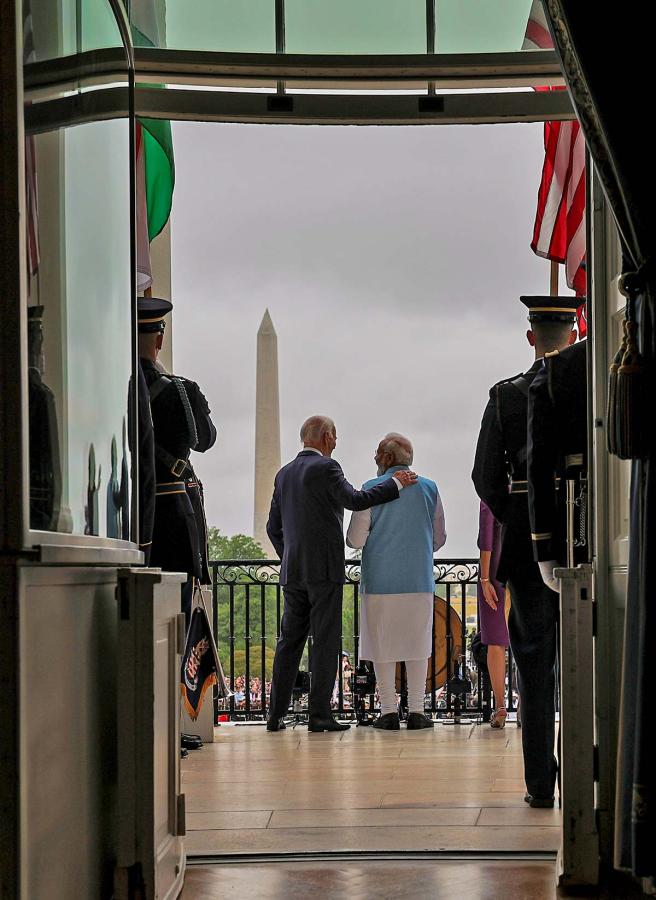 In an assessment published in the July/August issue of the well respected journal Foreign Affairs titled 'India as It Is: Washington and New Delhi Share Interests, Not Values', Daniel S Markey, one of America's leading India watchers, wrote: 'Washington must be careful about the ways it deals with New Delhi. It must remain keenly aware that India's desire to work with the United States is born of circumstance, not conviction, and could quickly disappear.'
'U.S. officials,' Dr Markey wrote in Foreign Affairs, 'must understand that, deep down, India is not an ally. Its relationship to the United States is fundamentally unlike that of, say, a NATO member. And India will never aspire to that sort of alliance. For this reason, U.S. officials should not frame their agreements with India as the building blocks of a deeper relationship.'
So, how does Dr Markey view Prime Minister Narendra D Modi's State visit to the US, which concluded with a flurry of agreements across a spectrum of activity?
Dr Markey — currently, a Senior Advisor, South Asia at the Washington, DC think-tank, the United States Institute of Peace — took time out from his schedule to answer Nikhil Lakshman's questions.
The first of a two-part e-mail interview:
After all the buzz surrounding the Modi visit, do you think the published outcomes justify the hype?
Yes. This was an important visit for reasons of substance as well as symbolism. The 'deliverables' represented more than a rehash of old agreements. The two sides made some news with commitments on space, visas, and defense sales, among other issues.
In your assessment, what are the most important decisions the two governments reached?
The two agreed to agree (eventually) on a whole range of topics, but when it comes to immediate delivery, India's signing the Artemis Accords — 'for peaceful, sustainable, and transparent cooperation that will enable exploration of the Moon, Mars, and beyond' and the US navy's Master Ship Repair Agreement with the Larsen and Toubro Shipyard in Kattupalli (Chennai) are done deals that now open the door to greater cooperation in space and defense.
Looking ahead, the most ambitious agenda item from the visit was the agreement to pursue co-production of the GE F414 engine that would power India's fighter aircraft.
If successful, that initiative would tie the our defense industries closer together than any effort to date and would include a significant transfer of US intellectual property to India.
Micron Technology's announcement of an $800 million investment in a semiconductor assembly and test facility in India is also a big deal, as it would represent a significant American bet on India as an emerging player in the global semiconductor supply chain.
Would you say the US conceded more in its desire to have India firmly in its corner? And do you think India is closer to the United States after this visit, or is India's proximity to America a mirage?
Yes, the United States made an enormous effort to win favor with India and, in particular, with Prime Minister Modi.
The State dinner, arrival ceremony, Congressional address, and other official events were a clear political signal of US aims.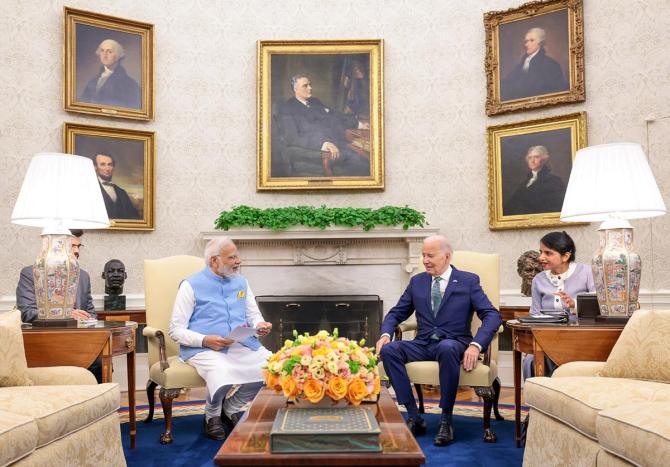 No effort was spared in the White House's attempt to project a positive bilateral relationship and to embrace Modi, both literally and figuratively.
President Biden and his top officials spoke glowingly and uncritically, endorsing Modi as a great leader and a great democratic partner.
In the GE jet engine deal they offered India an unprecedented opportunity for technology transfer and a concession greater than any since the Bush administration's civil nuclear agreement.
Prime Minister Modi was similarly warm in his tone, but offered far less in the way of actual policy moves, and no major concessions. I believe Modi successfully cultivated ties with a range of American audiences — especially the business community — without giving an inch on issues where Washington and New Delhi have had difference stances, like Russia's ongoing war against Ukraine.
In short, India has — for now, at least — found a way to draw closer to the United States without necessarily distancing itself from its other friends or materially altering its policies.
Why do you think the Biden administration is so anxious to cultivate a solid relationship with India, knowing well that New Delhi will always retain its strategic autonomy card?
Prominent figures in the Biden administration perceive India to be an indispensable counterweight to China in the emerging world order. Some believe this to be true whether or not India ever draws especially close to the United States, just as long as India does not make common cause with China.
Others anticipate that joint US-India ventures will build 'habits of cooperation' and, in time, enable a relationship that is extremely close, even if India jealously guards its autonomy.
In all instances, they perceive that the sheer scale of the China challenge — in human and material terms — cannot be met by the United States without similarly sized partners, and India is unique in that respect.
What is it in the current global strategic environment that made Jake Sullivan sell the concept of more give less take with India to a President who is known to be a foreign policy conservative?
Working with India is not new to President Biden or any of his senior officials. Past experience has taught them that overcoming India's skepticism about the United States will not be quick or easy.
Equally important is that Biden sees domestic politics and foreign policy as going hand-in-hand. Unlike many thorny foreign policy issues facing the administration, India is more easily framed as a tantalizing prospect for American businesses and workers.
So Biden and Sullivan tend to look past the initial costs and focus on India's upside potential.
strong>Is America anxious to build a phalanx of allies and near allies in Asia to curb China, try and keep it sequestered to the continent of its origin so that it does not present continual challenges to America's dominance?
The Biden administration — far more than the Trump team — does see allies and partners as playing an essential role in the US competition with China. But few Americans imagine that success would leave China 'sequestered' to Asia!
The challenge is far more complex, starting with the fact that the US and Chinese economies remain deeply interconnected and China is already active across the globe.
China's power, wealth, and growing military and technological capabilities will present challenges to American dominance no matter what Washington does, so the realistic American strategy is to build the largest and most capable team of partners that would enable us to defend our core interests, outcompete China over the long run, and temper Beijing's ambitions in ways that keep relations peaceful.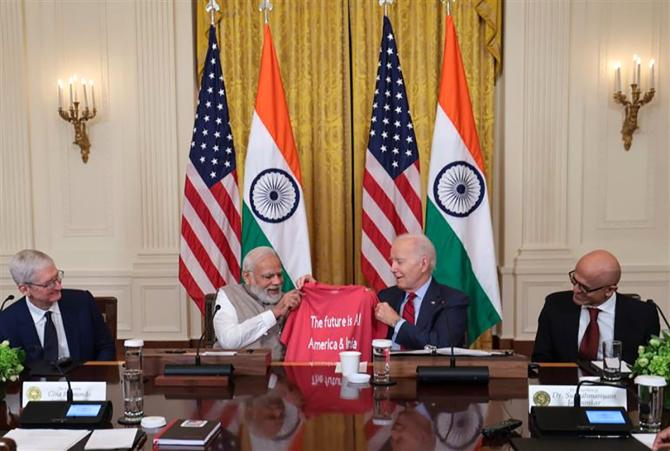 Ashley Tellis, yourself and others writing in Foreign Affairs have been sceptical about India being a US ally.
You folks feel that India is an unreliable ally, who the US cannot count on for military and other intervention if push comes to shove in an America-China confrontation.
Why are you so sceptical about India becoming an American ally?
Ashley and I — and others writing in Foreign Affairs — are all making slightly different arguments about the limits of strategic partnership with India, so I would suggest that your readers have a look at these pieces separately.
My central argument is that our 'democratic values' have never been an especially reliable foundation for US-India convergence on matters of foreign policy. If anything, the assumption that America and India would see eye-to-eye because both are democracies has been misleading and has been a source of frustration.
As Narendra Modi's India is trending toward majoritarian rule and his party is clearly illiberal, the United States would be making a mistake if it counts on 'shared democratic values' as the cornerstone of our relationship.
Instead, the United States should focus on advancing areas of obvious and material shared interest with India, just as Washington does in many other important bilateral relationships. But lacking a shared worldview and democratic values, US policymakers should also appreciate that India may never be an ally, either in confrontation with China or in defense of other US priorities.
As a consequence, the United States should not invest in India as an 'ally-to-be' and should remain cautious about the extent to which specific cooperative activities are actually in the American interest.
Do you believe the recent China-Russia bond has accelerated the Indian government's outreach to the United States? Or has it been an instrument of Indian foreign policy since those heady days in July 2005, when President Bush brought in India from the nuclear cold?
Yes, India's specific concerns about whether Russia will be a reliable defense supplier and diplomatic partner in the event of heightened hostilities with China has undoubtedly accelerated the process of US-India defense and intelligence cooperation intended to support Indian military positions along the Line of Actual Control.
Of course, the history of improved US-India ties dates back to the Bush administration, but nothing has convinced New Delhi of the value of American partnership faster than China's aggression and Russia's unreliability.
Source: Read Full Article