Since the US, the second biggest emitter of greenhouse gases after China, has shifted in a major way to shale gas, the focus of global environmentalists' ire has fallen on India, which is the third biggest emitter.
Senior journalist Darryl D'Monte reports exclusively for Rediff.com from Paris.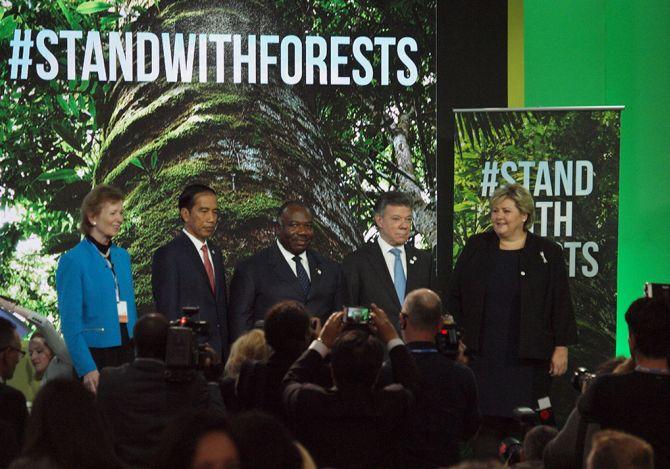 Coal is emerging as the new four-letter word in the ongoing United Nations climate negotiations in Paris.
Western governments and NGOs alike are raising the spectre of India in particular continuing to rely on this "dirty" form of energy and threatening the planet in the process.
Typical of this vendetta is the new report from the Dutch NGO FERN, which deals with forests and forest people's rights, titled 'Coal's hidden 'double whammy''. It reveals that a forest area larger than Portugal is at risk from coal mining worldwide, with forests in Australia, Canada, Indonesia, India, Colombia and the United States particularly vulnerable.
As many as 11.9 million hectares of forests are under threat. It argues that it would be better to keep the coal in the ground to avoid destruction of more forests, which accentuates the impact of climate change.
The report cites the case of India, 'where the landmark Forest Rights Act has been a vital safeguard against wiping out forests for coal, notably in the struggle between the UK company Essar and the Indian government on the one hand, and local 'tribal' people on the other, over the former's plans to create an open cast coal mine in the Mahan forest, in Madhya Pradesh.'
The world's five biggest coal producers are: China, the US, India, Indonesia and Australia.
The most threatened countries, in order, are Indonesia, which is heavily forested, Australia, India, Canada and the US.
In India, 250,000 hectares are at stake — the equivalent of 400,000 football fields. However, in an energy-starved country, keeping coal in the ground is an option which India simply can't afford at this stage of development.
Since the US, the second biggest emitter of greenhouse gases after China, has shifted in a major way to shale gas, the focus of global environmentalists' ire has fallen on India, which is the third biggest emitter.
In Paris, Chandra Bhushan, deputy director general of the Centre for Science & Environment, made a spirited defence of India's current use of coal. He accused countries of "not liking" coal although they relied heavily on other fossil fuels like gas and oil. "We can't be selective," he remarked.
He noted that India was beginning to apply stringent standards to the performance of coal-fired power plants which, he claimed, were "one of the most aggressive in the world".
While some Indian plants had been decommissioned after 25 years, plants in the US continued to operate for 40 and even 60 years.
He made a frontal attack on developed countries for using coal as an "unnecessary distraction" in the climate talks. The key principles underlying the UN's climate policies were equity and "common but differentiated responsibilities", implying that industrial countries which had caused global warming were more liable to redress it.
In the US, 38 per cent of the energy used is generated from coal, as against 72 per cent and 70 per cent in India.
With the exploitation of shale gas, the US was consuming more fossil fuels than ever in history, Bhushan noted.
"India's 'dirty coal 'was the talk of the town," Bhushan alleged, "there was no other issue to corner India." It was the only counter-narrative to India's raising issues of climate justice.
At Paris, the CSE has released its report titled 'Captain America — US climate goals: a reckoning' which reveals how the US's voluntary commitments to cut emissions are very low in ambition.
It refers to how the urgency to move away from coal has taken on an evangelistic dimension, with President Barack Obama urging the world to "keep the fuel in the ground".
Recently, he described a US Environment Protection Agency move to curb the use of coal as the "biggest, most important step we've ever taken to combat climate change".
For good measure, he added: "Power plants are the single biggest source of the harmful carbon pollution that contributes to climate change. Think about that."
However, in 2014, coal consumption in the US was actually higher than in 1990. Globally, it remains the second largest consumer after China and its per capita consumption is marginally higher than China and five times higher than India.
The CSE points out how America's energy system is too fossil-fuel reliant. Today, coal, natural gas (including shale gas) and oil contribute as much as 80 per cent of the country's needs.
It is the world's top producer of petroleum and natural gas. Between 1990 and 2104, fossil fuel production has risen by 18 per cent in the US.
In Paris, Bill Hare, a lead author for the UN Intergovernmental Panel on Climate Change, the most authoritative scientific source of data, and founder of climate research group Climate Analytics, said: "I think India has some stark choices ahead of it. If it goes into coal, it will not contain its air pollution problems; if it goes into renewables, it will have a much better chance of a sustainable future.
'We're seeing [in India] one of the fastest upscaling of renewables that have ever happened on the planet under way now but, on other hand, a huge lot of talk from the coal ministry about it [coal] being essential to India's future.
"One of the paradoxes of that situation is that India is a hotspot of the future with very damaging impacts of climate change on vulnerable populations — there would [with climate change] be major reductions in agriculture production, huge increases in heatwaves, and flooding. India has a major interest in the outcome of the world reducing emissions sufficiently to get below 2C. I think that's a major challenge."
Most Western critics of India tend to forget that even though it is an emerging economy, it faces the paradox that 300 million Indians have to make do without electricity, as Prime Minister Narendra Modi reminded his global audience at the inauguration of the Paris summit.
Bhushan told Rediff.com that Indians were getting aspirational and it was no longer able to satisfy villagers to make do with one light bulb and a socket to charge a cell phone. People were demanding much more than that, and it was the State's obligation to provide that form of energy.
That said, India's major thrust on renewables — to create a capacity of 175 gigawatt tonnes by 2022, of which 100 GW will come from solar power — is the best answer to its critics.
And if equity is to be the cornerstone of a new Paris accord, one has always to remember that an American consumes twice as much energy as a European, four times more than a Chinese and 16 times more than an Indian.
Image: A COP-21 session on Saving our Forests underway in Paris. Photograph: Carlos Garcia Granthon.
Senior journalist Darryl D'Monte will be filing his despatches from the Paris climate change summit exclusively for Rediff.com.
Source: Read Full Article