Clobbered by torrential rain over the past few days, over 100 households in the village are reported to have suffered extensive damage sending close to 1500 people scurrying off to the nearest relief camp set up by the government.
When 53-year-old Rita Arackal and her family went to bed on Sunday night, sleep just wouldn't come to them. They would twist and turn, but they could hardly close their eyes. In their two-room humble home situated less than 100 metres from the Arabian sea, sleep was very often a luxury. On Sunday, as fierce rain pounded hard on the tiled roof, they could hear the sea waves crashing against the coast. By midnight, seawater, aided by rain, began seeping into their compound, inch by inch. By 4 am, when Rita awoke to the sound of gurgling water, her worst fears had come true. The sea had truly entered her home, the second time in less than a year.
Rita's home in Chellanam, a tiny village wedged in between the sea and the backwaters located 20 kilometres off Kochi, is not the only one troubled by sea erosion. Clobbered by torrential rain over the past few days, over 100 households in the village are reported to have suffered extensive damage sending close to 1500 people scurrying off to the nearest relief camp set up by the government. Every monsoon, the story is the same in Chellanam.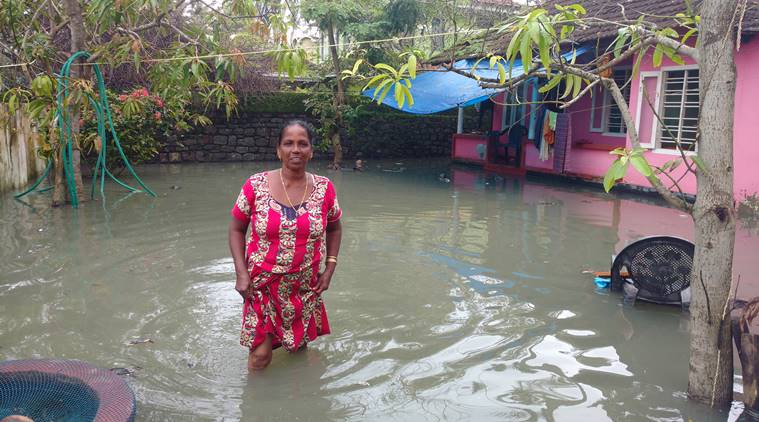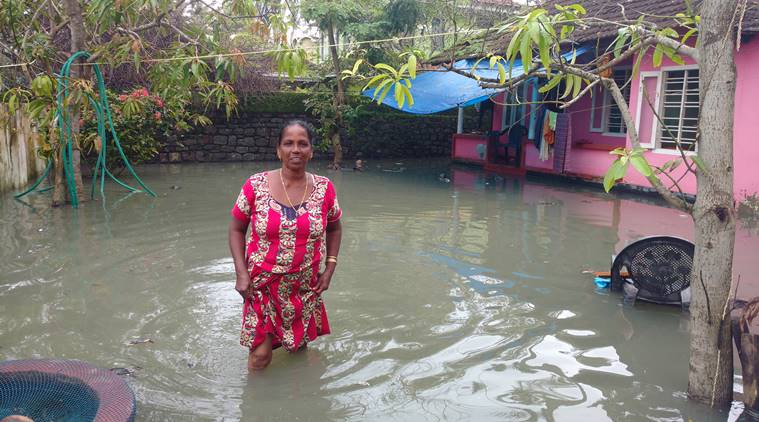 "When the sea gets rough, people are rushed to the relief camp at the nearby St Mary's High School. This is the constant practice here. There's never been any change," said Augustine, 52, a local fisherman.
A sturdy sea-wall accompanied by groynes, which would be able to check sea-erosion, has been the long-lasting demand of the people of Chellanam. When Cyclone Ockhi swept through the Kerala coast and flooded homes in the village last year, the locals, determined not to allow the situation slip out of their hands, sat on a hunger strike for weeks. Finally, the government's hand was forced and the district authorities gave administrative sanction to build a seawall and geotubes (polymeric bags filled with sand) to provide resistance against a rough sea. However, six months later, the district administration has nothing to show for in Chellanam on the status of the project.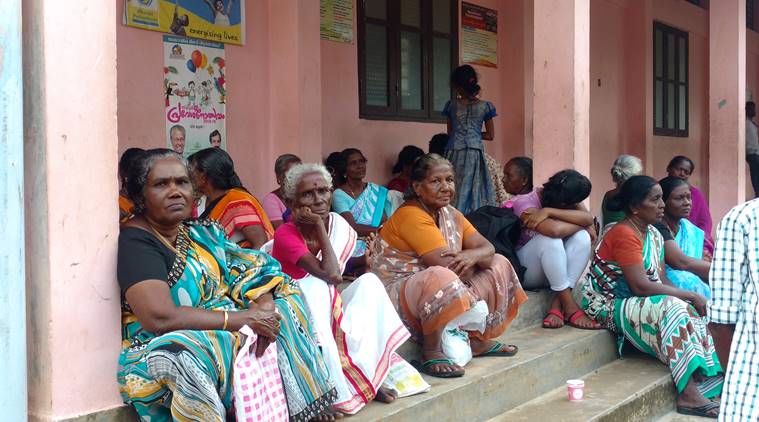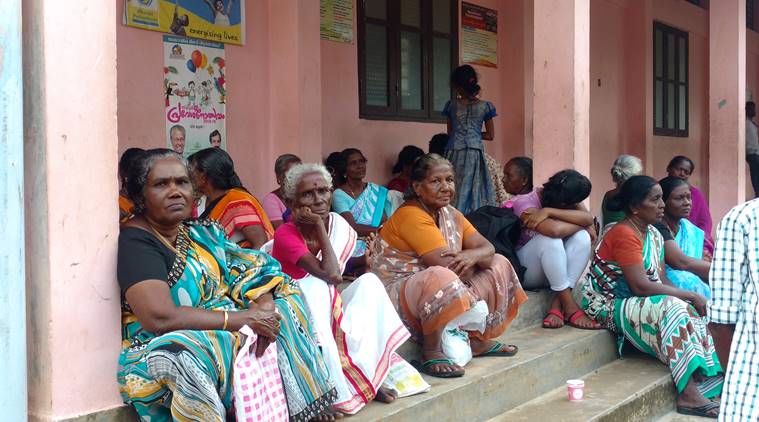 "We had brought in geobags from Gujarat as a temporary measure until the monsoon recedes. It should have remained for about four months.But, clearly, they have been washed away. Honestly, we did not predict such strong erosion of the sea," said Sheela Devi, Ernakulam deputy collector.
"Building a seawall is a big project. We need stone boulders. But because the quarries are scarce, we are not getting boulders," she added.
When IndianExpress.com visited Rita's home on Monday afternoon, she stood knee-deep in water in front of her home. A hundred meters away, giant waves, as high as 15 feet, crashed one after the other against parts of a concrete wall that now lay in tatters. As coconut trees swayed violently in the wind, the remnants of the sandbags, deposited by the local authorities, were there for everyone to see.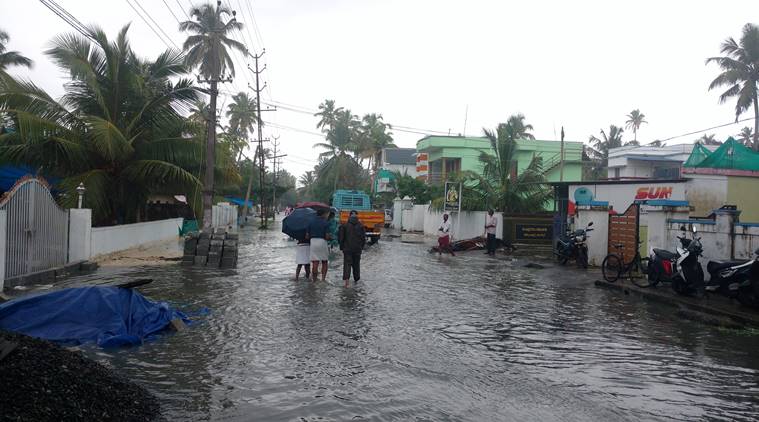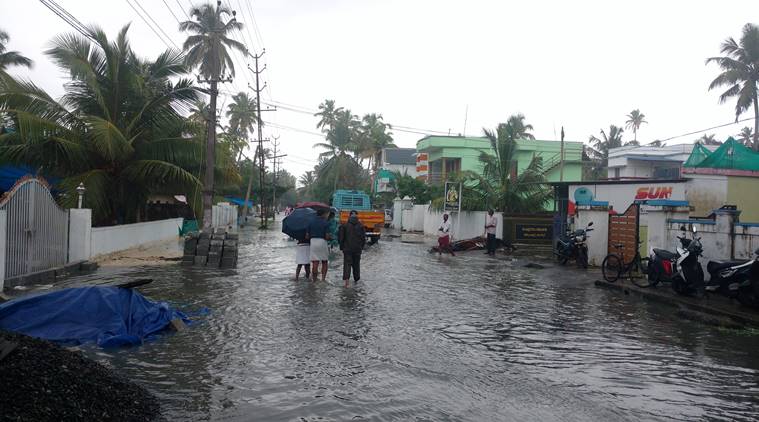 The sea-water, overcoming a bunch of scattered boulders, kept flowing through a narrow lane, past sandbags deposited at the entrances of homes, into Rita's front-yard and finally into the bedrooms and kitchen of her home. Steel utensils, coconuts and plastic furniture, all parts of the house's interiors, now floated listlessly in the front-yard.
"Enthoru avastha aanu ithu (What a situation this is!)," sighed Rita, standing in the front-yard.
Inside, her aged mother, Mariakutty (85), lying on a bed surrounded by water, cried out in pain. "Ente mone (My son)," she calls out. "How can we leave her alone? My son, daughter-in-law and grandchild went to the relief camp. I stayed here to look after her. Last time, when Ockhi came, we somehow lifted her and ran out. But this time, the water level has gone much higher," says Rita.
— Vishnu Varma (@VishKVarma) July 17, 2018
"Since morning, we are shivering because of the cold. We can't even cook food. Even if we could, would it go down our throats?" she asks, with a distinct sign of helplessness.
Back at the relief camp, set up at the local high school, hundreds of people, mostly women, sat in small groups in the corridors and classrooms, sharing nuggets of how they escaped the rising water. A separate corner of the school has been turned into a makeshift kitchen, with the locals hunched over massive vessels in which food is being prepared for the camp-mates. While rice, vegetables and water have been provided by the authorities, the women have taken responsibility of cooking food for the village.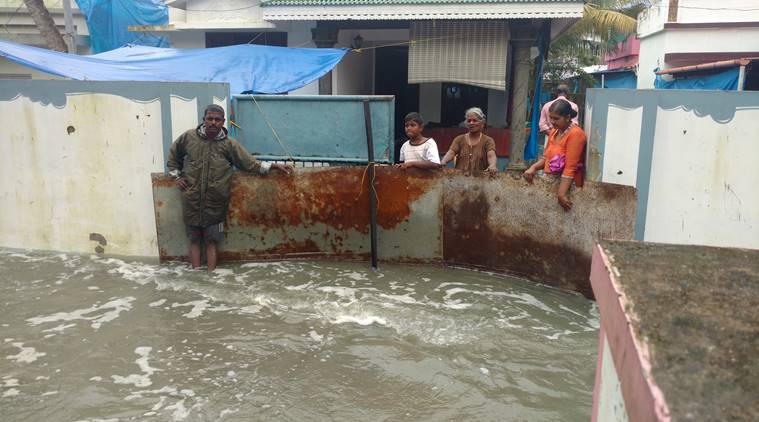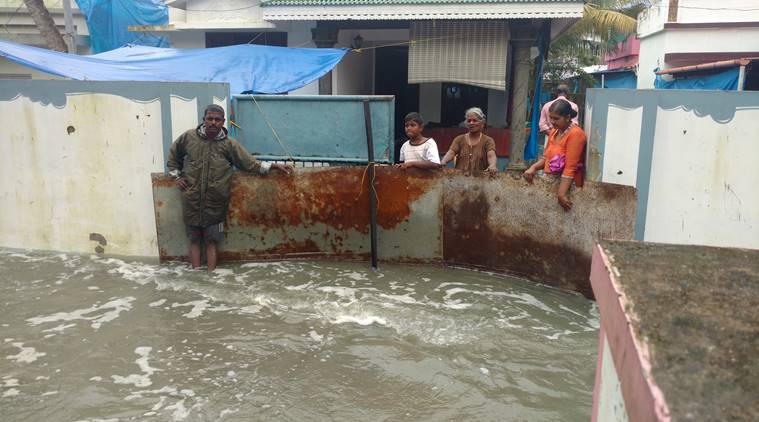 KD Prasad, vice-president of the local panchayat, said people would be asked to remain at the relief camp until the water subsides and the sea becomes silent. But that would take a few days as the India Meteorological Department (IMD) has predicted more rain in the days to come. Since the sea is rough, fishermen have been advised not to venture out as well.
"We are getting food three times a day. It's comfortable but we cannot stay here for long. We will leave the moment they permit us to go. I am praying to the Lord to save all of us," says 64-year-old Subhadra, sitting on a wooden bench in the school corridor. Her friend, 60-year-old Sarasu, sitting beside her, has bigger problems on her mind. Back in her flooded home, she says, her partially-blind husband is giving her daughter, who recently underwent a heart surgery, company.
"She (her daughter) didn't want to come, wading through the water. So right now, she is on the bed, probably under three layers of blankets, shivering in the cold. What can we do? We honestly don't know how to survive," she murmured, as her words got lost in a clap of thunder indicating a fresh spell of rain.
Staring at the dark clouds in the sky now accumulating over the school, the brows on Sarasu's forehead tightened. "Ee varunna mazhakku nammude pera mungum (In this spell of rain, our home will sink)," she said.
Source: Read Full Article