At a time when climate change poses significant challenges and the need for sustainable and efficient farming practices has never been more critical, unmanned aerial vehicles (UAVs) allow farmers to gain a bird's-eye view of their crops from ground level.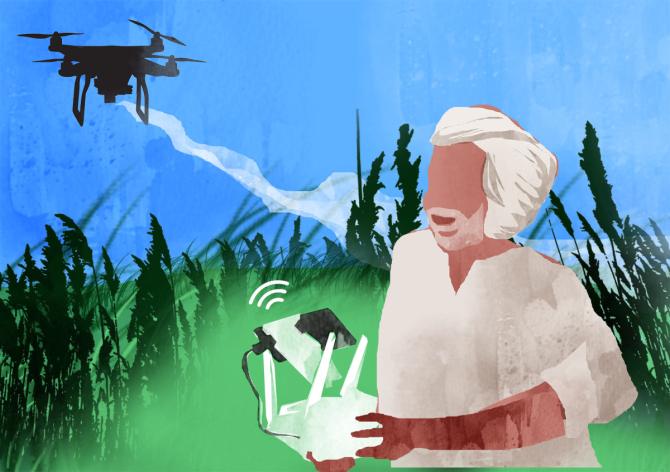 Drones have become a new force in precision agriculture, helping increase productivity while prioritising sustainability and resilience.
Fertiliser major IFFCO is exploring this very transformative power of technology in agriculture.
In what is perhaps one of the biggest agricultural drone purchases by a fertiliser company for nano use, IFFCO will purchase 2,500 drones in one go which it will use for spraying nano urea and nano diammonium phosphate (DAP), along with other chemicals, through a dedicated network of over 5,000 ruralpreneurs (rural entrepreneurs).
"To access the technical capabilities, manufacturing capacity, manufacturing process, quality processes, training curriculum, and infrastructure, IFFCO hired the Drone Federation of India, which then evaluated the specifications and mentioned that the technical specifications of agricultural drones being procured by IFFCO for the spray of nano fertilisers are in accordance with industry standards," read an official statement.
Sources said IFFCO had sought details from five vendors and chose the Drone Federation of India after a thorough evaluation.
The drones would be given free of cost to over 5,000 ruralpreneurs.
The entrepreneurs then would be given proper training and guidance to handle the drones, with all expenses borne by IFFCO.
Sources said the training and certification of drone fliers would be done at DGCA-approved remote pilot training organisation centres.
According to the plan, each drone will cover 3 acres of land for spraying nano urea on a single charge of battery in about half an hour.
However, the battery offers a flying time of 18-22 minutes. After every three sorties of 20 minutes, the battery has to be replaced.
It is expected that one drone would be able to cover 20 acres of land per day, spraying nano fertilisers, water-soluble fertilisers, and nano DAP.
IFFCO has also procured 2,500 electric three-wheelers (of the loader type) under Category L5 (a three-wheeled motor vehicle with maximum speed exceeding 25 kilometres per hour or motor power exceeding 0.25 kilowatt) to carry the drones to the fields, along with nano fertilisers and associated utilities.
IFFCO has also ordered tractor-mounted boom sprayers, tractor-mounted hosereel sprayers for the foliar application of nano fertilisers.
The nano fertilisers are applied on various crops through the foliar application using agricultural sprayers and drones.
The drones and sprayers can be used for any kind of spray application.
"We are witnessing a surge in demand for agricultural drones from agrochemical players, including fertiliser and pesticide companies.
"With substantial benefit to farmers, we are also witnessing a surge in demand from rural entrepreneurs and large-farm holders," said Deepak Bhardwaj and Anoop Upadhyay, co-founders, IoTechWorld Avigation, one of India's leading agricultural drone manufacturers, in a statement.
Source: Read Full Article