'The Jharkhand government is increasingly intolerant of voices of dissent.'
'Recently 20 persons, including activists, writers and academics, were booked for sedition.'
'Many of them have been critical of the government's apathy towards Adivasis,' notes Siraj Dutta.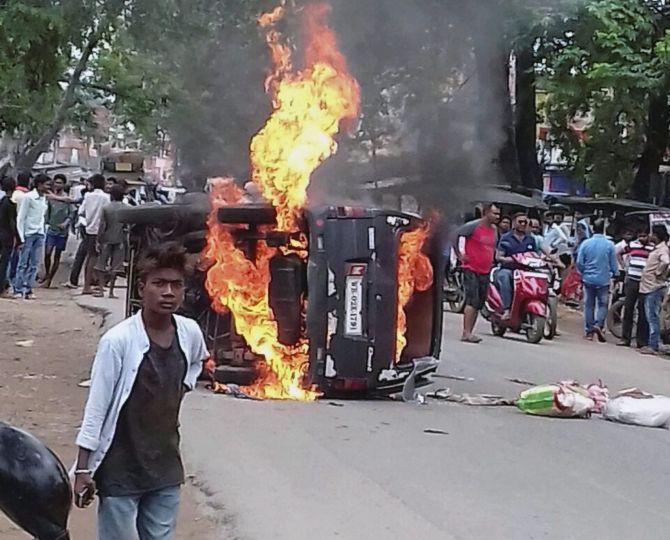 Jharkhand was carved out of Bihar in 2000 to address the historical exploitation and marginalisation of Adivasis.
According to the 2011 Census, about 27 per cent of Jharkhand's population comprises scheduled tribes, 12 per cent are scheduled castes and 14 per cent are Muslims.
Backward castes account for some 40 per cent.
Even 18 years after its creation, large proportions of these communities live in extreme deprivation and insecurity.
Till a few years ago, many ascribed the state's backwardness to its lack of 'political stability'.
In its relatively short existence, Jharkhand has seen 10 governments and three stints of President's rule.
The current dispensation of the BJP and the All Jharkhand Student Union Party led by Raghubar Das, formed in 2014 with more than 50 per cent of the total legislative assembly seats, is likely to become the first government in the state to finish a full term.
The current regime claims that Jharkhand has grown economically at an unprecedented speed under its leadership.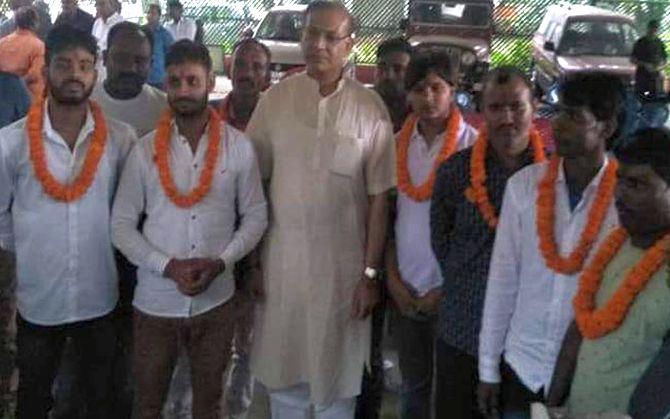 The growing attacks on socio-economic rights and political and civil liberties of people tell a different story.
There have been both hunger deaths and incidents of mob lynching.
Since 2016, at least 11 persons have been killed or brutally assaulted on suspicion of carrying or consuming beef or being cattle thieves.
Nine of the victims were Muslims and two were Adivasis.
In many cases, such as the hanging of 15-year-old Imtiyaz in March 2016 or the murder of Almiuddin in June 2017, the mob included local leaders of the BJP or cow vigilante groups, who are still roaming free.
Is it any surprise that the state government and the BJP failed to take any action against two Parliamentarians of their party who extended support to some of the perpetrators?
Contrary to the government's repeated claims of economic development of the poor, at least 14 persons, including five Adivasis and four Dalits, have died of starvation or destitution since September 2017.
Their families were denied their rightful grain entitlement under the Public Distribution System for one reason or another — such as exclusion from the ration card list, cancellation of ration card not linked with Aadhaar, or failure of biometric authentication at fair price shops.
Some elderly victims were also denied their social security pensions thanks to Aadhaar-related issues.
Further, most of these families did not get work under the National Rural Employment Guarantee Act in the recent past.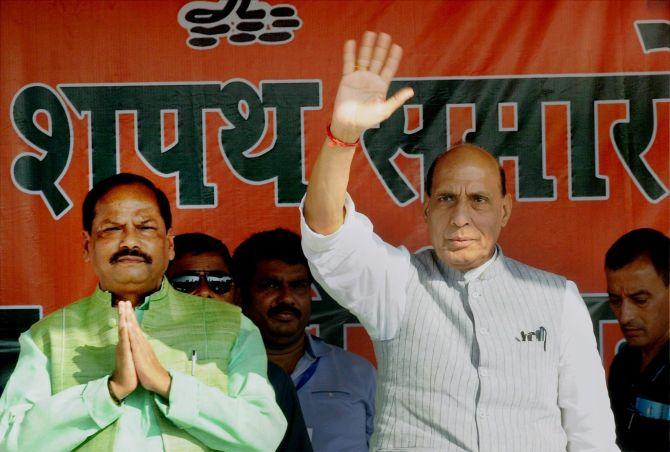 In its quest for 'vikas', the government has been persistently trying to forcefully acquire land for non-agricultural purposes such as mining and infrastructure development.
It is not difficult to assess the impact of such policies on the livelihoods of the Adivasis.
To them, land is more than just livelihood. They survive on the produce, meagre or otherwise.
Jharkhand stands witness to thousands of displaced Adivasis living lives of destitution.
After just a year-and-a-half in office, the BJP government in November 2016 amended the state-level Acts related to ownership of land — the Chhota Nagpur Tenancy and Santhal Pargana Tenancy Acts.
The changes included expansion of the list of uses for which the government could acquire land and enabling utilisation of agricultural land for non-agricultural purposes.
It took eight months of protest by the people to get the amendments repealed.
Notwithstanding this setback, the government pushed through amendments in the Land Acquisition Act, 2013, to make the consent of Gram Sabhas irrelevant for acquisition of land.
It also initiated a process of creating a land bank — a repository of land, primarily common lands of villages, considered unutilised by the state.
Investors can now get land from this bank.
A study in the Torpa block of Khunti district found that gram sabhas had no idea that their common lands consisting of their burial grounds, rivers and so on were earmarked for this purpose.
The Jharkhand government is also increasingly becoming intolerant of voices of dissent.
Recently 20 persons, including activists, writers and academics, were booked for sedition.
Many of them have been critical of the government's apathy towards Adivasis.
The first information report filed against them cites their Facebook posts as evidence of their 'anti-national' behaviour.
One of the cited posts — 'The Catholic Church demands that Sarna Adivasis be given Sarna religion code – Bishop' — incidentally has been a long-standing demand of a significant proportion of the state's Adivasis.
The recent raid on 10 human rights activists across the country, and the arrest of five of them on charges that most of them were not even aware of, shows that this phenomenon is not just limited to Jharkhand.
They too have been vocal about the growing attacks on rights of Adivasis and Dalits, and have been critical of the current national dispensation's policies.
Jharkhand's chief minister is repeatedly praised for the state's 'vikas' by the PM and the BJP leadership.
It is safe to assume that the party will contest the next assembly election, due in 2019, latching on to their notion of 'vikas.'
The Opposition parties are yet to take a firm stand on several issues discussed earlier.
They also seem far from a concrete alliance for a politically stable alternative.
Will 2020 be a new beginning for Jharkhand and its populace?
Or will it be just another chapter in the tale of fear and loathing that has come to characterise this land?
Siraj Dutta works on the National Rural Employment Guarantee Act and other welfare programmes in Jharkhand.


Source: Read Full Article