'The governor was a senior IPS officer who should know the Constitution.'
Tamil Nadu Governor R N Ravi is known for staying in the news for one reason or the other.
Mostly for criticising the state government or sitting on bills passed by the assembly for months on end.
He even sent a bill back, which the state assembly passed again and he had no choice but to sign it the second time.
It was the bill banning online gambling in the state.
His latest salvo is against beleaguered Tamil Nadu minister Senthil Balajee who has been arrested by the Enforcement Directorate for an offence he allegedly committed when he was a minister in the AIADMK government led by J Jayalalitha.
Governor Ravi dismissed Senthil Balaji as a minister on Thursday evening.
A couple of hours later, on Thursday night, Ravi seemed to have a rethink and informed Chief Minister M K Stalin that Balaji's dismissal would be kept on hold till he had spoken to India's attorney general.
"He realised his mistake and withdrew it immediately. Now he is going to consult someone, let him do that. We will react after we see the end result," DMK Rajya MP R S Bharati tells Rediff.com's A Ganesh Nadar.
Is it Constitutionally right for Governor Ravi to dismiss Senthil Balaji as a minister without the chief minister's concurrence?
He has absolutely no jurisdiction in this matter. He knows that the chief minister decides who will be minister and who will resign. Even when he knows that, he does these things.
He realised his mistake and withdrew it immediately. Now he is going to consult someone, let him do that. We will react after we see the end result.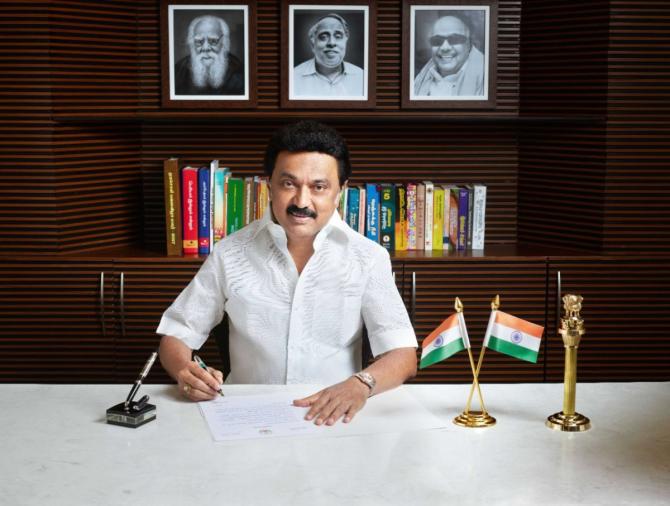 What will the chief minister do?
He will do what is legal and according to the Constitution.
Will you approach the Supreme Court?
We most certainly will. The court will clarify the powers of the governor and the limitation to his powers.
Are you planning any public demonstration?
No! This is a legal matter and not a public matter. We cannot concern the public with matters between us and the governor.
Governor Ravi has been repeatedly behaving like an Opposition leader. What is the remedy?
The remedy is with the Union government and in particular the home ministry.
They must see what the governor is doing and tell him what is right, but they are not doing that.
As they appoint the governor it is in their power to recall him or advise him.
He is supposed to act on the advice of the cabinet which is clearly stated in the Constitution, and as an IPS officer he should be aware of that.
But he is still behaving in a silly manner. I cannot think of any other word to describe his behaviour.
Last year the Kerala governor said he was withdrawing his pleasure from a certain minister which is, in fact, dismissing him.
The concerned minister ignored the governor and continued with their work as ministers.
What do you have to say on this?
When the Tamil Nadu governor dismissed our minister we too ignored him. In a few hours he withdrew his dismissal order so we have nothing to say or do.
We will take action after he decides what he is going to do.
Feature Presentation: Aslam Hunani/Rediff.com
Source: Read Full Article