The striped cat may not be looking down the barrel but only a right balance between conservation and development can secure its future. We are a long way from achieving the ambitious target set in 2010 of doubling the global tiger numbers by 2022.
Written by Rajesh Gopal and Mohnish Kapoor
The world commemorates Global Tiger Day on July 29. This occasion is as good an opportunity as any to take stock of the status of the striped stalker in the wild.
At the St. Petersburg Tiger Summit in 2010, leaders of 13 tiger range countries resolved to do more for the tiger and embarked on efforts to double its number in the wild, with a popular slogan 'T X 2'.  The Global Tiger Initiative (GTI) program of the World Bank, using its presence and convening ability, brought global partners together to strengthen the tiger agenda.
Over the years, the initiative has institutionalised itself as a separate entity in the form of the Global Tiger Initiative Council (GTIC), with its two arms – the Global Tiger Forum and the Global Snow Leopard Ecosystem Protection Program.
To evaluate where we are on that path, let's take a snapshot of efforts by India, custodian of more than 70% of the world's wild tigers, as well as other tiger range countries.
Sovereign efforts
Though a collective responsibility of the state and society, tiger is a sovereign issue. The tiger forests are state owned, barring few exceptions. The state apparatus has the mandate based on enabling policy regime.
All tiger range countries have a tiger agenda based on a National Action Plan. They share certain overarching common issues of concern such as poaching and habitat loss. The other common and compelling agenda is of growth. All the range countries face the challenge to balance the interests of conservation and development.
The global status of tiger continues to be a concern, threatened by the much-articulated causatives. Broadly, four categories emerge in the context of tiger presence and status across the range countries: forest with no tiger or prey, forest with few tigers and abnormal sex-ratio, empty forests, and depauperate land mass devoid of forest with habitat values.
Customised efforts
While we need country-specific differentiated approaches, the tiger must be secured at three basic levels: field formation, national and international. Though a sovereign issue, international engagements between border countries are important for evolving a common portfolio to address the threat of trafficking.
The Global Tiger Forum (GTF), being the only inter-governmental platform of tiger range countries since 1993, has been consolidating Tiger Action Plans of the range countries. It has forged viable partnerships with several like-minded organizations in India and abroad — IUCN, WWF, WCT, WII, IIFM, IFAW, WTI, WCS, USAID, World Bank, Clemson University.  
Several initiatives are underway to handhold range countries in their efforts to do more for the wild tiger, especially in South and South-East Asia. Cambodia has evinced a great interest in bringing back wild tigers; Myanmar is being assisted in shaping state of the art tiger plan for Htamanthi Wildlife Sanctuary, one of their priority sites. GTF missions have functioned in Malaysia, Indonesia, Thailand and Lao PDR on several thematic areas, including tiger assessment.
Within India, the GTF engagement along with partners in areas of Conservation Assured Tiger Standards (CA|TS), Security Audit of Tiger Reserves, Management Planning etc. A special High-Altitude project is ongoing with the IUCN's support for appraisal of tiger status in High Altitude Ecosystems of South Asia. Several other programmes are on the anvil.
Gains at home
India needs a special mention. It is in a leadership position on the tiger front globally. As the custodian of maximum tigers and tiger bearing habitats, India deserves all praise for its milestones. The Project Tiger, launched way back in 1973, has grown to more than 50 reserves amounting to almost 2.2% of the country's geographical area. The initiatives are many, and so are the lessons learnt. The highlights include:
> Enabling provisions for tiger in the national legislation
> Creation of National Tiger Conservation Authority
> Stepping up allocation for the tiger
> Increase in Project Tiger coverage
> Laying down normative standards with SOPs
> Modern protocol for field monitoring (M-STrIPES)
> Year-round monitoring of tiger and prey
> Bilateral pacts with neighbours
> Founder member of GTF and ongoing collaboration
> Online database of tiger crime
> Peer reviewed modern technique for Tiger Assessment
> Support for tiger/prey reintroduction
> Strict adherence to guidelines for responsible ecotourism in tiger reserves
Looking ahead
The battle is far from won and lot more needs to happen to achieve 'T X 2'. The momentum generated through national actions and global support must sustain in the face of economic growth agenda of the tiger range countries. The Key Performance Indicators of the ongoing Global Tiger Recovery Program need adequate resources and more commitment. Donors with green mission need to support regional projects for reducing the threat of trafficking, and addressing resource dependency of locals through gainful portfolios.
The centrality of tiger agenda is an ecological necessity for the sustainability of our environ. An umbrella species, the tiger signifies the health of the ecosystem services which support life on the planet. The carbon locked up in tiger forests provide a great adaptation to the threats of climate change.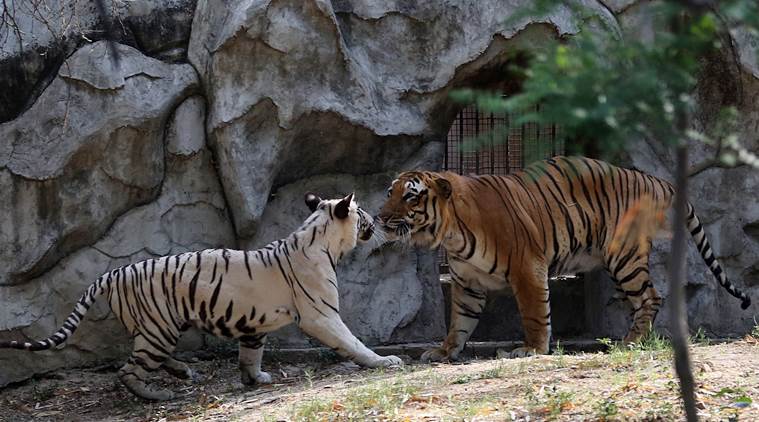 However, there is little convergence and conversation. Business as usual and working in silos continue. Carbon trading hardly has kickstarted in tiger range countries, where it is required most. Technology and innovations are many, but few have species specific concerns. The age-old concept of GDP continues to dominate with negligible green accounting. The limitations of Environmental Kuznet curve, though understood by many, has not fostered advancement of green development with less polluting technology to save tiger forests.
The tiger's survival needs to be viewed at the landscape scale. This calls for multi-stake engagement fostered by the system and civil society. A citizen's charter is needed for green development within sustainable tiger landscapes. This is an ecological imperative and much needed for our future. While the wrath of nature is well known when disturbed beyond a point, its nurturing instinct is a great inspiration. The world has always witnessed a change triggered by mass movements, leaders and champions standing up for various causes. Our planet needs 'Tiger Champions' and we look forward in anticipation on the Global Tiger Day.  
Source: Read Full Article