The Mastung attack was the deadliest to hit the province in the last several years and it left at least 148 people dead.
Balochistan Awami Party leader Siraj Raisani, who was killed in the Mastung bomb blast last Friday, was hailed by Pakistan Army chief General Qamar Javed Bajwa as a "soldier of Pakistan" whose sacrifice the country would never forget. Major Gen Asif Ghafoor, head of Inter Services Public Relations, quoted Bajwa describing Raisani as a "die hard brave patriot Pakistani who shall be remembered for his commitment and contributions".
It is not a label that the Pakistan Army has given to any other Baloch, not even to Mir Jam Mohammed Yousaf, who was Pervez Musharraf's hand-picked chief minister for Balochistan and belonged to a family of staunch Pakistan loyalists, and certainly not to the other Pakistani patriot, Nawab Akbar Ali Khan Bugti, who was taken out by the Army on Musharraf's orders in 2006.
It is also not often that the Pakistan Army chief flies all the way to attend a Baloch funeral.
His presence at Siraj Raisani's burial shows how the Pakistan Army is reinventing its presence in that troubled province.
The Mastung attack was the deadliest to hit the province in the last several years and it left at least 148 people dead. In 2016, over 70 people were killed when a suicide bomber targeted the Quetta court. Before that in January 2013, 90 people of the Hazara community, a Shia minority group, were gunned down.
Bomb blasts in Balochistan do not get much media time, and Mastung was attacked on the day former Prime Minister Nawaz Sharif's arrived in Pakistan to be jailed. The attack that killed over a hundred people was barely noticed, though a candidate was killed. It was only when the Pakistan Army chief flew to Quetta for Siraj's funeral that the Pakistan media began covering it.
The IS has claimed responsibility for the Mastung attack on Friday. Mastung, some 22 km from the provincial capital Quetta, has been a known hub of Islamist extremists. It is the Balochistan headquarters of the Lashkar-e-Jhangvi (LeJ), from where the group has launched deadly attacks on Hazara Shias. The LeJ has openly declared ties with IS.
In November 2017, the IS and a faction of the LeJ called LeJ Al Alami jointly claimed the bombing of a Sufi shrine in Quetta in which 50 people were killed. At the time, a spokesman of the LeJ Al Alami told Reuters: "Right now, in Pakistan, and especially in the cities, wherever there are attacks taking place, Lashkar-e-Jhangvi Al Alami is cooperating with [IS] either directly or indirectly."
But Friday's attack was different as the target was not an ethnic or religious minority.
Since his death, images of Siraj standing on the Indian Tricolour have circulated on social media. Pakistan blames Baloch separatism and terrorism on India, and the photographs have turned him into a hero.
Another member of the BAP, Sarfraz Bugti, tweeted a picture of himself standing on the Tricolour as Siraj had done, saying that this is why he was killed. The photo is viral on social media and has triggered copycat photos.
The hashtag #IamSirajRaisani was trending in Pakistan over the weekend. And Maj Gen Ghafoor, the ISPR chief, tweeting about Siraj's killing, said that "attempts of inimical forces to derail important democratic activity shall not succeed".
So who was Nawabzada Mir Siraj Khan Raisani? This question has gripped Pakistan after the rich encomiums paid to him by the Pakistan Army and it seems not many Pakistanis knew much about him either before he was killed, except that he was the younger brother of Muhammed Aslam Khan Raisani, who was chief minister of Balochistan in 2008.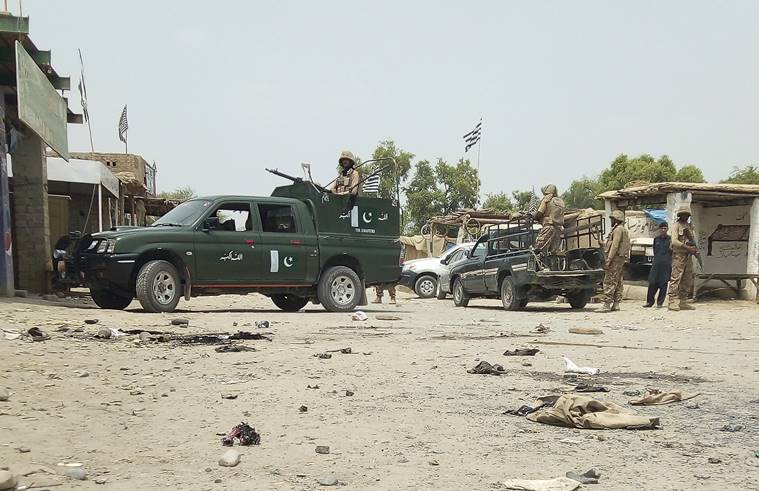 Their father, the late Nawab Ghaus Baksh Raisani was former Balochistan Governor and a former federal minister. He had also been a captain in the Pakistan Army.
The elder Raisani, who is contesting as an independent after he parted company with the Pakistan People's Party some years ago, is a veteran politician. In this election, the BAP fielded Siraj against him in Khuzdar-3, a provincial assembly constituency.
The BAP was formed only in March this year, to bring together Baloch politicians who were among the several that left Nawaz Sharif's Pakistan Muslim League (N) ahead of the elections on July 25, and the leftovers of the Pakistan Muslim League (Quaid) which was formed by Musharraf as his political vehicle.
Nawaz Sharif has blamed the Pakistan Army and ISI for the departures from his party, not just in Balochistan but across the country. In Balochistan too, BAP is considered a creation of the Pakistan Army. This is the first time since 2002 that "electables" considered to be Pakistan loyalists have come together on the same platform. The leader of BAP is Jam Kamal, the son of the former chief minister Jam Yousuf.
"The Pakistan Army is desperately looking for loyal Pakistanis in Balochistan," said Malik Siraj Akbar, a Washington-based Baloch journalist. "The BAP is basically a platform for all those people who have been pro-Pakistan for ages."
Siraj wore his loyalty on his sleeve. On his Facebook page, he ends all posts with "Allah o Akbar, One Balochistan, One Pakistan". Before his violent end, he was famous as the man who created the "longest" Pakistani flag, stretching from Quetta to Mastung, at the last Pakistan Independence Day on August 14.
On March 23, which is celebrated as Defence Day, he praised the Pakistan Army and pledged to fight shoulder to shoulder with it. In one Facebook post, he said "ready to fight, ready to kill" to defend Pakistan.
"My late father…always taught me to always be ready on the frontlines in order to defend our motherland Pakistan from any enemies and we are always ready to serve our country when in need. The patriot blood of my father is still warm in my veins." he wrote in a 2016 post.
A video in circulation on social media shows Siraj administering the Quranic oath to a group of armed men. It is not clear from the video where or when it was shot. There are other photos of Siraj posing with automatic rifles.
"Look at the photos. They give you an idea of why the Army chief went for his funeral. It is unprecedented for the Army chief to travel to Balochistan to attend a politician's funeral," said a Baloch source. Siraj had long been on the hit list of Baloch separatists.
One of Siraj's three children, son Hakmal, was killed allegedly in a grenade attack by Baloch separatists at a football stadium. Siraj was the chief guest at the event in the stadium, and he was said to be the main target. Siraj's wife is Thai, and she and his two other children live in Thailand.
"Siraj was a victim of Pakistani policies and approach toward the Baloch which compelled him to be such a hypernationalist Pakistani only because he knew this was the only he could be protected, promoted and patronised. Nobody else in other provinces is required to make such demonstrations of their patriotism. He was manipulated by a manipulative system," said Akbar.
Source: Read Full Article