'The Government of India should start a dialogue with the people of Ladakh, but the trouble is they are not willing to listen to our grievances.'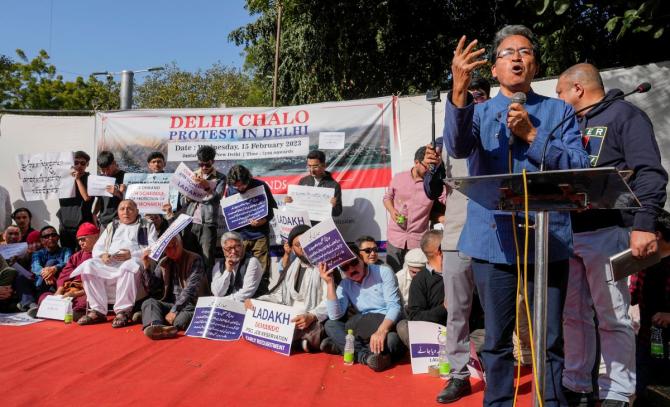 After the abrogation of Article 370 in August 2019, many in Ladakh felt a sense of relief as they believed that their problems will now be addressed in the corridors of New Delhi.
They were happy that Prime Minister N D Modi's government had carved out Ladakh from Jammu and Kashmir state and given it a Union territory status.
When Article 370 existed, the people of Ladakh often felt deprived as, in their opinion, the larger chunk of J&K's budget went to Kashmir and then Jammu, leaving them practically with no funds.
But the dream of a better Ladakh seems to be fading after three-plus years, with many people coming on to the streets to protest against the Modi government's policies.
They complain that the Union Territory is in a state of neglect and is run on the whims and fancies of bureaucrats from New Delhi.
The situation became so tense that the Modi government replaced Radha Krishna Mathur with Brigadier B D Mishra (retd) as Ladakh's lieutenant governor last week.
Many protestors from Ladakh landed in New Delhi to demand statehood and announced an intensification their struggle.
Syed Firdaus Ashraf/Rediff.com spoke to Kargil Democratic Alliance member Sajjad Hussain Kargili to know more about the ground reality in Ladakh.
The protests in Ladakh seem to be unending and the protest has now moved to New Delhi. What are your demands, exactly?
The problem is that ever since Ladakh has been made a Union Territory after the abrogation of Article 370 in August 2019, it has been left with no safeguards in terms of its land, culture and people's representation.
The people of Ladakh have become voiceless now and therefore they are upset.
In August 2021, the Kargil Democratic Alliance and Leh apex body came together and decided that we will struggle on four points to meet our demands.
What are these points?
The first demand is that we want statehood for Ladakh.
The second demand is that we need a Constitutional guarantee for Ladakh under the Sixth Schedule of the Constitution (external link).
The third demand is to provide 12,000 jobs to the people of Ladakh which was assured to us by the Government of India, but this promise is yet to be fulfilled.
We have also demanded that Leh and Kargil, which are two districts of Ladakh, must be given separate representation in Parliament.
We have Union Territories like Daman and Diu among many others, so what is the problem in Ladakh being a Union Territory?
There is a difference, as you cannot compare those Union territories to Ladakh.
These Union territories were not downgraded from the state level to Union Territory which is in the case of Ladakh as it was a part of Jammu and Kashmir state.
We had our own representation in the state and this was snatched away (after Article 370 was abrogated) from us. It is very unfortunate.
Moreover, you cannot compare Daman and Diu to Ladakh because Ladakh is located in the Himalayan region which is eco fragile in nature. This needs protection like some north eastern states have been given.
The glaciers are melting in Ladakh and the environment is deteriorating day by day, and therefore it needs protection.
Before Article 370's abrogation, there was a major grouse among the people of Ladakh that Kashmir valley politics dominated Ladakh region, leaving them neglected. You were among the first to welcome the abrogation of Article 370. Why complain now?
Yes, it is true that a section of Ladakh society was demanding a separate Union Territory with a legislature. And now we are a Union territory, but we do not have our own legislature.
And let me clarify by stating that there were many people in Ladakh who protested too after Article 370 was abrogated. Now, after more than three years of abrogation of Article 370, the people of Ladakh are feeling disempowered as they do not have their own legislature.
They are not getting their own voice heard.
What is the reason they are not holding elections? Did you ask the government?
They are saying they allocated a Rs 6,000 crore (Rs 60 billion) budget to Ladakh which could not have been possible earlier as the J&K state did not share this amount with Ladakh during the days of Article 370. So, we welcome this initiative of the government.
Now, we have two hill councils in Ladakh; one is Kargil and the other one is Leh. We were told that both these hill councils will have (autonomous) powers and be given Rs 250 crore (Rs 2.5 billion) each for development, but this was not given to us.
Now these two councils are functioning under the secretaries who have come from New Delhi. This is a big problem for the people of Ladakh.
Before the abrogation of Article 370 we had the Ladakh Autonomous Hill Development Council and they used to take decisions then, but right now these secretaries (from New Delhi) are taking decisions on their behalf.
In the last three-plus years, the Union Territory of Ladakh has not seen any great development. The roads are marred with potholes and the only good roads you have is which are developed by the Border Roads Organisation.
There is still a drought-like situation in Ladakh and the schools of Ladakh are running without teachers.
Yes, there has been one building built called Raj Niwas in Leh, but besides that there has been no major infrastructure development in Ladakh.
So what is this announcement of Rs 6,000 crore for Ladakh? Are you saying there is no work going on in Ladakh?
We need a vigilance team the from the Government of India on these bureaucrats who are running Ladakh.
They must set up accountability tasks for these bureaucrats in Ladakh.
The people of Ladakh are feeling betrayed (due to lack of development).
Your another concern is that outsiders are coming and settling in Ladakh, but if you speak to any BJP leader from Ladakh they say one does not see it happening on the ground. So what is the truth?
When there is no protection there cannot be any certainty.
Outsiders can come and settle in Ladakh anytime when they want.
We have been informed that outsiders are planning to come to Ladakh as the government is planning to set up special economic zones for them.
But for jobs you need factories that are export-oriented so if you oppose SEZs, how will you create jobs in Ladakh?
Let the government fulfill its promise of quota in government jobs that was promised to Ladakh.
And as far as development is concerned, the ecology of Ladakh has to also be taken into account. This is a Himalayan region and you have to ensure that the ecology of Ladakh does not get damaged in setting up these SEZs.
There have been protests against the influx of tourists in Ladakh. Is it true?
Yes, it has to be done in a controlled manner. Ever since Ladakh has become a Union Territory there has been no policy; be it on education or friendly ecotourism or even jobs.
The rule of Union Territory has failed the people of Ladakh.
Did you meet Lieutenant Governor Mishra to voice your concerns?
He is accountable to the ministry of home affairs.
We want someone who will be accountable to the people of Ladakh and that is only possible if you have a (elected) legislature for Ladakh. Therefore, we are demanding separate statehood.
If the Government of India succumbs to your pressure, protests will erupt in other parts of the country too demanding Sixth Schedule protection, isn't it?
There are many regions where there are reservations (for locals) and it is only given in those areas where there is no equal opportunity.
The Sixth Schedule says that any place that comes under it must have 50 percent tribal population and Ladakh has more than 95 percent tribal population.
And secondly, Ladakh is located in an ecologically fragile area so you got to be sensitive in dealing with this issue.
We feel that when other states in the north east have got this special provisions according to our Constitution, then why neglect Ladakh?
The Government of India should at least start a dialogue with the people of Ladakh, but the trouble is they are not willing to listen to our grievances.
But the Sixth Schedule demand is a new one. You never brought it up in the last 70 years. Why?
Because (earlier) we had Articles 370 and 35A in Jammu and Kashmir that gave protection to the people of Ladakh (from outsiders).
Source: Read Full Article