Any other film producer or actor in Udhayanidhi's place would have thought a thousand times before wanting to do anything with a movie like Maamannan, notes N Sathiya Moorthy.
In a state where the likes of the all-time great MGR, followed by next generation's Rajinikanth and the current crop's top biller Vijay, have taken pains to build up an on-screen image that would serve their political ambitions, Tamil Nadu's DMK Minister Udhayanidhi Stalin may have risked his electoral future and that of the ruling party, in the choice of his swan song of a film, Maamannan, which hit the screens weeks after he joined the cabinet of his Chief Minister father, M K Stalin.
Translating as 'king-emperor', the film is about the daily travails of the untouchables in the unforgiving social set-up that Dravidian Tamil Nadu still is and told through the life and times of an elected legislator from that very background.
The father, Maamannan, supposedly a timid, ruling party legislator, played very effectively by Vadivelu, one-time king among Tamil cinema's comedy stars, flexes his muscle, as if he were waiting for it, when son Adhiveeran or Veera (Udhayanidhi), traumatised by a childhood experience, rises in revolt over the oppression of his people, personalised and personified in the case of his father.
It is an old story, differently told, without the kind of communal props, like burning of Dalit homes, rape/mass-rape of their women and worse.
Reflecting the path that the idea of 'social justice' has travelled in the state, the film is more contemporary in that the dominant caste hurt of his father's self-respect is enough for Veera to take on the 'antiquated oppressor', Rathnavelu, played very convincingly by the multi-lingual Malayalam star Fahadh Faasil.
Given to clubbing his dog to death for losing a rural race for canines in the 'caste over-conscious' Salem district, Faasil, the young district party secretary, is unable to stomach the older, two-time Dalit legislator daring to take the seat offered only to his son, but egged on by that very son.
Yes, there is blood and fury, or fury and blood, but the happy ending comes through the ballot box.
Despite the usual denial of right to campaign in multiple villages, Maamannan retains his imaginary Kasipuram seat (sounds close to Rasipuram in neighbouring Namakkal district?) against Rathnavel's prop, implying that it is a 'reserved constituency' for the Scheduled Castes.
After award-winning hits, Pariyerum Perumal (2019) and Karnan (2021), for film-maker Mari Selvaraj, Maamannan is third in a row on caste politics.
Maybe as an indication of how deep-seated caste oppression has become, Maamannan takes a slow pace, at times making it look like a docu-drama.
Though the film is gripping in parts, there are a lot of loopholes in the script — like the absence of family or party men, or even the police, when there is repeated anticipation of attacks on a ruling party MLA, his family and home, all of it in a caste-sensitive environment and when the chief minister is also on his side.
Then there is the mystery of a man from the shanties coming to live in a near-palatial building in the middle of nowhere, with politics as his only vocation and a son, who is busy tending to pigs — another risk in the image-conscience Indian cinema.
Veera does nothing much else for a living — as if to draw a parallel to the antagonist's kennel of native breed of hunting dogs.
If you smell political corruption in the background, the film-maker has not done anything to change that perception.
But then, Mari Selvaraj is not the first film-maker in the genre, nor will this one be the last caste-based film that is differently told compared to the previous generations.
Like 'Dalit literature' and 'Dalit theatre', 'Dalit cinema' too has come to stay within the larger canvas of commercial filmdom.
Through subtle sub-plots, film-makers like Pa Ranjith have already brought caste issues to mainstream commercial cinema, that too through the dominating on-screen presence of super-star Rajinikanth (Kabali, 2016 and Kaala, 2018).
His other hits like Madras (2014) and Sarpetta Parambarai (2021), and all others since 2012, were commercial in every sense of the term, and the film-maker's off-screen image invested on his films to give an otherwise invisible 'caste twist' to the proceedings.
Pa Ranjith's two successive movies with Rajinikanth came out when the latter was talking freely and frequently about entering direct politics.
It is now dismissed as a ploy to capture the film-goer's fertile imagination, after he cried wolf citing health issues after announcing entering the 2021 state assembly elections in a big way.
Then there was T J Gnanavel's Jai Bheem (2021) with Surya in the lead and Vada Chennai (Vetrimaran-Dhanush combo, 2018) in the same genre.
It is here that Udhayanidhi has made a difference. He is not an aspiring politician any more as Rajini once was, or the current rage Vijay now is.
He is already in the depth of it all, instead. Vijay, reportedly the highest-paid actor across India, now 49, has begun talking about a desire (or commitment?) to enter the Tamil Nadu assembly poll scenario in 2026.
Typical of filmi figures wanting to throw constant hints at a future innings in state politics — Vijaykanth too travelled that path before launching the DMDK in 2006 — Vijay has launched people-oriented and student-centric welfare measures now, ahead of his multi-starrer Leo, due for release in October.
Even without it Vijay — a Christian who is the butt of many Hindutva memes — has been throwing subtle hints of the earlier Rajini kind by having supporting characters in his recent films like Bigil appearing in readily identifiable Muslim attire.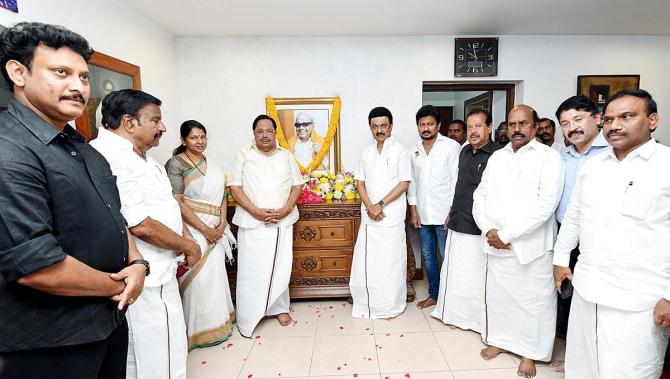 This is not certainly Udhayanidhi's first film as an actor.
He began with the hugely successful love-comedy Oru Kal, Oru Kannadi (2012), where he provided equal screen space to Santhanam, the mainstay comedian of the time, now a middle-aged hero.
This is Udhaya's 16th film in 11 years, but officially declared the last one, before he joined his father's ministry last year.
He had begun as a film producer through the Red Giant Movies as far back as 2008, and became an equally successful distributor, too, before long.
If there were controversies galore in his other two filmi avatars, as an actor, Udhayanidhi, now 46, has done mostly light-hearted roles, until the Maamannan concept struck him — as he has confessed at the pre-release promo and media interviews.
Rather, after viewing the film-maker's two previous works, he wanted to work with Mari Selvaraj, and he wanted it to be his last film before entering full-time politics as a minister.
He was already an MLA when he signed up Mari Selvaraj, for what once again turned out to be a home production.
It is here that Udhayanidhi's risk-bearing capacity stands out. So does that of his CM-father.
Any other film-producer or actor in Udhayanidhi's place would have thought a thousand times before wanting to do anything with a movie like Maamannan.
No party boss and CM in Stalin's place would have been able to identify (even if silently) with the political risks that it entailed for the party.
After all, abject casteism is a reality in Tamil Nadu.
If anything, the successful social justice model, which Stalin has rechristened as the 'Dravidian model' after becoming CM, has only accentuated the sharp differences between the oppressed and dominant castes in the rural milieu.
This owes to the level-playing field that the Dravidian social justice scheme has been providing for the former through the past hundred years, since the advent of the Justice Party government in the then Madras presidency in 1920.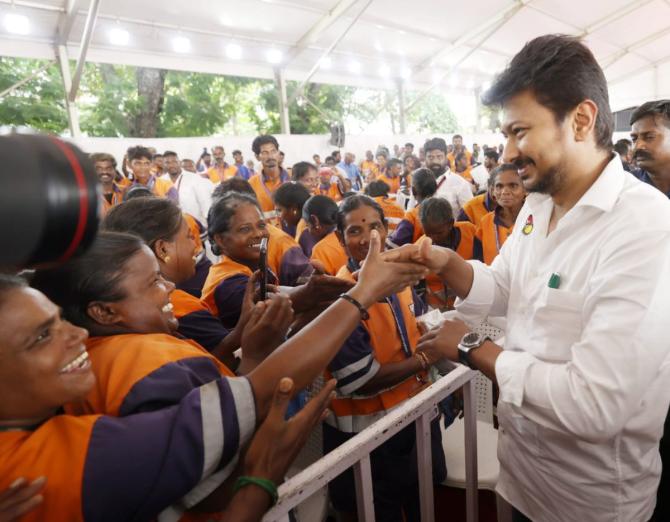 The fact is that social divide exists in Tamil Nadu, despite all what the Dravidian movement might have done, both in government and outside.
So much so, in very many regions and constituencies, starting with individual villages, dominant communities, whatever be their social hierarchy and standing, gang up to ensure that a Dalit candidate or party or alliance does not get their votes.
It is in the blood, and it is this huge risk that Udhayanidhi the politician has taken as a film actor.
There is more to it. Caste divisions are strong and electorally decisive in the state.
It is equally, if not more so, in Salem district, which along with the rest of the western region, has remained unapproachable for the Stalins' DMK ever since the late MGR floated the breakaway AIADMK, decades ago, in 1972.
And the party has been moving heaven and earth to change the political discourse in the region, both under Stalin and earlier under his father and DMK patriarch, M Karunanidhi — but to little avail.
As for Udhayanidhi, who is at present the party's youth wing chief and heir-apparent, to tread on the thorny path takes either a lot of courage, as reflective of his generation, or is it a product of his inexperience?
Considering that father Stalin did not stop him from doing the movie should show that either it is no more an election issue as used to be feared in the past, or the party leadership may be cut off from ground realities, as often alleged in these and other matters.
It is in this context the post-Maamannan social media posts on past and present instances of Dalit legislators being offered a plastic chair in the presence of DMK's dominant caste ministers and other party leaders were doing the rounds soon after the film's release, on June 29.
For, the latter class were seated in more comfortable sofas, which has become a social status-marker.
Some videos from Stalin's past party conclaves for mass introduction of DMK alliance candidates in election times also began reappearing.
In them, all 'dominant caste' candidates were seated or were standing alongside the leader on the dais whereas the lone Dalit — or at times two or three — was/were made to stand below the dais, or be seated on a plastic chair, thereabouts.
Some of them were seen standing on those plastic chairs, if only to catch the attention of the cadres and voters when others were seated on the dais.
Whoever posted those pictures, videos and memes did not reveal their political identity, if any — and naturally so.
After all, casteism of the kind dominates the polity and society across the board, and no party in the state can claim to be rid of it.
Even in the so-called Dalit-centric parties, there are gradations within the community, where superiority complex prevails, so does social adversity, at times leading to violence.
That way, there are questions if Udhayanidhi's filmi effort would go on to consolidate Dalit votes in the party's favour — and/or turn the rest against the DMK — even as its Dalit VCK ally may be left sulking about the further loss of base, which is already eroded from the mid-nineties' peak.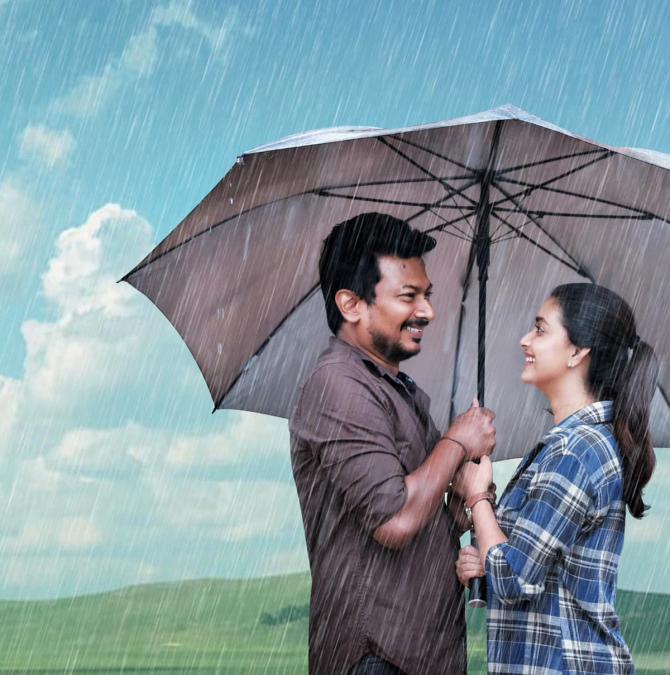 Yet, there is no explanation how and why actor Vadivelu and Mari Selvaraj came to be seated in chairs while Udhayanidhi was on a comfortable sofa, as netizens have posted.
Some say the picture was taken in Vadivelu's house where Udhayanidhi was a guest and so on, but not everyone is convinced, though no one has made a big issue of it — for very obvious reasons.
Especially in western Salem, where the film is centred and where the Opposition AIADMK and also the Vanniar community-dominant PMK are strong, casteism too is the strongest.
So much so, there were counter-casteist films like Draupathi (directed by Mohan G Kshatriyan, 2020), which made out a case for honour killing.
Even Maamannan has its quota of counter-narratives.
Supposed dominant caste persons have been 'trending' Fahadh Faasil's character on social media, rechristening it as either Rathnavelu Gounder or Rathnavelu Thevar or Rathnavelu Naicker, the three dominant intermediary castes in the west, south and north of the state — who as communities have purported problems about accepting Dalits as they come.
And it was also in Thevar Magan that Vadivelu came to be recognised as an up and coming 'character artiste', though he had to wait for two more decades to get a meatier role — this one again as the face of oppressed, but with more than a screen presence in Maamannan.
Vadivelu then went on to rule the comedy scene in Tamil filmdom, followed by a decade of exile, for campaign misadventure during elections 2011 and intransigence in not living up to his commitment to producers as powerful as S Shankar of Robot fame.
N Sathiya Moorthy, veteran journalist and author, is a Chennai-based policy analyst & political commentator.
Feature Presentation: Aslam Hunani/Rediff.com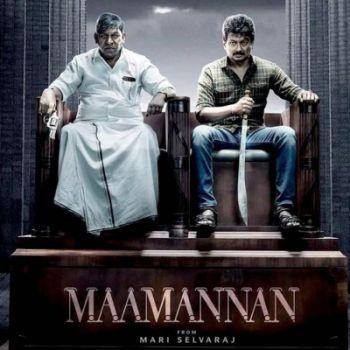 Source: Read Full Article