'The culture of mankind has been spread by the travel gene which pushes one in five people to have the curiosity to move to unknown destinations.'
Down a hilly road in Mussoorie, up a flight of steep steps, through a patch of woodland, is an old cottage which is home to Hugh and Colleen Gantzer.
The duo began travel writing in the 1970s — one of their first journeys was on a Vespa scooter from Cochin to Kanyakumari.
Along with being the country's first travel writing team, they also make a beautiful couple.
"You are calling a naval officer, beautiful! I take offence!" exclaims Hugh Gantzer, 91, a retired commander from the Indian Navy endowed with a sparkling sense of humour and an array of remarkable travel experiences.
The Gantzers have visited every state and Union Territory of India — and were the first to write regular travel columns for newspapers.
The duo travelled the world, wrote a dozen books, and thousands of articles about places far and near.
The years spent in Kerala during Commander Gantzer's tenure in the Indian Navy ignited their love for travel. The couple pursued it in earnest after he took premature retirement in 1974.
Their nearly 180-year-old cottage is an ode to memories of their travel — the dining room wall is covered with plates from different countries, including one bearing the image of the first vampire, Vlad Dracula, the king of Romania.
The Gantzers brought back something from every place they visited. A glass showcase is packed with such treasures; flowers are arranged in an ornate incense burner from Myanmar on the centre table in the drawing room, while a small brass rice cooking vessel from Kerala sits beside a small statute made by tribals in Bihar.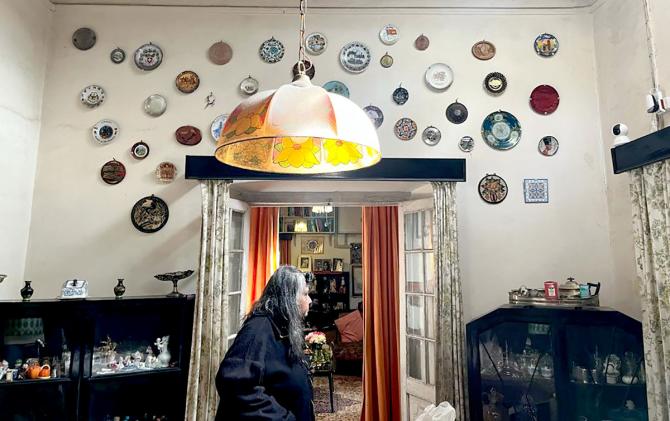 In the last shelf of a book case is a massive king coconut from Seychelles, a gift from the tourism minister. An alcove in the bookshelf is devoted to Commander Gantzer's life in the navy, which he served for 21 years.
Among the medals and mementos is a black and white photograph of the second version of INS Khukri. He was posted on the first version of the ship, the only Indian vessel that was destroyed and sunk in the 1971 War. Fate had a different plan as he was posted out of the ship just a month before it went down.
The shelves and walls of the house are generously covered with black and white family photographs, along with framed certificates and awards for the couple's immense contribution to travel.
The cottage bears the warmth of a home well-lived, seeped with the history they have shared and the memories they have built together. The advancing years haven't dulled Mr Gantzer's sense of humour or Mrs Gantzer's girlish chuckles to his jovial banter.
It is a delight to see them together.
"It will sound unbelievable, but is absolutely true," says Hugh Gantzer with a twinkle remembering their first meeting in Bombay of the 1950s.
He was a young naval officer posted in the city and had come to visit family friends.
"I was standing in their first floor window and saw a girl walking on the property grounds below with her back towards me. I said to myself that that is the girl I am going to marry. I did not know her name, did not see her face and did not know if she was married or not."
"We met, fell in love, got married and were given the traditional archway of swords at our wedding." [Naval officers walk under an arch of swords with their bride as they exit the wedding ceremony.]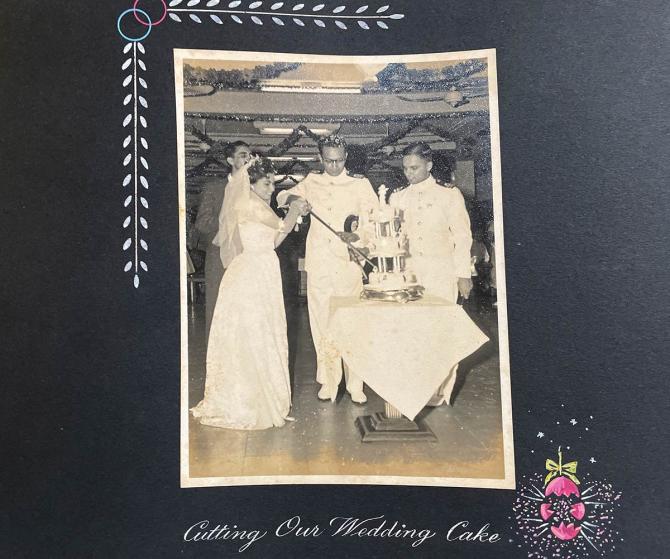 Restricted by knee problems and constrained by age, the Gantzers have stopped travelling and haven't stepped out of the cottage since the Covid lockdown in 2020. The house help that lives on the premises looks after their needs under the supervision of Colleen Gantzer who is 88.
"India is full of wonderful places. There are so many places we love and would love to go back, but it may not be possible anymore. Every time we write an article, we go back to those places," she says as Lovebirds chirp in the verandah. The couple has always kept Lovebirds; their sound has been a constant in Mr Gantzer's life since he was a boy.
"It is impossible for me to tell you my favourite place in India," he says.
"It's like asking which colour of the rainbow do you like most? We are the only nation in the world that has various ethnic and linguistic groups. If you protect your mother tongue, you protect all the customs and traditions associated with that mother tongue. India is because of its diversity."
On what turned out be a perfect morning with the Gantzers, Rediff.com's Archana Masih went on a memorable journey with the gracious couple as they shared their incomparable travel stories.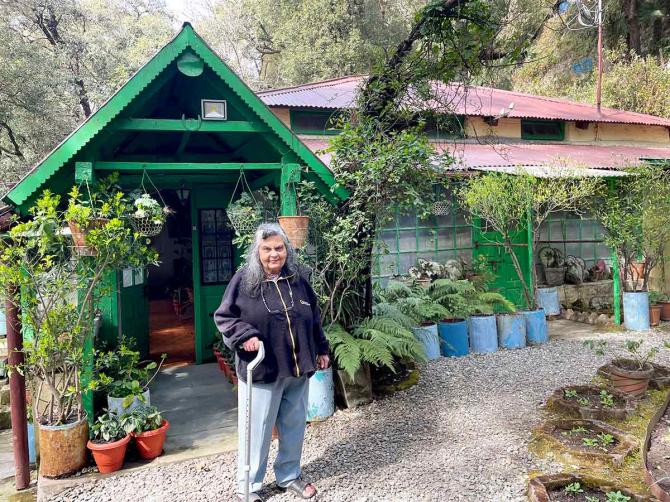 Where did you spend your early years before India's Independence?
I took premature retirement in January 1974. I was born in Patna and my wife in Godhra, Gujarat. We are Anglo Indians and are the only community defined by the Constitution of India.
By Constitutional definition and by culture an Anglo Indian has to be an Indian. S/he can't be anything else, you can't call yourself an Anglo Australian or Anglo American.
My father headed the survey of Bihar and Orissa. I was born in Patna and lived there till age 8. I remember the top storey of our home was destroyed in the Great Bihar Earthquake.
At the end of our garden was an embankment at the base of which flowed the Ganga. When the monsoons came, the water rose up to almost to the top of that embankment. We saw huts, animals etc floating down from the edge of our garden.
My father retired and we moved up to Mussoorie in 1940.
Many decades later, Colleen and I went back to that house in Gulzarbagh, Patna, when the state government invited us. It was one of the last trips to another state as travel writers. The house was still there, but it looked different and had been converted to offices of the survey.
Colleen was born in Godhra where her father was in charge of a railway workshop.
Her great grandfather was a Scotsman. She studied in Bombay.
We met in Bombay, fell in love and got married in 1960.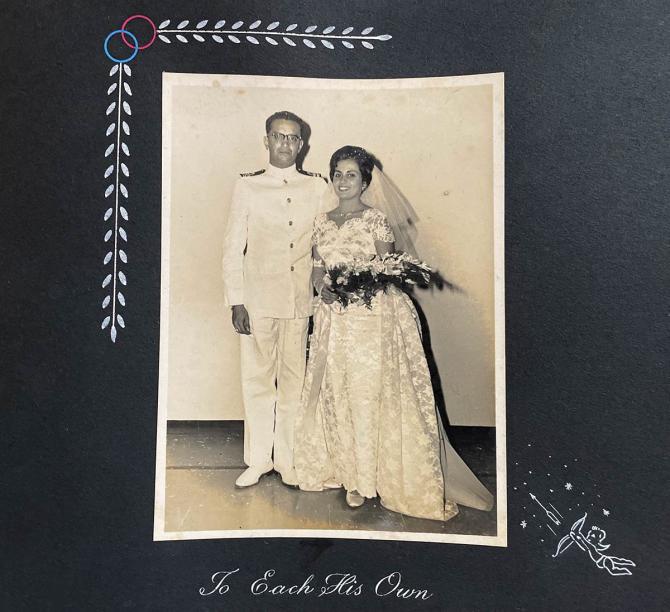 When did you become travellers?
We liked to travel around. Kerala gave a boost to our travels. We stayed on in Kerala after retirement. We saw this amazing state which was a wonderful mixture of religions and culture.
Islam arrived in India from Kerala.
Christianity first came to India through St Thomas, who was an apostle of Christ.
St Thomas was a Jew and possibly came to Kerala because he could communicate with the other Jews who lived here. We've been to the place where the first Christian colony was established in Kerala.
Kerala was the centre for spices which was carried by Muslim traders from India to Europe. When the spice traders from the Arab nation came to Kerala they stayed till the end of the monsoon. During that time they married local women and that is why the Muslims of north Kerala are called Maplas — which is derived from Malayalam word mapilla meaning son-in-law.
So you see, tourism for us is not about going there, doing that and moving on. It's much more than that.
The culture of mankind has been spread by the travel gene which pushes one in five people, to become leaders and have the curiosity to move to unknown destinations. This is a genetic fact.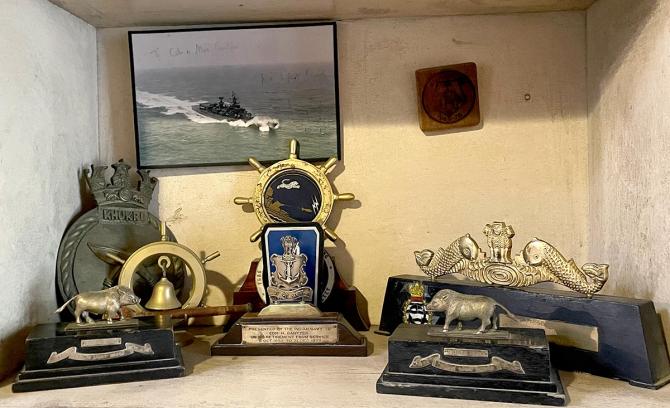 When did you take to travel writing?
After retirement in 1974. The Government of India would bring travel writers to promote tourism. When we read what they wrote we thought we could write better, more informative, articles.
In 1975, Khushwant Singh, the editor of The Illustrated Weekly of India asked us to write for a newly-launched series called 'The India you do not know'.
[Hugh and Colleen Gantzer duo started the country's first travel column in a national daily. They wrote for the Indian Express and The Hindu and hosted the first travel show on television.]
The man who knows most about tourism is Amitabh Kant [present G-20 sherpa and former tourism secretary of Kerala who created the slogan 'God's Own Country' and made the state into a leading travel destination.]
Gradually, different states started inviting us, they would take us around and we loved the travel and wrote about it.
You both have travelled and written about every state and Union territory in India and so many foreign destinations, but have never been to the USA. Why?
Generally, we have been to countries that have invited us to write. We have never been invited by the USA.
We were never invited to China as well, but we decided to go on our own because China was far more interesting than the USA.
The USA has the world's biggest propaganda machine. Everyone seems to know everything about the USA, but China is a huge country which is our neighbour and no travel agent had been to China at that time.
Only after we returned and wrote about China that Indian travel agents started recognising China as a destination.
We've been to the UK about six times on invitation, but were not taken to Ireland.
COMING SOON! 'There is no limit to travel'
Source: Read Full Article