The news you shouldn't miss today: Ram Madhav bats for Sushma Swaraj, employment numbers go south and much-awaited series Sacred Games releases today.
Many have defended Sushma Swaraj, but the most spirited defence may be from BJP's national general secretary Ram Madhav. Also, an investigative report uncovers what is common to 15 cases of lynching across India over rumours of 'child lifting'. And are you prepared for Sacred Games and the latest round of World Cup thrillers?
Defending Sushma Swaraj
A difference of opinion over the handling of the case of the Lucknow inter-faith couple – who claim they were harassed over a passport – is plausible and valid. But what isn't is the hounding, abuse, obscenities like calling her 'Begum Sushma', commenting on her health or asking her husband to beat her up, writes BJP national general secretary Ram Madhav.
Read his op-ed
What can get you lynched over 'child lifting' rumours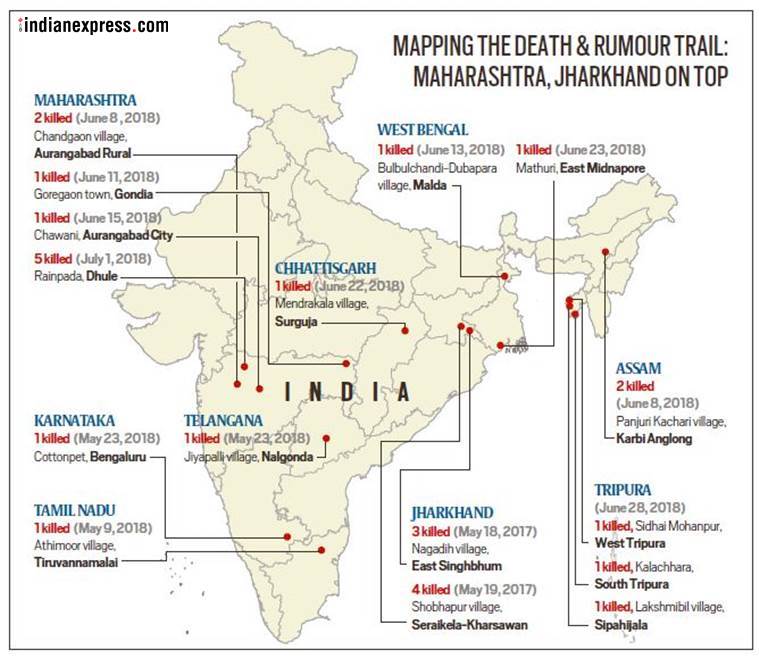 Being an outsider, travelling after sunset, taking an unfamiliar road and stopping to ask for directions, or offering a chocolate to a child. These are among the factors that have led to the lynching of 27 people across India by mobs that have been whipped into a frenzy by rumours of kidnappers on the loose.
The first of a three-part investigative series finds that there are distinct patterns: the demographics of the mob, how it's mobilised, the profile of accused, the way rumours spread, the response of police and the legal process. And in multiple cases, the proximity of the police hasn't been a deterrent.
Read the article
Sacred Games: India's biggest release this week is on Netflix
Sacred Games starring Saif Ali Khan, Nawazuddin Siddiqui and Radhika Apte releases on video streaming app Netflix. Directed by Vikramaditya Motwane and Anurag Kashyap, the series based on a novel by the same name might just be India's contribution to the app's binge watch worthy series.
Read the review and here's an interview with its stars
Why falling EPFO numbers have upset the government
Faced with criticism that it wasn't doing enough to tackle unemployment, the government had cited the findings of an independent study. Based on Employment Provident Fund enrollment data along with data of Employees' State Insurance (ESI) Scheme, National Pension System (NPS), General Provident Fund (GPF, the study estimated around 70 lakh jobs might be created in 2017-18.
But an analysis shows that Employee Provident Fund enrolment data has been falling between 6-21 per cent from September 2017 to March 2018. A baffled government is now asking for the reasons for the decline in numbers.
Read the article
Time to legalise betting?
A Law Commission report leaves the final call to legislators, but has advocated that betting in sports be legalised in India. The commission says this is will generate revenue for 'social welfare, curb 'the influence of organised crime groups, and restrict money laundering. One member of the commission though, has filed a dissenting opinion.
And to strengthen their case, the report cites BR Ambedkar, and historic texts like the Katyayana Smriti and Naradasmriti in its justification.
Read the article
Where will you be tonight?
If you're a football fan, get ready for a weekend of sleep deprivation. France plays Uruguay in the first semi-finals of the World Cup on Friday at 7:30 pm followed by Belgium against Brazil at 11:30 pm. On Saturday, England will face off against Sweden at 7:30 pm and then Croatia will try beat Russia on their home turf at 11:30 pm.
Also did you know Neymar's already spent 14 minutes of this World Cup rolling? Someone's actually been counting.
Read why France has a tough battle ahead and why Neymar will be key to Brazil beating the Red Devils.



Inter-faith couple passport row: Officer asked irrelevant questions on religion, says probe




Anurag Kashyap: Vikram Chandra has written amazing love letters to Vikramaditya Motwane after watching Sacred Games
Source: Read Full Article