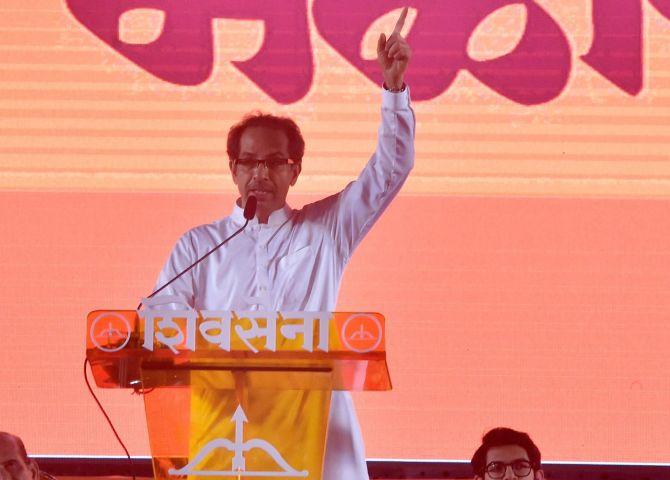 IMAGE: Shiv Sena chief Uddhav Thackeray addresses the Dussehra rally at Shivaji Park in Mumbai on Thursday. Photograph: Mitesh Bhuvad/PTI Photo
Making a strong pitch for construction of a Ram temple in Ayodhya, Shiv Sena chief Uddhav Thackeray on Thursday said he would visit the Uttar Pradesh town on November 25 and 'question' Prime Minister Narendra Modi over the issue.
Addressing the party's annual Dussehra rally in central Mumbai, a few months before the 2019 Lok Sabha polls, Thackeray said a '2014-like wave' is not prevailing in the country.
The Bharatiya Janata Party had attributed its 2014 electoral success to the 'Modi wave'.
Thackeray also asked Sena workers to be prepared for polls.
In the party convention held earlier this year, the Sena, a constituent of the BJP-led governments at the Centre and in Maharashtra and the oldest member of the National Democratic Alliance, had declared to go solo in future polls.
"I will go to Ayodhya on November 25. I will ask questions to the prime minister (over alleged delay in constructing the temple)…We are not enemies of the prime minister, but we don't want to play with the emotions of the people," Thackeray told a huge gathering of the party workers.
He also sought to know why Modi had not visited Ayodhya in the past four-and-a-half years, after becoming the prime minister.
Thackeray asked the ruling BJP to declare its promise to construct the Ram temple as a 'jumla' (gimmick) if it is not going to implement the same.
The Sena chief also sought to dispel perception that his party is sticking to power in Maharashtra even as it has been unrelenting in criticising the BJP and the prime minister.
Thackeray said his party has been targeting the government over non-performance of the BJP government.
"Now the RSS (Rashtriya Swayamsevak Sangh) is also speaking the same language as ours… Recently, RSS leader Suresh Bhaiyyaji Joshi said it is the duty of Raja (king) to keep people happy. We all know who is the king in democracy," Thackeray said, without naming anyone.
"You ask us to walk out of the government (when the Sena criticises the government)… Why don't you ask the RSS to tell the BJP to walk out of the government now (for its criticism by the Sangh)?" Thackeray asked.
He also hit out at the BJP-led government over several issues, including price rise, alleged delay in implementing the promise of abrogating Article 370 and for not acting tough against Pakistan.
Thackeray also criticised the Devendra Fadnavis-led Maharashtra government for 'delay' in declaring drought in the state despite several parts reeling under water shortage.
Referring to a Maharashtra BJP leader's comment that PM Modi is the 'eleventh incarnation' of Lord Vishnu, Thackeray asked, "If that is the case then why the Modi government cannot control skyrocketing prices?"
Source: Read Full Article