Trailblazing Tunisian Ons Jabeur stands on the verge of history with a maiden Grand Slam title at Wimbledon within her grasp but in Czech surprise package Marketa Vondrousova she faces a final opponent who could tear up the script and prolong her wait.
The ever genial Jabeur, dubbed her country's "Minister of Happiness" and a crowd favourite almost everywhere she plays, endured heartbreak in last year's title clash where she was outclassed by Elena Rybakina after winning the opening set.
Her lifelong dream of becoming the first African woman and Arab player to win a Grand Slam singles title was dashed again by Iga Swiatek in the 2022 U.S. Open final but the 28-year-old is ready to take another shot in London on Saturday.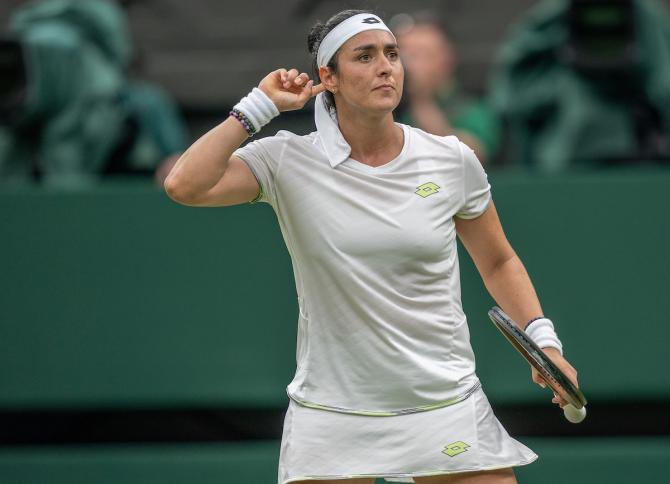 "Last year was my first final of a Grand Slam," said Jabeur, who gained revenge against Rybakina in the quarter-finals at Wimbledon before dismissing world number two Aryna Sabalenka in the last round to avenge her 2021 defeat by the Belarusian.
"I'm definitely getting closer to winning the Grand Slam I always wished for.
"I always believed. But sometimes you would question and doubt if it's ever going to happen. Being in the last stages, it does help you believe more.
"I'm going to learn from not only the Wimbledon final but also the U.S. Open final and give it my best. Maybe this year was all about trying two times and getting it right the third time. Let's see."
HAMMER AND WAND
Next up in Jabeur's crosshairs is 2019 French Open runner-up Vondrousova, a fierce player who like the sixth seed is equally adept at wielding the hammer and the wand on court and is on her own dream run after her career was derailed by injuries.
"She has good hands. She plays very good," said Jabeur, who lost to the 24-year-old at the Australian Open and Indian Wells this year.
"Honestly, I'll try to focus on myself a lot more. I'm not sure how she's going to play her second Grand Slam final. We're both hungry to win. Whoever deserves it more will win."
Like Jabeur, who overcame knee and calf issues this year, Vondrousova is rediscovering her best form after having wrist operations following her run to the Roland Garros final four years ago – a campaign that ended in defeat by Ash Barty.
"After everything I've been through, two surgeries, it's not always easy to come back. You don't know if you can play at this level, if you can be back at the top and these tournaments," said unseeded Vondrousova, whose second operation was in 2022.
"I'm grateful to be on a court again, to play without pain."
Having toppled four seeds before beating a resurgent Elina Svitolina in the semi-finals, Vondrousova is hoping to follow in the footsteps of her compatriots Martina Navratilova, Jana Novotna and Petra Kvitova and win a major crown.
But an in-form Jabeur, who has conquered four Grand Slam champions in this year's tournament, represents a tricky test for even the best players in the game and Vondrousova mixed caution with confidence ahead of their encounter.
"She's used to playing finals in a Grand Slam," Vondrousova said. "It's a final, so it's going to be tough match."
Source: Read Full Article