The first bunch of hair that Ahmed Alsanawi cut down were his own. Then his Iraqi father, then the neighbours, and one day he found himself tensed and muttering under his breath as he was staring at the head of John Terry.

Born in Baghdad, in London as a nine-year old, pursued a diploma in art, became a hair stylist instead, and he is now in Moscow styling the entire France team, a day before the final. On Pogba's request, he flew down to Moscow, and has already styled the entire team four times.
It was a bad haircut that prompted Ahmed Alsanawi, 28 now, to storm out of the barber shop to buy hair clippers and the first bunch of hair he cut down were his own. Then his Iraqi father, then the neighbours started queuing up, and one day he found himself tensed and muttering under his breath as he was staring at the head of John Terry.
"I was a bit star-struck, then. No longer, of course. Now be it Pogba or Eden Hazard, Belgium player who also plays for Chelsea club, are my friends now. It's all about now giving them a creative good cut," Alsanawi tells The Indian Express from Moscow.
A Sunday footballer himself who fell in love with Chelsea and would go on to be the trim king for most of the players there. Pogba came calling in 2016, and Alsanawi remembers the initial interactions. "It was fun. He is such a nice humble guy and just an absolutely chilled out guy." Also, someone who really loves to express himself through his hair – in the last two years, he has at least had 25 different hairstyles, according to Alsanawi. The first time, Alsanawi shaved #Equal into Pogba's hair for the anti-racism campaign.
"It's a creative process. At times, he suggests, sometimes I suggest – we both knock around the idea for a bit, and then we go for it. He is a very creative guy – no wonder he is like that on the field too. If you think someone like Pogba, a huge star, would have any star tantrums, you would be wrong. He is a delight to be with. Now, I consider him a friend."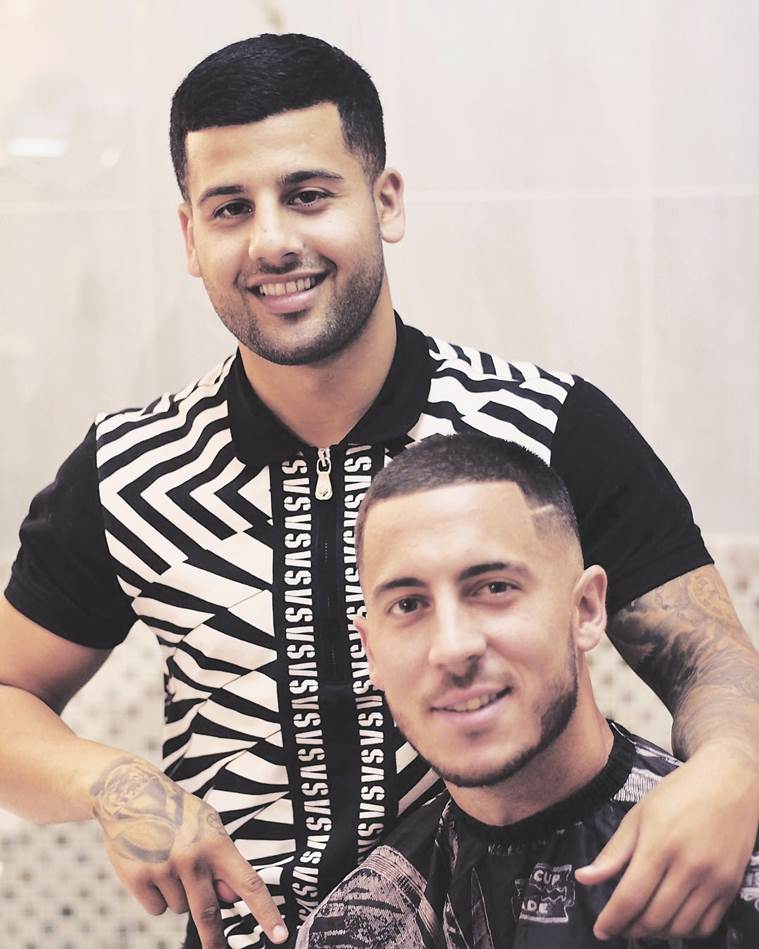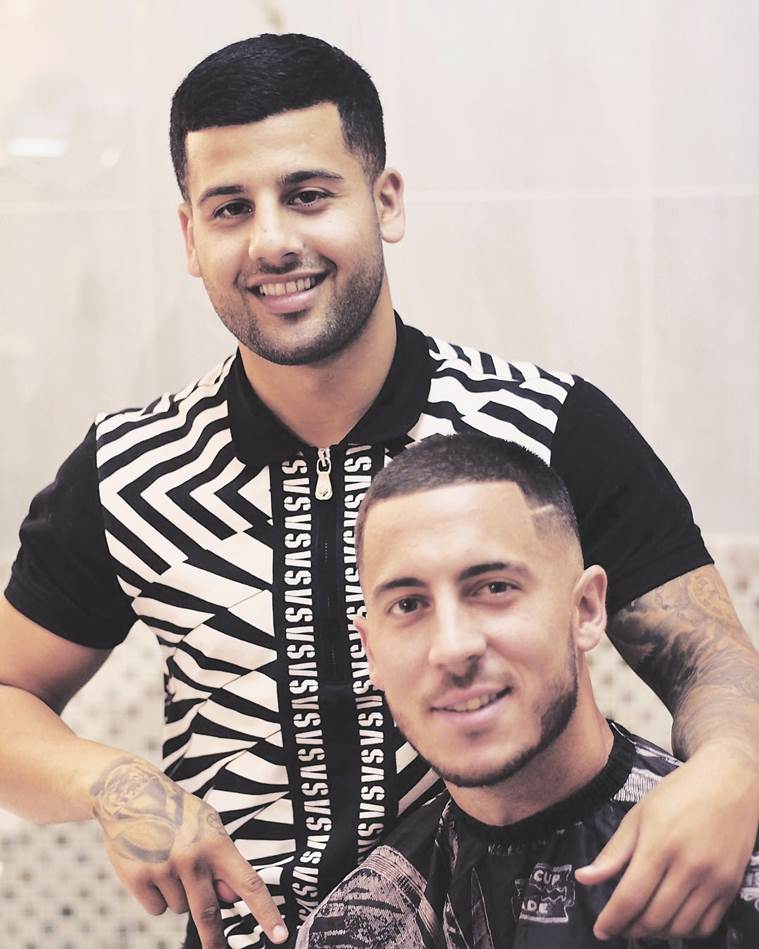 Another friend is Eden Hazard. Three years ago, Hazard was cutting his own hair. "He just wasn't into all this. We had a chat, and now you see his hair is a brand. Kids come to my shop, asking for a Hazard cut. I gave him zero hair on the side, a line in eyebrow, a shape up – and that's my job really. I convinced him to have a skin fade, he wasn't sure, saying he was a family guy but that was my creative vision for him." It took a while (18 months apparently) to convince Hazard. Occasionally, the convincing is done by other football stars – like Pogba. Mbappe, the teenage sensation of this World Cup, had a traditional cut but encouraged by Pogba and Alsanawi, agreed for some hair jazz. That diploma in art didn't go to waste, he says. "It's the artist in me that comes up with these ideas and designs." Alsanawi started working at a shop for a year or two before he decided to open up his own place.
It was his friend Jamal Blackman, Chelsea goalkeeper, who got him into inner circle of the club. "From then on, the work speaks for itself. You get one chance with these guys first time. Can't mess up. Then it's all word of mouth." He now owns a shop "A Star Barbers" in the Cassington suburb of Surrey. At times, players like John Terry come to his place, or he goes to their hotel rooms. On his first visit to Moscow, he set up the base at the gym at France's training camp. The recent cuts have been given at the team hotel.
Why do modern-day footballers sweat so much over their hair? "Well, it's all about confidence, really," Alsanawi says. "Look, it's getting a Gucci brand of new shoes or something like that. I have said this before; it's like you go to a nightclub and want to chat to a girl, you won't do it unless you feel confident. Good hair helps in that. When you get on to the football field, you feel confident and good about yourself."
Even as he has been preparing France's footballers for the final, Alsanawi hasn't seen much of Moscow yet. "No time. Airport, hotel, and then lots of work. Back to airport to fly back to London." Fly in, coiffure, and fly out after boosting the confidence of the players. Not bad for a kid, who was born in Baghdad, studied art in London, and became a self-taught hairstylist. Any hair-raising surprises in the final? "Watch the game, yes there would be a surprise or two." Is it Pogba? All you hear is laughter.



FIFA World Cup 2018: Gareth Southgate singles out John Stones for praise, defends Harry Kane




Belgium finish third at FIFA World Cup 2018, beat England 2-0
Source: Read Full Article