All the action from the World Athletics Championships at the National Athletics Centre, at Budapest, Hungary, on Tuesday…
Tausaga stuns favourtie to win discus gold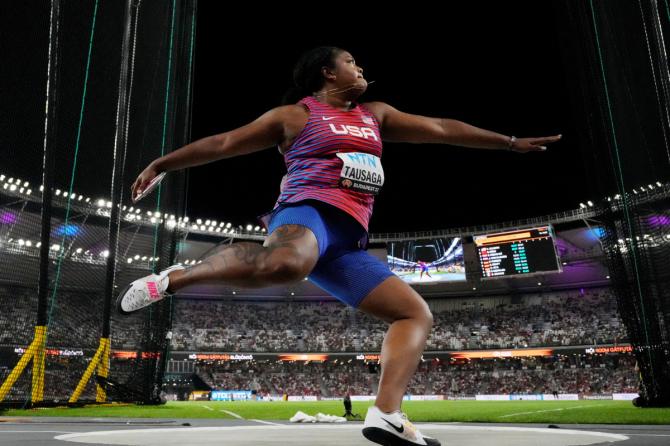 Laulauga Tausaga obliterated her personal best by over four metres to take a stunning world discus gold on Tuesday just as fellow American and hot favourite Valarie Allman had been seemingly cruising towards the title.
Tausaga, who finished last in the previous two world finals, came into the showdown with a best of 65.46 metres but somehow found 69.49 with her fifth throw, before sprinting into the crowd to celebrate with her incredulous supporters.
Olympic champion Allman owned the top six throws of the season, the best of them almost three metres better than anyone else in the field, and was determined to avoid a repeat of last year when she was hot favourite but managed only bronze behind surprise winner Feng Bin of China.
Unlike in Eugene, Allman stamped her authority on the Budapest competition with a first round throw of 68.57 metres — further than any of her rivals had managed all year.
She improved that to 68.79 in the third round and 69.23 in the fourth and seemed comfortably set for gold until her team mate's stunner.
Hawaiian-born Tausaga had managed a personal best of 65.56 but that was barely noticed as it kept her in sixth place at the halfway point.
After Tausaga's Bob Beamonesque throw, Allman had a final chance to reclaim the lead but could not manage it, leaving her compatriot to take a victory throw, which shed did with tears streaming down her face.
Feng claimed bronze with a final round throw of 68.20.
"I don't know if I have a fairy godmother or my ancestors had some say in it, but I was able to do something tonight that I didn't think was possible," Tausaga said.
"I was confident if I was on my A-game I could sneak through into a medal place and not be 12th like I was in the last two world championships.
"It's unbelievable to go from 12th to first. I just said to myself, 'You need to let it out and if it fouls, then so be it'. But it sailed out to that big throw and here I am.
"I have a gold medal, I can't believe it, it's so unreal. When I saw my distance I just couldn't get to my coach fast enough to give him the strongest hug of my life."
Allman had a face like thunder at the end and said: "I wanted to be the champion tonight, it is not a secret.
"I have been training very hard, putting everything in for the victory. It's tough when you are in a good form and you cannot reach the gold medal.
"But I feel so proud of being on the podium and a one-two for USA is also so special, to stand together with Laulauga.
"I also know I am capable of responding to this. I need to put one more year of work into it and try to find what seemed to be missing. I know I can still improve and, most importantly, I am hungry and I am not done with the fight."
Tuesday's remarkable events came 24 hours after another incredible finale in the men's event.
Daniel Stahl won it with the final throw minutes after Slovenian Kristjan Ceh thought he had done enough to retain his title when his last throw edged him past the Swede into the lead.
Italian Tamberi wins thrilling world championship high jump final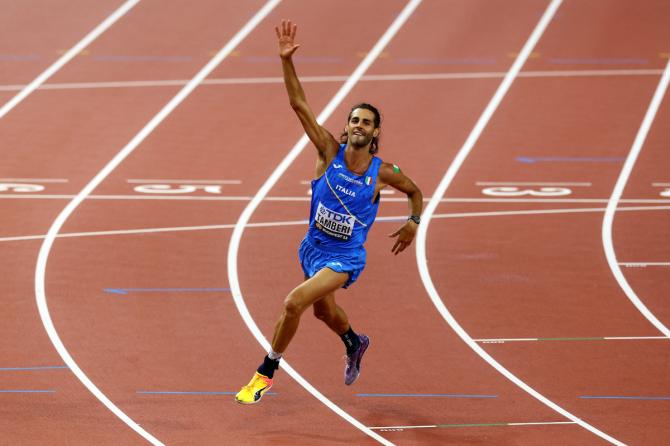 Italy's Olympic champion and showman Gianmarco Tamberi captured the world high jump title on Tuesday, in a dramatic finish against young American JuVaughn Harrison.
Tamberi, who famously shared the Olympic title with three-time world champion Mutaz Barshim of Qatar, cleared a world-leading 2.36 metres for gold. He missed at one attempt at 2.40 and then called it a night, his victory secured.
"I feel like a human being who beats superheroes," Tamberi said.
The 31-year-old Tamberi, wearing one green sock and one red, and his face shaved on only one side, leapt into the water hazard of the steeplechase in wild celebration with Soufiane El Bakkali of Morocco, who had just raced to gold in the men's 3,000m steeplechase.
"It's crazy, it's an indescribable feeling," Tamberi said.
"I have been rewarded for all the sacrifices made.
"I managed to stay focused, expressing my feelings. My secret is being myself on the platform. It worked," he added. "Many had doubts about the change of coach, the gold is also thanks to my father."
Tamberi's dad Marco had been his coach until days before last year's world championships in Eugene, when he switched to Giulio Ciotti.
The 24-year-old Harrison also cleared 2.36 but had more misses on the countback, and so took silver for his first senior global medal.
"I think this was the best year of my career," Harrison said.
"I was consistent in every competition. After qualification I was about to have fun in the final and enjoy the jumps.
"It is fantastic that I beat one of the Olympic winners and I equalled the other. This is what I came for. This result gives me a great confidence for the Olympic Games in Paris."
Barshim cleared 2.33 for bronze, missing at all three attempts at 2.36. The 32-year-old, who has the second best jump in history – 2.43 behind Cuban great Javier Sotomayor (2.45 in 1993) – looked in for a rough night when he missed his first attempt at 2.25.
"Everything was different today," Barshim said.
"I came here with three world golds and one silver and managed to add a bronze tonight. Look at my career. If it was not me that did this, but someone else, I would like to be that someone. I am the only high jumper with such a medal count. This almost brings tears to my eyes.
"The rivalry between all the jumpers was incredible. I am happy that Tamberi won the gold," he added. "It was a medal he was missing from his CV and he added it tonight. The Paris Olympics is my next goal but it will be my last. It will be more like a contest, not revenge."
Barshim's sharing of gold with good friend and rival Tamberi was one of the most memorable moments of the Tokyo Olympics. But the Italian stood alone on Tuesday, to the delight of the raucous Italian fans in the crowd, who chanted "Gimbo! Gimbo!" as he waved his long arms in encouragement.
Tamberi now has a full collection of high jump golds, having also captured world indoor, European and Diamond League titles.
Silver was a terrific result for Harrison, who in Tokyo became the first American since Jim Thorpe in 1912 to compete in both the long jump, finishing fifth, and high jump (seventh) at the Olympics.
Peerless Kipyegon cruises to third 1500m world gold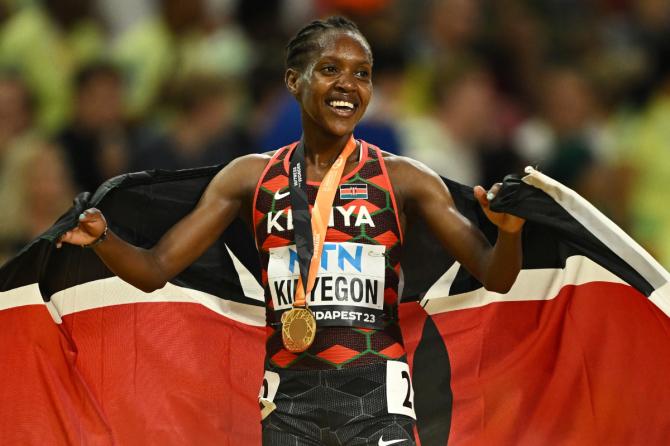 Kenyan middle-distance superstar Faith Kipyegon capped a year that brought her a trio of world records by claiming a hat-trick of world 1,500 metres gold medals as she ran a perfect race to come home in 3:54.87 in Tuesday's final.
Kipyegon, the double Olympic champion, has not lost over the distance for two years. Still only 29, Budapest is her sixth World Championships and she now has a remarkable haul of three golds, two silvers and a fifth place on her debut in 2013.
Avoiding any risk of a fall, Kipyegon hit the front from the start, though keeping a controlled pace. With the rest of the field effectively running for minor medals, nobody challenged her and when Kipyegon kicked for home at the bell she opened a huge lead and enjoyed a virtual lap of honour in advance.
Ethiopian 21-year-old Diribe Welteji was the best of the rest as she took silver in 3:55.69, with Sifan Hassan of the Netherlands, still heavily strapped after falling metres from the line while fighting for 10,000m gold three days ago, finishing well for bronze in 3:56.00.
"This is a great season for me – to break the world records and to become a world champion here, to defend my title, I am so grateful," said Kipyegon, who set new marks over 1,500m, the mile and 5,000m in June and July.
"I was chasing history today and I was chasing this title. My plan was to get to the front then I just controlled the race and kept going faster and faster."
Kipyegon and Hassan are likely to clash again later in the week when both race over 5,000m.
Morocco's El Bakkali retains 3,000m steeplechase world title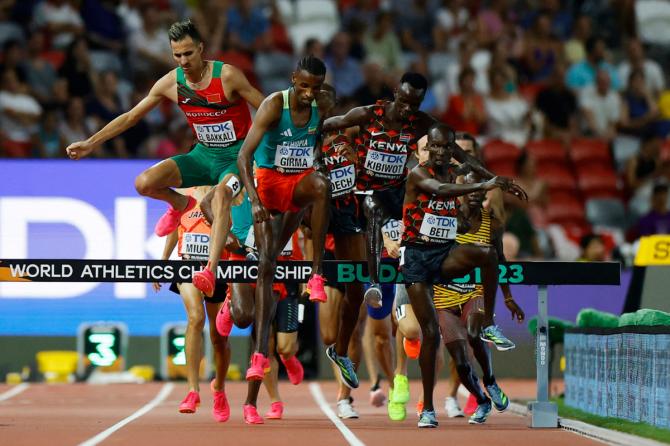 Olympic gold medallist Soufiane El Bakkali of Morocco claimed his second consecutive world championship title in the men's 3,000 metres steeplechase on Tuesday.
The 27-year-old held off world record holder and Olympic silver medallist Lamecha Girma of Ethiopia to win in eight minutes 3.53 seconds and then laid down in the water hazard in celebration on a humid night at the National Athletics Centre.
"After winning in Eugene last year, I am really proud to bring home another gold," said El Bakkali.
"I had great preparations for these championships but today's field was very strong with athletes like Lamecha.
"I came ready and prepared and believed I could win. This medal gives me additional motivation for the Olympic Games in Paris. I want to win there too," he added.
The 22-year-old Girma, who blazed to 7:52.11 at the Paris Diamond League on June 9 to break the 19-year-old world record, lost contact with El Bakkali over the final water jump en route to his third world silver in 8:05.44.
"I am satisfied with every single race against El Bakkali," Girma said. "I still aim to win gold at the World Championships or Olympic Games. Nothing has changed in my goals.
"Maybe I became even more motivated for next year. In any case, I continue fighting and dreaming about world gold."
Kenyan Abraham Kibiwot clipped a barrier and fell heading into the final lap but scrambled back to his feet and then overtook team mate Leonard Kipkemoi Bett to take a well-earned bronze in 8:11.98.
"It's my first time to actually win a medal at the World Championships, I came here to finally take a medal home with me," Kibiwot said.
"It was a good race – even if I fell when we started the last lap there was no question I would make it to the podium.
"At these times there is no tiredness. I feel so great, this is even more than happiness."
Source: Read Full Article