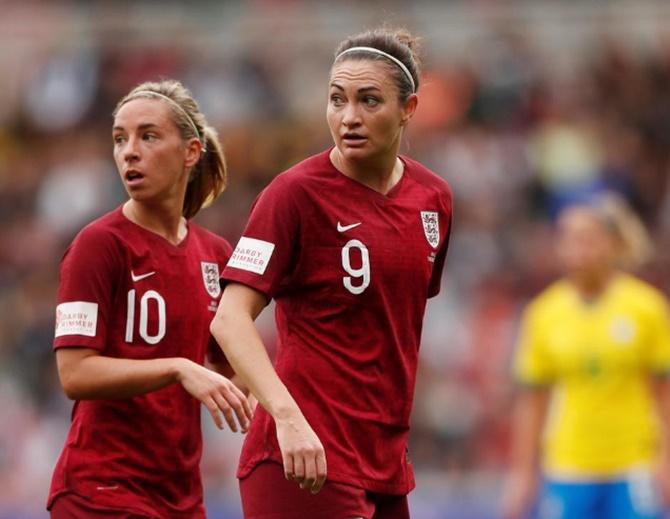 Jordan Nobbs and Beth England have said they want the English FA to become the next country to strike a deal that closes the pay gap between the men's and women's national teams.
Australian soccer's governing body said on Wednesday it had reached agreement with the players' union on a new collective bargaining agreement that "closes the pay gap" between the Socceroos and Matildas.
New Zealand and Norway have already moved to address the pay gap between their male and female players.
"When you see other nations doing it of course we want to carry on that progression with our nation," Arsenal midfielder Nobbs told BBC.
England host Germany at Wembley Stadium on Saturday, which could set a record attendance for a women's international in Britain.
The Lionesses finished fourth at this year's World Cup in France but Chelsea forward England said they still needed to work towards building steady revenue streams off the pitch.
"It's one of them where we have been better than (the men) so why are we not on the same (pay) as them, in a way?" she said.
"But, again, look at the revenue that the men bring in and you can't really compare it because their standard is relatively higher than the women — so it's going to be an ongoing battle and a long process."
Difficult to sign new players in January, says Man United's Solskjaer
Manchester United have not committed to signing reinforcements in January as it is difficult to recruit the right players during the mid-season transfer window, manager Ole Gunnar Solskjaer said on Wednesday.
Solskjaer, who sanctioned the departures of forwards Romelu Lukaku and Alexis Sanchez in the close season without acquiring replacements, conceded last month that his squad was light, especially after injuries to several key players.
"On transfers we always look at the long term. It might be one, two or none in January," Solskjaer told reporters ahead of Thursday's Europa League match against Partizan Belgrade at Old Trafford.
"The summer window is the one we always look to. You cannot really do too many good deals in January."
United are top of Group L in the Europa League and the Norwegian manager said he trusted his young core to step up in the absence of injured seniors.
Source: Read Full Article