Carlos Alcaraz defeated Novak Djokovic in five sets 1-6, 7-6(6), 6-1, 3-6, 6-4 and, in doing so, won his second Grand Slam.
Alcaraz's hero Rafael Nadal, who won two Wimbledons and once beat Roger Federer in five sets once said Alcaraz's victory over Djokovic felt similar.
RAFA NADAL, 22-TIMES GRAND SLAM CHAMPION
"You have given us immense joy today and I am sure that our pioneer in Spanish tennis, Manolo Santana, has also been cheering wherever he is…"
SACHIN TENDULKAR
"What a fantastic final to watch! Excellent tennis by both these athletes! We're witnessing the rise of the next superstar of tennis. I'll be following Carlos' career for the next 10-12 years just like I did with Roger Federer."
HARSHA BHOGLE
"Such a fabulous young player, Carlos Alcaraz. A drop shot and lob while serving for the title!! I only wish they could have let him speak in Spanish and used an interpreter. He would have been so much more comfortable."
NOVAK DJOKOVIC, 23-TIMES GRAND SLAM CHAMPION
"I have to start with praise to Carlos and his team. What quality at the end of the match when you had to serve it out. You came up with some big plays in the big situation and you absolutely deserve it. Amazing."
AUSTRALIAN TENNIS GREAT ROD LAVER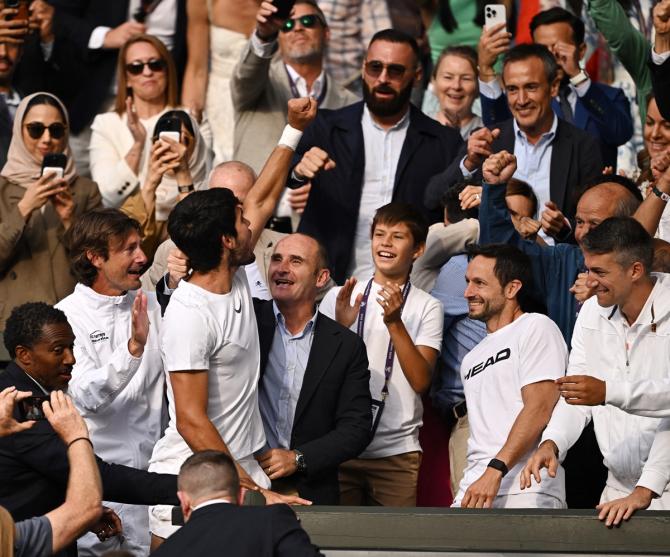 "Congratulations on your first Wimbledon crown Carlos Alcaraz.
"You certainly found your feet on grass this summer, an astonishing achievement against one of the greatest champions ever, Novak Djokovic. I'm sure there will be many more magnificent battles between you two."
PAM SHRIVER, FORMER WORLD NUMBER THREE
"Can't imagine being 20 years young, winning an extraordinary almost 5 hour final, and speak in your second language in front of royalty, 15,000 and a world wide TV and doing it with such maturity and humor."
PEDRO SANCHEZ, PRIME MINISTER OF SPAIN
Huge Carlos Alcaraz! Wimbledon champion in a final that will go down in history. Congratulations!!
SPANISH FORMER WIMBLEDON CHAMPION GARBINE MUGURUZA
Enjoy this moment. Wimbledon is something very special!!
REAL MADRID
Congratulations on your brilliant victory at Wimbledon, @carlosalcaraz. And congratulations on maintaining top spot in the world tennis rankings. You are a source of pride for Spanish sport and all of the madridistas.
FORMER WORLD NUMBER ONE VICTORIA AZARENKA
Too good from Alcaraz, too good. What a match!
SPANISH FORMULA ONE DRIVER CARLOS SAINZ
Amazing. Congratulations, we are proud of you!
NICK KYRGIOS: Haven't watched a whole tennis match in a long time haha THANKYOU @DjokerNole & @carlosalcaraz for putting on that incredible performance. Congratulations to you both
Source: Read Full Article