Rojas claims fourth straight world triple jump title
Yulimar Rojas of Venezuela soared to her fourth consecutive world triple jump title on Friday, securing victory on her last jump to narrowly avoid a huge disappointment.
The world record holder and Olympic champion – unbeaten in more than two years – only sneaked into the final round of eight jumpers in last place before summoning a magical 15.08 metres on her final attempt to overtake Maryna Bekh-Romanchuk of Ukraine.
"It was very difficult," Rojas said. "The fact that I won the competition with my last attempt makes it very special and memorable. This is my seventh World Championships gold in a row (outdoors and indoors) but this is the most special of all of them."
Bekh-Romanchuk, silver medallist in the long jump at the 2019 worlds, had to settle for another silver with 15.00.
"Maybe people saw my calm, focused and confident face, but believe me, nobody knows what I felt deep inside," said Bekh-Romanchuk, whose best jump was her opener.
"You cannot imagine how many people helped me to step on the podium tonight, especially during last month when I got a couple of injures. I think Yulimar Rojas also had a difficult season, but I was sure she could jump over 15 metres."
Leyanis Perez Hernandez of Cuba won the bronze with 14.96.
"I knew if someone could change the result at the last minute, it would be Yulimar Rojas," Perez Hernandez said.
"It is my first medal at a World Championships and I am very proud, but today was not my day. I did not have my moment, which only means that I will continue to work hard and develop.
"I have some bitter feelings, but I am proud that I can take a medal home and put it around my mother's neck."
Rojas, whose world record is a massive 15.74m, was eighth with just 14.33m and three fouls through five jumps, throwing her hand up in frustration with each failed attempt. The biggest upset of these championships seemed imminent.
"My last attempt was proof of the hard work I have done – my mental state and my self confidence," she said.
Rojas gave herself a very animated pep talk before taking off down the runway and then, after landing what appeared to be around the 15m mark in the pit, squeezed her eyes shut hopefully before the winning distance was posted.
Japan's Kitaguchi takes javelin gold with her last throw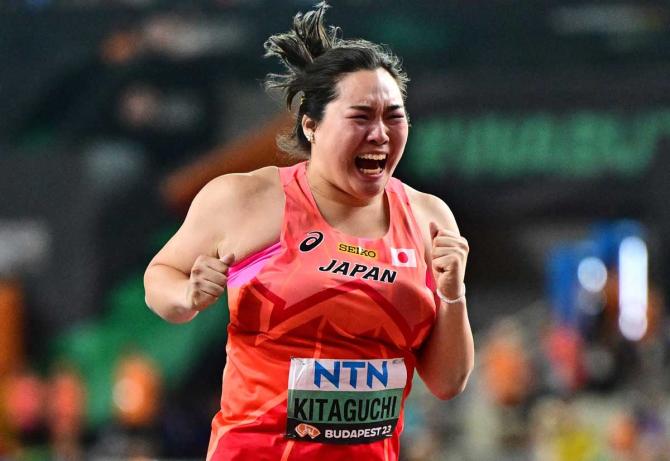 Haruka Kitaguchi of Japan won World Championships javelin gold with her last throw of 66.73 metres on Friday, breaking the heart of Colombia's Flor Denis Ruiz Hurtado who had been on course for a shock victory from the first round.
Ruiz Hurtado arrived in Budapest with a best of only 63.84 metres – and that was seven years ago – and had never remotely threatened the podium in previous global events.
However, she somehow found almost two more metres with her opening throw of 65.47 for a South American record.
Ruiz Hurtado then endured a nerve-shredding night as her rivals tried, and failed, to match her going into the final round.
Australia's Mackenzie Little managed a last-round throw of 63.38, which eventually secured bronze.
Kitaguchi, who came into the competition with a world-leading 67.04, was also out of the medals until the penultimate throw of the night secured Japan's first gold of the championships.
"The key thing was to just believe it, not to try to change anything," said Kitaguchi, who won bronze 12 months ago.
"Last year my goal was just to get into the final. This time my goal was gold.
"My coach was in the stands and tried to motivate me, he was more or less screaming at me. But I think everything just came together in the last attempt and it was great.
"Javelin is not a very popular event in Japan but I think it is becoming more and more so now."
Ruiz Hurtado could not respond with her last throw but was delighted with silver after the night of her life.
"I am truly without words," she said. "I have been dreaming and dreaming and dreaming, and finally that dream turned into reality.
"I am thankful for everyone who has supported me on this road. I cannot wait to get back to Colombia and celebrate this huge achievement with my family and loved ones."
Little had been well off the pace until a final effort she described as the highlight of her career.
"I couldn't have asked for more than to come back in the final round and throw myself into the medals," she said.
"It was so much fun, really the best competition. I had a blast. I came into this ranked high (second) so it was a new challenge to have expectations on the world stage. Now I just can't wait for more."
Her compatriot and double defending champion Kelsey-Lee Barber, who sneaked into the final as the 12th and last qualifier with a mere 59.66 metres, finished seventh with 61.19.
Jackson wins 200m gold in second-best time ever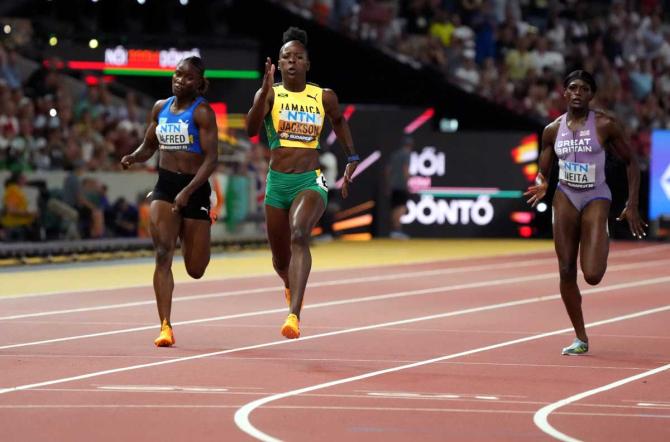 Jamaica's peerless Shericka Jackson delivered a command performance to retain her world 200 metres title in 21.41 seconds on Friday – the second-fastest time ever run.
Jackson, second in the 100m final, ran a brilliant bend, was two metres clear coming into the home straight and tore to the finish to win by a street. She crossed the line with a totally expressionless face as if she expected nothing else.
Jackson's time beat her previous best of 21.45 – the championship record she set winning in Eugene last year. It also edged her closer to the late Florence Griffith-Joyner's 21.34 world record from the 1988 Olympics.
Gabby Thomas, who came to Budapest as the fastest in the world this year with the 21.60 that won the American trials, ran an excellent race to take silver in 21.81, but was not in the same picture as the champion.
Fellow American Sha'Carri Richardson claimed bronze with a personal best 21.92 running in the same lane nine from where she won gold in the 100m on Monday.
"I feel like I am a living testimony that you can create something if you really want it and never give up," said Jackson.
"Yesterday I ran the curve a little bit conservative. I think I did pretty good tonight – 21.41 is a time I cannot complain about.
"Even if I was pretty close to the world record it was not the thing on my mind when I ran. I will continue to work and I hope I can maintain at least this level and we will see if the world record will come.
"I wrote a time on my bib and it was a fast time – 21.2-something. Then I wrote beside it 21.40 for tonight and I got close to that. As for the world record – I'm close, I'm close, I'm getting there."
Griffith-Joyner's mark set when testing was in its infancy is widely considered to have been fuelled by performance-enhancing drugs but Jackson refused to accept it was tainted.
When asked if she considered herself the "real" record holder, she said: "I won't question a world record. If a person hasn't failed a test it is the world record. I am the championship record holder. I am not the world record holder."
Thomas said: "I knew that I was coming into the final hot so that was to my advantage but it was such a fast race.
"I couldn't believe it when I looked at the screen afterwards. I ran my race and I stayed composed so I am happy to come out with a silver."
Richardson described reaching the final of both sprints in her first global competition as "mission accomplished" but said "being able to win the 100m and get a medal in the 200m, that's a dream come true.
"The competition is only going to get hotter from here so I need to prepare myself for the Olympics. This week has been indescribable and I know there is better to come."
St Lucia's Julien Alfred was fourth in 22.05 while Briton Daryll Neita ran a second personal best in two days of 22.16 for fifth.
All the medallists are expected to share the track one more time after Jamaica and the United States qualified for Saturday's 4x100m relay final earlier on Friday.
Source: Read Full Article