Yashasvi Jaiswal's exceptional composure and ability to reset after his Test debut earned him praise from Zaheer Khan.
Zak lauded Yashasvi for displaying a mature and composed approach as he swiftly notched up a 50 to follow up his remarkable 171 on his Test debut.
Teaming up with Rohit Sharma in the opening session, Yashasvi took India to a comfortable 121 for 0 at lunch with an impressive scoring rate of nearly five runs per over in the second Test at the Queen's Park Oval, Port of Spain.
On debut in Dominica, Yashasvi demonstrated extraordinary restraint. Here, he took a different approach on the friendlier pitch, racing to a quick fifty in just 49 balls. He soon departed for 57, getting caught at flying gully in Jason Holder's 8th over. The wicket also brought the end to a 139 run opening stand between him and Rohit.
'It's just the second innings in his Test career. Very consistent, you have to say. It's also important to note that he has started from scratch. When you start your next innings after your debut hundred, it's important you don't get carried away by what you have done in your previous innings,' Zaheer said on Jio Cinema.
Zaheer pointed out that Yashasvi didn't do anything rash despite Rohit getting most of the strike in the first session.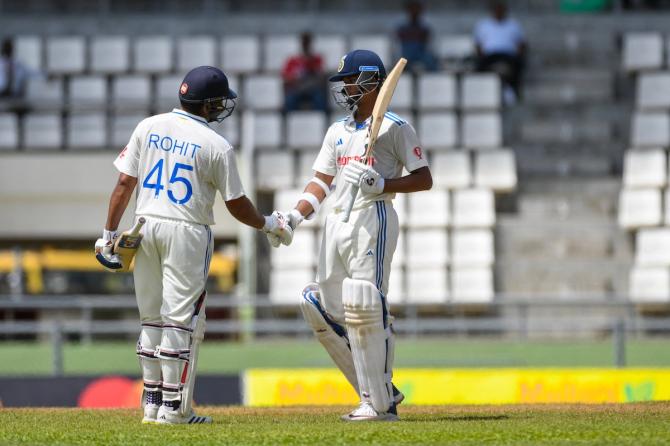 'Rohit was getting a lot more strike than Yashasvi. At times, you feel that lack of touch as well say the other batter is batting at 60 and you are at 30, that kind of sometimes gets you in that zone where you feel 'Oh I am going really slow and you sometimes try to up the ante and you can make an error,' Zak pointed out.
'Yashasvi has not done that. It's very important to stick to your routines, stick to your tempo. Both these players have batted at a very good run rate,' Zak added.
'Yashasvi has been showing really good signs of being in that zone to score big runs.'
India in West Indies 2023
Source: Read Full Article