'I am writing two films. Something very different from Rocky Aur Rani.'
'I know I'm back on the set next year.'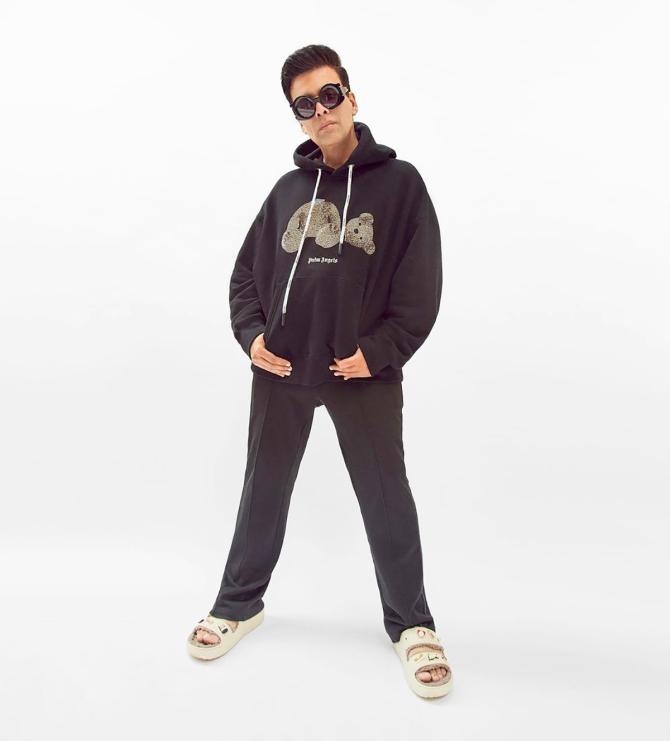 "," Karan Johar tells Subhash K Jha.
Have you seen how the audience reacts to Tota Roy Chowdhury and Ranveer Singh dancing to Dola Re Dola?
I have! Just like in the song Tum Kya Mile I pay a homage to my favourite film-maker Yash Chopra in Dhindora Baje Re and Dola Re Dola ,the entire set is a homage to Sanjay Leela Bhansali.
Someone asked me if I got inspired by Sanjay Leela Bhansali's aesthetics.
My response was, 'No. I copied it.' Inspiration is a mild word. I copied it as I am a huge fan of his artistry.
So you consciously leaned towards the aesthetics of Bhansali?
When I was creating that Durga Puja set it was only normal that I lean on the genius of Sanjay Leela Bhansali.
So there is a homage to two of my favourite film-mkers in this film: Yash Chopra and Sanjay Bhansali.
Also, a lot of the family values are derived from my growing up on Sooraj Barjatya's cinema.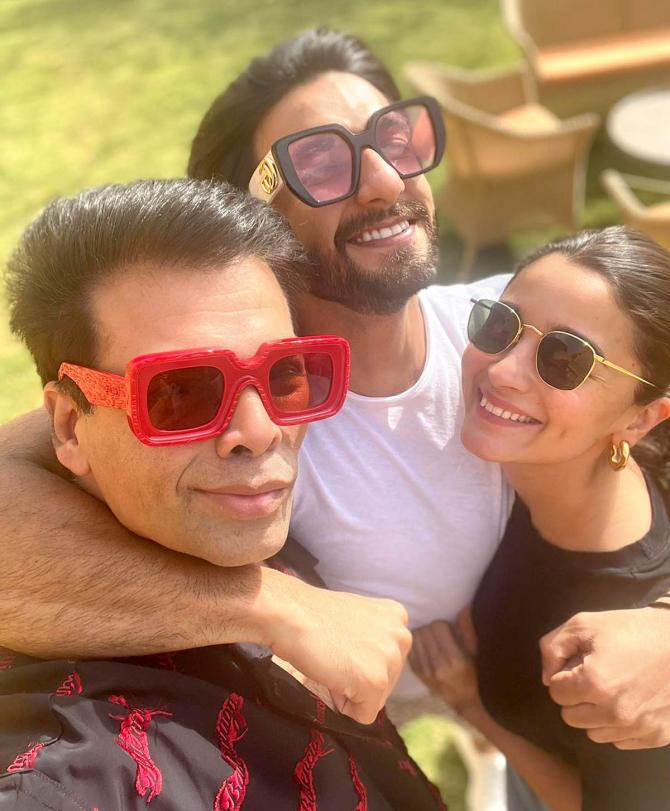 The use of old Hindi songs in Rocky Aur Rani is amazing.
My mother trained me to love Hindi film music.
At the age of 6 when my friends were listening to Wham and Madonna, I was listening to Lataji, Ashaji, Rafi Saab and Kishore Kumar.
I remember Lataji's Lag Ja Gale and Tujhse Naraaz Nahin were the songs that touched me deeply at the ages of 9-10.
As a child I felt different from the others. My work is always looking back to the time I was growing up with deep impressions of Hindi cinema and music.
You have used vintage songs so effectively in Rocky Aur Rani… especially Abhi Na Jao Chhod Jar?
There is no song more romantic than Abhi Na Jao.
I used some of my favourite songs like Ek Pyar Ka Nagma Hai. Suno Suno Miss Chatterjee… that was my writer Ishita Moitra's find.
She came to me one day and said we have to use it.
I hadn't even heard this song. What is gratifying is the young generation is looking for Abhi Na Jao online.
That is my biggest victory. Even if a tiny population goes back to the golden era of film music. I feel I have succeeded.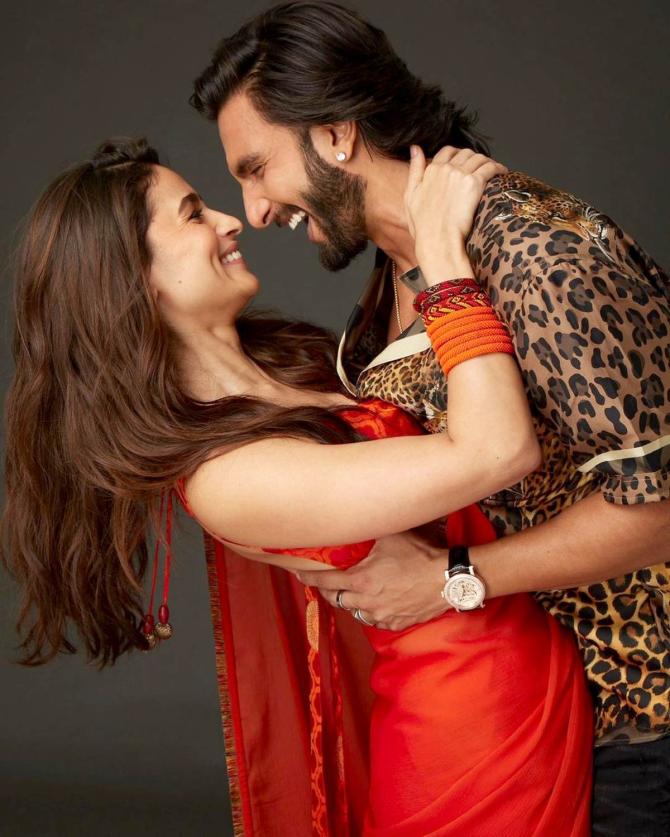 Is Rocky Aur Rani Kii Prem Kahaani your most personal film?
I'd say it's personal on many ways. It is personal for my love of Hindi and Indian cinema.
It is a homage not only to the film-makers I respect, it's homage to the music I grew up on. And also some personal feelings that have seeped into the characters, especially that of Alia's father played by Tota Roy Choudhury.
Like him, I used to dance with abandon. And my father clapped along. But when I danced in front of my friends, some of them giggled and laughed.
How did that make you feel?
It made me feel I was less of a man. My father would make me dance in front of his friends.
I would dance to Dafli Wale. And none of his friends found it unusual.
It was only when I stepped into the outside world that I got the sniggers and the laughs, people pointing at you for your body language.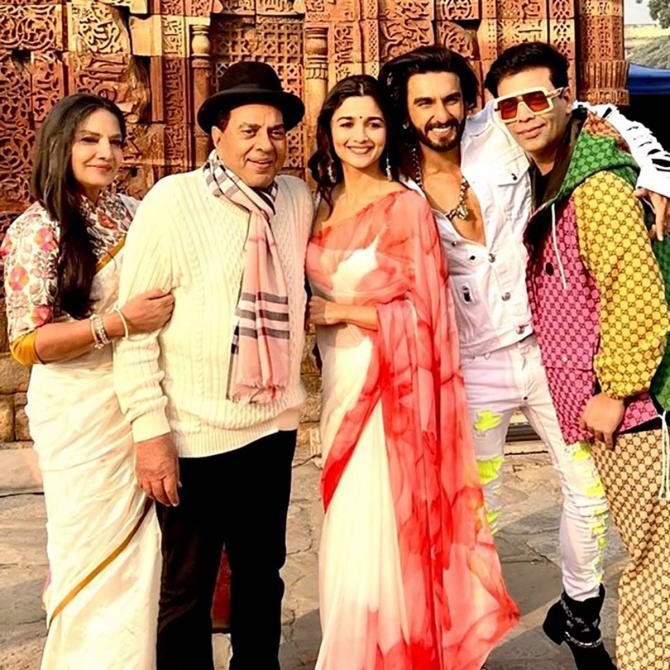 How does it feel to be back in the theatres and that too with a film everybody loves?
Firstly I never realiS=sed there was such a long gap, and that I wasted so much energy on things other than making movies.
Of course there were some practical issues: I was earlier supposed to make Takht before Rocky Aur Rani.
That was two-and-a-half years of preparation gone to waste. Then there were two years of the pandemic.
So technically I am just three years late. But even then that is three years too many.
You missed the process of directing a film?
Like hell! I realised I was investing my energy in other activities and not what I love doing the most.
When I look at my filmography I feel this cannot be my seventh film in 25 years.
It's not a great record to have for any film-maker. I should have made many more films. I feel I should direct much more.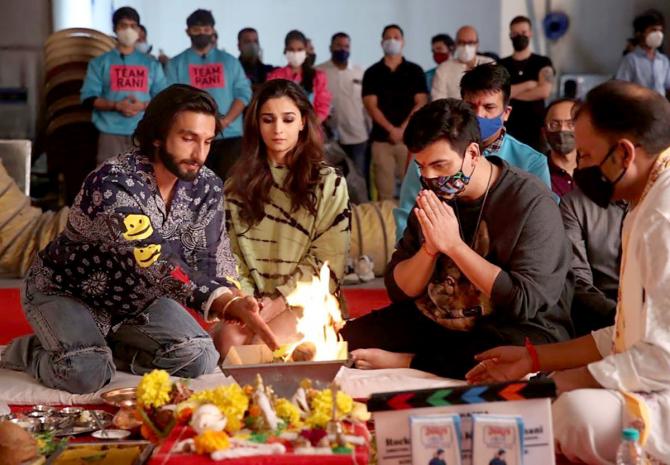 So is that a post-Rocky Rani resolution?
Yes, good bad hit flop is secondary. I just need to make more movies now.
If you are a film-maker you need to put out a film much more often.
A film-maker needs to tell stories and create new worlds.
I feel I haven't done enough of that. I realised what I had missed out on when I released Rocky Aur Rani on 28th July this year.
The last time I released a film directed by me was Ae Dil Hai Mushkil on 28th October, 2016. I realised this was just plainly ridiculous.
It wasn't as if you were sitting idle?
No, I wasn't being lazy. I was busy strengthening my company and a lot of other activities, some of which I now feel I should have been curtailed.
Of course, I enjoyed whatever I was doing. But now the focus has to be on making films.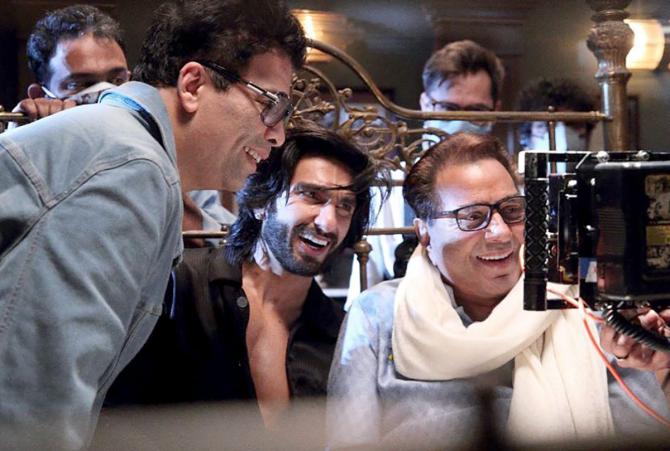 Perhaps you were spending too much time grooming and nurturing new talent.
Let me make it very clear that I really enjoy the process of nurturing new talent, But now I've come to realise that one of my happiest places to be is the film set, interacting with my team while making a film…Of course, my happiest place is my mom and kids. But after that, it's the film set.
There is no bigger and better joy than creating a film on a set.
I feel when I'm behind the monitor watching the execution of my written material, that joy is irreplaceable .
What next? A sequel To Rocky Rani?
Someone asked me where do these two Rocky and Rani land up eventually? Will they stay at Randhawa House or at the Chatterjee house? If I know them well, then I'd say they would move out to be on their own.
If you ask me, why tease a story that has no bumps on the highway? Who knows I may take a wrong turn, I may land in a ditch.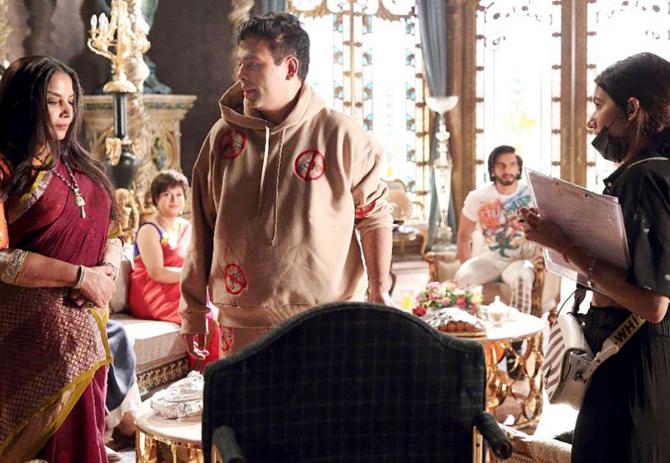 Closing thoughts?
I am writing two films as we speak.
Something very different from Rocky Aur Rani…Phir se woh kiya toh kya kiya? You never know I might decide to announce another film in a few months. But I do know I'm back on the set next year.
No seven year break this time?
No, the seven-year itch is done with. Now I want to be in a committed relationship.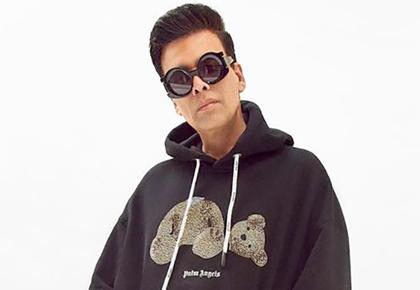 Feature Presentation: Rajesh Alva/Rediff.com
Source: Read Full Article