Kohrra is a terrific ensemble piece but the two fine leads keep show glued together, applauds Aseem Chhabra.
Towards the middle of Netflix's new riveting six-part series Kohrra, Amarpal Garundi (Barun Sobti), a junior level cop, barges into the recording studio of Saakar (Saurav Khanna),a young hip hop singer, beats him up and then drags him to the police station, pulling his long hair and then his beard.
At the police station, Saakar is beaten up some more since Garundi and his sub-inspector Balbir Singh (Suvinder Vicky) suspect that he has killed his former girlfriend's soon to be husband.
Written by Gunjit Chopra and Diggi Sisodia, and created by Sudip Sharma (the writer behind Udta Punjab, NH 10, Sonchiriya, Pataal Lok), Kohrra starts with a bang.
A dead body is found in the field.
The victim's head has been bludgeoned and his neck has been cut by a sharp object.
The victim is an NRI, Paul (Vishal Handa) who has recently returned to his father's hometown Jagrana in Punjab for an arranged marriage to a local girl Veera (Anand Priya).
Jagrana is a small-town India as one can expect; farms support the local population, and there are some successful businessmen with large mansions.
And if it is Punjab, the plotline has to include drug problems.
The town even has a diner like restaurant called Amreeka Return Cafe which has a tag line: Live the American Dream. But it is a town where patriarchy rules, littering the landscape with sad, lonely souls, middle-aged men and women, as well as the younger generation, mourning the loss opportunities and heartaches.
In addition to investigating Paul's death, Balbir and Garundi also have the task to find a missing person: The bridegroom-to-be's close friend and a British national Liam (Ivantiy Novak). Quite naturally, their initial investigation leads to those living on the margins of the society — a petty drug pusher, a couple of truck drivers and a hip hop artist who has an indirect connection to the victim.
But in their investigation, Balbir and Garundi — two well-crafted, flawed policemen — often resort to third degree torture methods.
This is especially true in Garundi's case where each time he encounters a suspect or a low-level gangster, his first instinct is to grab and crush their crotch until they scream in pain, or just beat them up quite brutally.
I am not being naïve here.
I know police torture is common in India and other parts of the world.
I have seen police brutality in mainstream and independent films going back to Ardh Satya (1983) and Visaranai (2015), but it goes quite far in Kohrra.
The show even has an extremely disturbing scene where a couple of women cops torture a female suspect, Veera, who may not have revealed everything she knows to the police.
As Veera screams and writhes in pain, Balbir just stands in the corner and observes.
This is perhaps the first time I have seen the beating of a woman in a police station and I read somewhere that even Director Randeep Jha (Halahal, Trial by Fire) was concerned about violence against a woman in the show.
When Saakar is finally given bail (and this is not a spoiler), he breaks down crying in disbelief.
Garundi kneels down next to him, pats him on the shoulder and says, 'Sorry, yaar.'
It is a rather late apology and a bit unreal to believe that suddenly Garundi has had a change of heart.
I wish the show's creators had toned down the police brutality a few notches.
Nothing would have been lost in this otherwise smartly layered out police procedural that captures the realities, especially the underbelly of Punjab like no other film or show since Tabbar (2021). But Tabbar had a different texture and narrative.
The twists in the plot, in the nearly five hours long show, are enough to keep us engaged.
But more exciting than the actual investigation are the side plots that the writers populate with authentic believable characters, played by remarkable supporting actors: A lonely widow (Ekavali Khanna) who tries to build a relationship with Balbir Singh (Vicky); Balbir's daughter Nimrat (Harleen Sethi),who is separated from her husband; Raman (Zubin Mehta) who longs to be back with his wife Nimrat; the dead man Paul's cousin Happy (Amaninder Pal Singh), whose desperation to win over his father's love makes him plot a heinous act; Shinda (Samuel John), a truck driver on the run, and many others.
Kohrra is a terrific ensemble piece directed by Jha.
But his two fine leads keep show glued together.
Suvinder Vicky has such a stoic presence, his eyes hold the sadness and disappointments of a man who has lost out so much in life.
If Vicky's performance affects you, then it is time to visit his two recent films Meel Pathhar (Netflix) and Chauthi Koot (available to rent on YouTube).
Sobti has had a successful TV career and worked on a handful films (Halahal, You Are My Sunday). He is a fine actor who deserves more scripts like Kohrra.
Kohrra's fog clears up by the end, and the mystery is solved.
There is no happy party and we, as the audience, are left equally bereft.
But there is a sense of satisfaction, a closure, the kind we get after finishing a good book or a film that will haunt us for some time.
Kohrra streams on Netflix.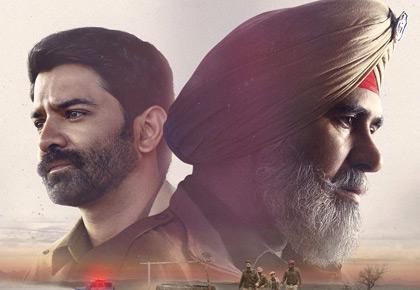 Source: Read Full Article