No matter how impossible the mission seems, we know Tom Cruise will get the job done as we eagerly await his next daring stunt, cheers Mayur Sanap.
We are seven films deep into Tom Cruise's Mission Impossible series, which is nearing 30 years of existence since its first outing in 1996.
It is a testament to Cruise's incredible staying power as the film franchise is still alive and kicking, with the 61-year-old star raising the bar each time with his daredevil antics.
With the last two entries in the series — Rogue Nation (2015) and Fallout (2018) — the actor has found a muse in director, co-writer and co-producer Christopher McQuarrie, who transformed the MI films from giddy actioners into a revered blockbuster franchise.
The winning star-director duo returns with the latest installment, Dead Reckoning, which not only ups the ante but also keeps the franchise moving in a forward direction, like any good sequel should.
As the first chapter of the two-part finale, the plot follows Ethan Hunt (Cruise) being pitted against, wait for it, an AI device, dubbed as The Entity, and the only way to access it is via a missing golden key that many government agencies and powerful individuals are searching for.
The Entity could very well be a reason to bring global catastrophe and it is up to Hunt to prevent it from falling into the wrong hands.
The mission is also personal to Hunt as he faces a ghost from the past in Gabriel (an effective Esai Morales as the film's human villain), who is also looking for the key and knows a little more about The Entity than others.
It is a fairly basic and straight-forward plot, but what keeps the momentum going is the sheer sophistication that McQuarrie brings with respect to drama and action.
In a welcoming departure from the grim tonality set in Fallout, here, he deploys a lot of humour and heart in between the action scenes for our viewing pleasure.
There are some cleverly crafted nail-biting moments, and the tension during these scenes is so palpable that it pierces through the screen and keeps us hooked through the whole of two hours and 43 minutes runtime.
The stunts and set pieces are once again the showstopper.
Be it a heist-gone-wrong at Abu Dhabi airport, a run-in at a Venice party, a car chase on Roman streets, hand-to-hand combat on a moving train and that widely-publicised motorbike stunt, the film soars in these electrifying sequences.
Fraser Taggart's nimble camerawork captures the intricacies of action with deftly produced images.
Watch out for a scene between Cruise and Marvel star Pom Klementieff's ruthless assassin (in stark contrast to her sweet and affable Mantis from Guardians of the Galaxy series) as they fight it out in a narrow alley of Venice. It is beautifully executed.
Besides its action shenanigans, the film is also packed with fun hat-tips and callbacks to previous outings as we see the signature top-speed run, cool tech, rubber mask disguises as well as the return of Henry Czerny as Hunt's bossman Eugene Kittridge.
Cruise, who champions practical stunt work very much like Christopher Nolan, does almost everything on his own as opposed to the usual CGI drivel that most modern action films resort to; Looking at you, Fast and Furious.
As a leading man steering one of the biggest franchises in the world, Cruise yet again cements his status as an action star like no other.
The women of MI continue to dazzle, too.
Rebecca Ferguson as the headstrong Ilsa gets to recreate her iconic Rogue Nation opera gun scene in her introductory shootout sequence.
Hayley Atwell (Captain America's Peggy Carter) makes her stunning foray into the franchise as street-smart swindler Grace, who gets entangled in Hunt's mission. She plays equal parts lead with Cruise and her playful chemistry with the actor is a treat to watch.
Vanessa Kirby reprises her role as arms dealer Alanna AKA The White Widow who can effortlessly break into the boys' club and make amendments.
As Hunt's nerdy team members-cum-buddies Benji (the scene-chewing Simon Pegg) and Luther (the appropriately stoic Ving Rhames) are as capable as ever but one hopes the script could find new ways to play around these two fun characters.
The drama gets a bit muddled when a few exposition-heavy monologues from different characters try to explain the impending danger. A lot of that is a little too much on the nose and yet, there is no clear view of the threat we are facing. But since this is a set-up for the big puzzle, it should be forgiven.
Thankfully, the film doesn't affix the viewers to some crazy cliffhanger in the end and concludes on a rather satisfying note with just enough nudge on what to expect from the next installment.
It is a clever move because no matter how impossible the mission seems, we know Tom Cruise will get the job done as we eagerly await his next daring stunt.
Bring on the part two!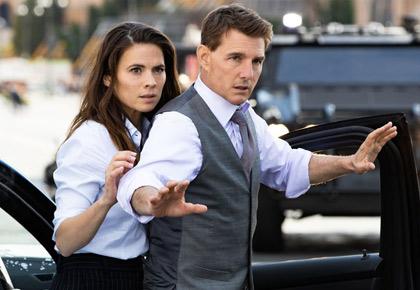 Source: Read Full Article