Akshay Kumar looks cool in that trippy get-up and adds his charisma to the film that is otherwise a lot of verbiage, observes Deepa Gahlot.
The play Kanji Viruddh Kanji by Bhavesh Mandalia, adapted from a lesser known film, The Man Who Sues God, was made into a Hindi film by Umesh Shukla, Oh My God (OMG) in 2012, in which God formed an important part of the plot.
A man, who is denied an insurance claim because the destruction of his property was an act of God, decides to sue God. He drags to court godmen (and one woman) as representatives of God. If they can prove God exists, he can claim damages from them, and if he proves God does not exist, then the insurance company would be liable to pay up.
Then, a biker dude, Krishna Vasudev Yadav (Akshay Kumar), lands up twirling a keychain and claims to be God, who has come down to assist Kanji.
It is difficult if not impossible to come up with another story in which God plays a pivotal role, and Amit Rai's OMG 2 just uses God as a gimmick.
He does come down to earth to help his distressed devotee, but the advice he offers could well have come from a smart lawyer.
The bhakti-soaked environment of Ujjain (not named in the film) is established before Kanti Saran Mudgal (Pankaj Tripathi) is introduced as a devotee of Lord Shiva. He lives a peaceful life with his wife (Simmran Sharma), daughter (Vedika Nawani) and son Vivek (Aarush Varma), when his existence is turned upside down.
Vivek is bullied at school and a video of him jerking off in the school toilet is circulated around town.
The kid is expelled and is turned into a laughing stock. He is depressed and suicidal when a dreadlocked Lord Shiva (Akshay Kumar) — changed by the censors to a messenger of God — arrives with Nandi the Bull, to handhold Kanti through his ordeal.
Encouraged by the beatifically smiling bloke, Kanti takes to court the school, the quacks and chemists who sold his minor son penis-enlarging pills and potions, as well as himself for being an inadequate parent.
Seeing the formidable opponent, Kamini Maheshwari (Yami Gautam Dhar), Kanti's lawyer, flees, and he decides to fight his son's case, with the divine guidance of Maha Kaal (another name for Shiva), who keeps appearing suddenly to nudge the Kanti in the right direction.
The case boils down to whether sex education should be made compulsory in schools.
The judge (Pavan Raj Malhotra), looking amused and settling down for some days of entertainment, admits the case and lets Kanti loose on an increasingly indignant Kamini. Everytime she calls the sexual act vulgar, Kanti objects.
Of course, Khajuraho and Kama Sutra are invoked as the benchmarks of the enlightened attitude of ancient Indians, eroded by the narrow-mindedness and hypocrisy of the British colonisers.
The script keeps going in circles, falling into the pits it keeps trying to climb out of, because in an increasingly sexualised culture, with pornography so easily available (and Kanti does mention this), it is not sufficient to teach kids the names of body parts (they already know!) but the possible consequences of casual or unsafe sex, the social and moral boundaries that must be observed.
Kanti calls Western society 'modern' in their sexual attitudes, but that comes with its own set of problems.
Some of the points are intelligently presented, and there are bursts of genuine humour — Malhotra's expressions are priceless — but the film is like an argument for the sake of argument.
Sex education and charlatans can hardly be placed in the same box, and everybody seems to forget the bullying or cares to ask who shot and circulated the video.
Pankaj Tripathi plays the role with a shrewd eloquence and the innocence of a man whose faith never wavers.
Akshay Kumar looks cool in that trippy get-up and adds his charisma to the film that is otherwise a lot of verbiage, without saying much.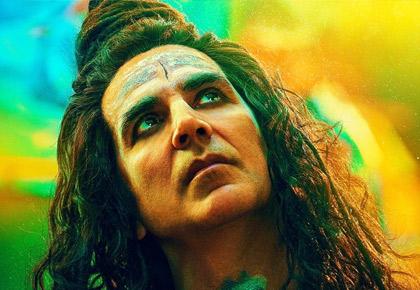 Source: Read Full Article