August 26, 1955. 65 years ago, Pather Panchali was released.
Aseem Chhabra salutes the Masterpiece.
There's a scene towards the end of Pather Panchali.
Harihar (Kanu Banerjee) a poor priest returns to his village and ancestral home after having been away for several months.
He is stunned to see the old house devastated by a storm.
But he is also excited since he has managed to save some money and has brought gifts for his family.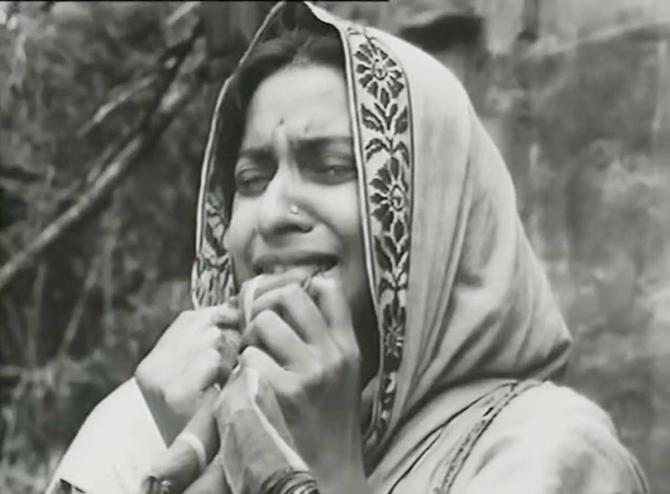 He pulls out a sari for his teenage daughter Durga and hands it over to his wife Sarbojaya (Karuna Banerjee).
Suddenly, all dialogues and human sounds are drowned by a soulful piece on the esraj, accompanied with the sitar.
Sarbojaya bursts out crying, covering part of her mouth with the sari.
But we do not hear her. We only see her facial expressions.
Harihar realises the tragedy that has fallen on his family.
He stands up, rising out of the camera frame, but his legs are too weak and so he collapses.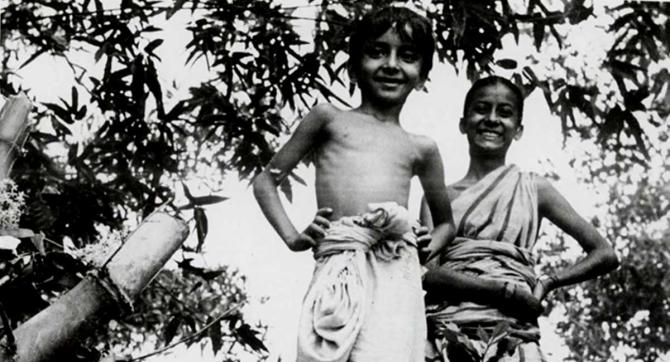 I have lost count of how many times I have seen Satyajit Ray's first film Pather Panchali since I watched it in the late 1970s at Delhi's Lady Shri Ram College.
Pather Panchali (1955) is by most accounts one of the best Indian films of all time.
It is also one of the most recognized Indian films abroad, along with its sequels — Aparajito (1956) and Apur Sansar (1959), three parts of what is known as The Apu Trilogy.
But each time I have revisited Pather Panchali — on the big screen in New York City, I wait for that scene towards the end, to hear the esraj (also known as tar shehnai) piece.
Having witnessed moments of joy and then sorrow of Harihar and Sarbojaya's family, which also includes their older daughter Durga (Uma Dasgupta) and son, the film's protagonist, Apu (eight-year-old Subir Banerjee), I almost always tear up hearing the heartbreaking musical composition.
I have watched the film so many times that I feel like I am a part of this family in rural Bengal, living in a time before I was born.
I have laughed with the kids, and empathised with the parents, especially Sarbojaya, a rock solid character who struggles to hold the family unit together, in spite of all the adversaries.
Those tears are essential in experiencing Pather Panchali.
They also ease some of the sadness that we have been carrying within us.
It is a reflection of our daily lives, where we value displaying positivity, and put on a smiling face, while we hide all our disappointments and remnants of our personal tragedies deep in our hearts.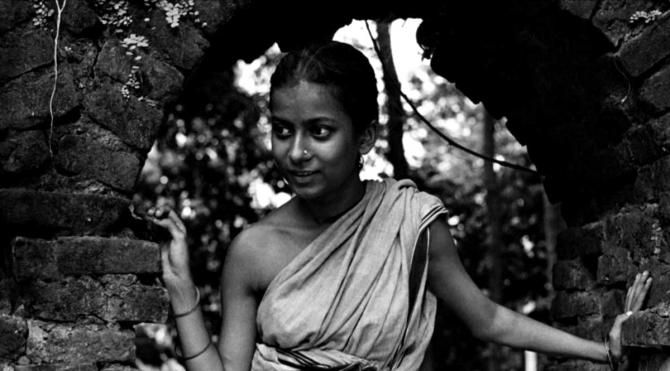 Good art — literature and cinema — makes us confront our own tragedies while we experience the sadness of the characters unfold in the pages of a book or on the screen.
We like being entertained, but many of us also find it comforting, almost cathartic to see despair work its way into a film's narrative.
To me there is no better work of art to experience all that is beautiful and equally sad in the human existence, than the 65-year-old Pather Panchali.
Ray was 34 years old when Pather Panchali was released on August 26, 1955.
He often said that he was still learning film-making while Pather Panchali was shot, and in later years he would write about some of the flaws in the film.
Ray's apprenticeship in filmmaking was with Jean Renoir, when the French director came to India to shoot his film The River (1951).
And Ray's cinema education included watching European neo-realist films, including Bicycle Thieves (1948) and other masterpieces like Akira Kurosawa's Rashomon (1950).
The making of Pather Panchali was riddled with complications so at times the film worked because of good fortune.
But it is also true that by the time Ray began to shoot the film, he had mastered the art of narrating the rhythms of life on film.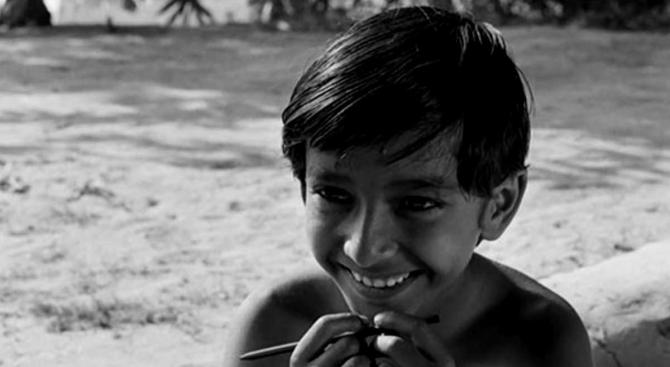 Ray surrounded himself with some of the best technicians and artists of the time who contributed equally to make a film that will always seem fresh, relevant and real even to future generations of filmgoers.
In Pather Panchali Ray worked with three technicians who would become a part of his repertoire — cinematographer Subrata Mitra (he shot 10 films directed by Ray), editor Dulal Dutta (the two worked together on 34 projects), and production designer and art director Bansi Chandragupta (they collaborated on 19 films).
Much of the success of Pather Panchali is also because of the contributions of Mitra, Dutta and Chandragupta.
Mitra's work in Pather Panchali is exceptional — there are so many perfectly composed and lit shots reflecting different moods of Apu, the quiet yet, curious and mischievous child.
A lot of the film's narrative is explored through young Apu's face and eyes, his reactions to the old aunt, her death, Durga playing with her friends, getting scolded and even beaten up by her mother, preparing for school, getting wet in the rain, seeing a train through kaash fields for the first time and watching a travelling theatre company perform a mythological drama.
Despite the poverty and the hardships, Apu is content with his life and family.
He has desires, but he is also very accepting of what fate has given him.
And he usually takes it all with a wide smile. Mitra's camera captures the charm of this young boy, a survivor, whose life journey through teenage years and adulthood will take us to the end of the trilogy.
Mitra is also the eye behind the beautiful water lilies and water bugs sequence in the film.
In the middle of harsh realities and near starvation Harihar and Sarbojaya's family is trapped in, Ray and his cameraman walk us through moments of cinematic poetry.
As seasons change, and life in the village continues, this mesmerizing sequence also gives the audience a chance to breathe.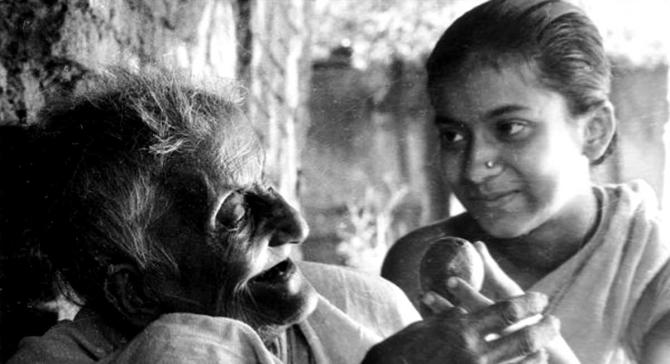 And then Ray hired sitar maestro Ravi Shankar to compose the haunting soundtrack of the film.
Because of his tight schedule Shankar spent 11 hours to finish the compositions.
In 2007 The Guardian listed the music from Pather Panchali among the 50 greatest soundtracks.
The music of the film is so evocative.
It always takes me back when I first watched the film and triggers in my mind memories of the Apu and Durga's stories.
It reminds me of all that is breathtaking and serene in the film, even when I am also drawn some of the tragic moments.
There is the lyrical theme music – a flute and sitar piece that we also hear in Aparajito,each time Apu comes back to village from his school in Calcutta; the playful Dance of the Water Bug composition; and the piece I mentioned earlier – the overwhelming sound of esraj that drowns Sarbojaya's voice.
Like any good film, Pather Panchali is the sum of many elements.
It is an astounding human document, a powerful, moving tale of decent, honest people who display courage and strong moral character even as life around them starts to fall apart.
It is also a beautiful film, a work of art that is satisfying for our soul and senses.
Feature Presentation: Ashish Narsale/Rediff.com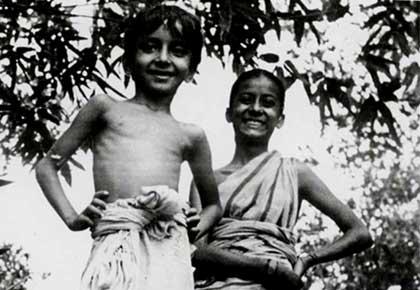 Source: Read Full Article