Is Tom Cruise the Sunny Deol of Hollywood?
While the 61-year-old actor is making history at the international box office with his new releases like Top Gun: Maverick and Mission Impossible: Dead Reckoning Part 1, Sunny, at 65, is making box office history in India with his new release Gadar 2.
Gadar 2 is the biggest hit in his long 40-year-old career!
At the Gadar 2 success party, Sunny had a lot of things to say, and Hitesh Harisinghani/Rediff.com and Afsar Dayatar/Rediff.com bring back lovely glimpses.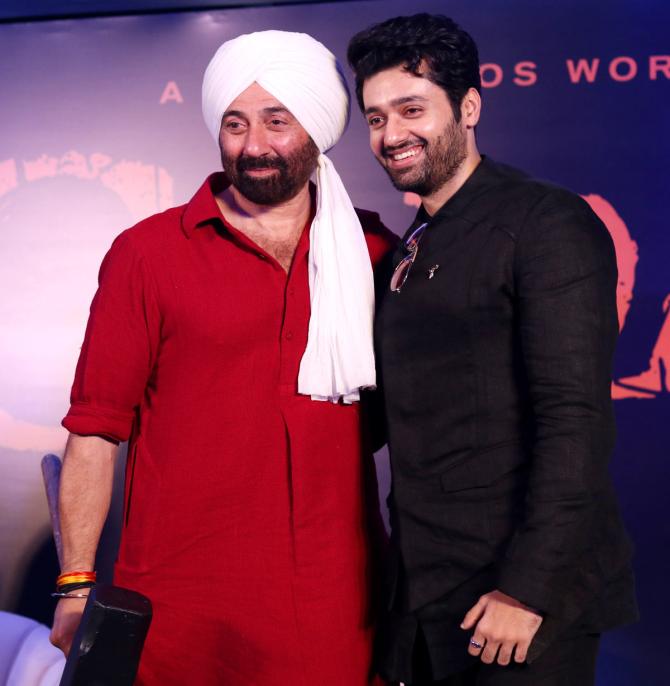 "I have seen a very long journey in my life. My whole family is like that. The whole country knows that. The kind of cinema that Papa has done, no one has done before," Sunny says, and of course, he's right.
He's referring to, of course, the Bollywood veteran who is churning out hits — the scale Karan Johar makes — even at 87: Dharmendra.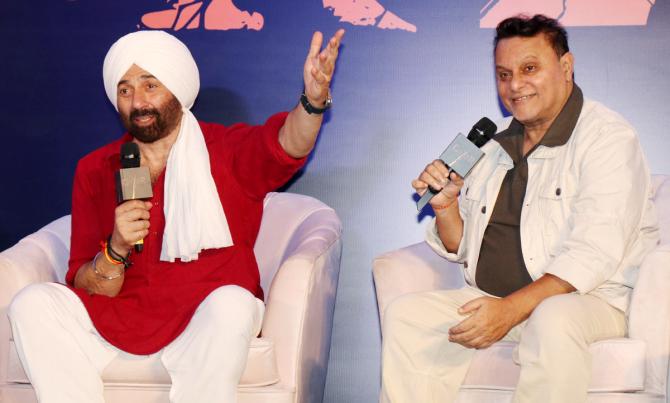 "I'm an director's actor. I don't do any preparation nor do I read the script. I just listen to the story and come into my character," Sunny says.
Anil Sharma agrees: "Sunny sir is too natural."
Sunny explains just how he gets into character.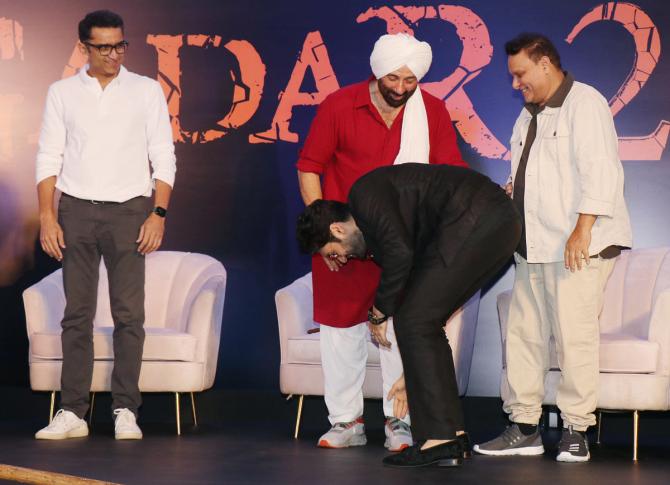 Just like his hand pump scene made tehelka in the film, Sunny has made tehelka at the box office.
"I was very stressed on August 10," Sunny says, referring to his feelings a day before Gadar 2's release in theatres.
"I felt Rab (God) had come inside me, and I kept crying and laughing. I had met my father also, and I said, 'Papa, I'm not drunk, I don't drink'," Sunny says with a laugh.
Sunny has probably never promoted a film as aggressively as he has promoted Gadar 2, and he agrees.
"Gadar is a very personal film for me, and I didn't want Tara Singh (his character) to feel short-changed," Sunny says. "But suddenly, I feel like I talk too much… before I barely talked!"
Sunny also discloses just what Dhamendra felt about Gadar 2.
Sunny headlines three successful movie franchises: Yamla Pagla Deewana, Apne and Gadar. Which series is he most excited about? He answers in his video.
While the answer is very interesting, what's even more interesting is Sunny's reaction to dad Dharmendra's 'nice romantic scene' in his latest hit, Rocky Aur Rani Kii Prem Kahani!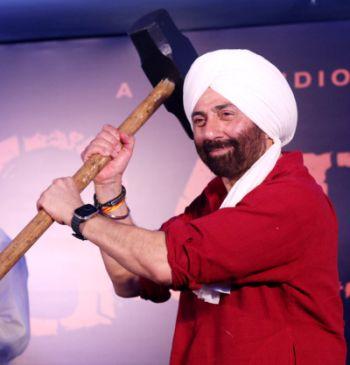 Source: Read Full Article